Working groups set up by city's new leader John Lee convene first meeting.
Two task forces that Hong Kong's new administration set up to resolve housing issues have pledged to submit reports on land supply forecasts and measures to speed up the construction of public flats by September.

Deputy Financial Secretary Michael Wong Wai-lun, who leads the task force on public housing projects, said there were targets to add about 100,000 public housing units in the next five years. The second five-year period aims to add over 230,000 units by 2032.

Two working groups for land and housing issues, as well as one that focuses on underprivileged students and a fourth on district matters, convened their first meetings on Tuesday. They were set up by the city's new leader John Lee Ka-chiu to tackle key livelihood concerns.

The previous administration had earlier identified 350 hectares of land for building 330,000 flats to fulfil the demand for housing over the next 10 years, but two-thirds of them could only be built roughly between 2027 and 2032.

Given that the annual forecast completion number in the latter half is more than double, Wong's working group would look into how to prepare the government to build more homes in that period. Measures to expedite construction, such as modular integrated construction, will be further employed, while other technologies will also be explored.

The group will also oversee the timely handover of sites earmarked for public housing construction, while progress of individual public housing projects will also be closely monitored.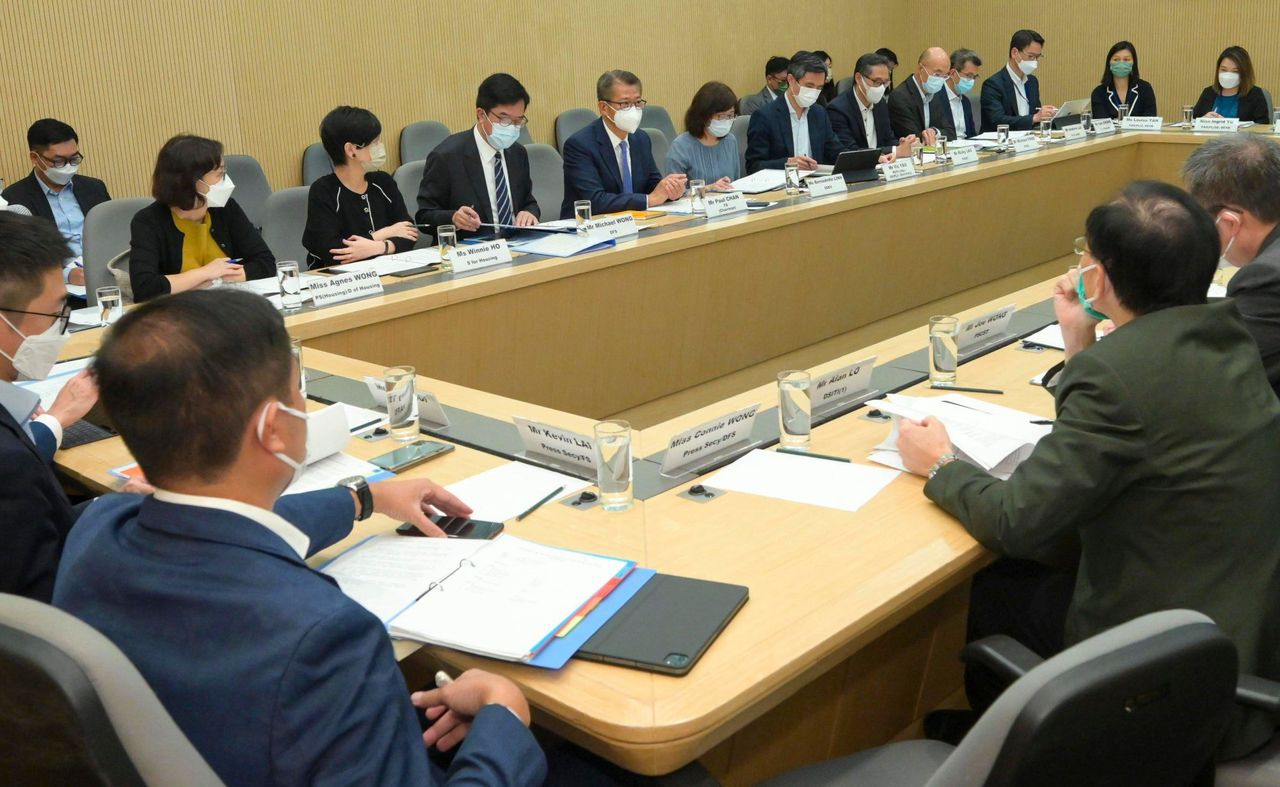 The Steering Committee on Land and Housing Supply, chaired by Financial Secretary Paul Chan, held its first meeting on July 12 to discuss future work plans.

The steering committee on land and housing supply, chaired by Financial Secretary Paul Chan Mo-po, requested the Development Bureau to submit reports on land supply forecasts for the next decade by September, in a bid to contribute to timely land supply for various uses.

"This will facilitate the review of the progress of land creation projects in their different stages, from studies to site formation, so as to ensure that the supply of land for various uses would materialise in a timely and practical manner," said a spokesperson.

The Development Bureau and the Environment and Ecology Bureau were also required to submit concrete proposals on streamlining development procedures during the meeting, in order to get prepared for law amendments procedures in the Legislative Council by the end of the year.

Meanwhile, the task force to address intergenerational poverty, chaired by Chief Secretary for Administration Chan Kwok-ki, announced it would double the quota of a support scheme for junior secondary students to 2,000. Some concern groups had complained earlier that the quota was too low.

Eligible underprivileged students will be given a start-up sum of HK$5,000 (US$637), which will be spent under the guidance of a mentor to achieve personal goals. Upon successful completion of the programme, a scholarship of another HK$5,000 will be awarded to the student for their own personal pursuits.

"After the scheme's details are ironed out, the task force seeks to announce them in August to kick-start the recruitment of mentors and students," said Chan, adding that the task force will consider enhancements to the scheme after a review a year later.

The fourth task force on district matters, led by Deputy Chief Secretary for Administration Cheuk Wing-hing, plans to launch a citywide clean up campaign within a month. It requested relevant departments to submit plans for the three-month programme in a week's time.

The campaign aims to tackle environmental hygiene and street management problems like illegal refuse deposits, water seepage in buildings, water dripping from air conditioners and rodent infestation.