At least three projects have proposals for flats as small as 250 sq ft to be sold to poor families. Government's long-term plan is for larger spaces, but tiny homes will help to ease supply crunch
Hong Kong's main provider of subsidised housing is considering building more small flats in coming projects, with some as tiny as 250 sq ft, the Post has learned.

Sources said the Housing Authority was assessing the size of flats to sell to low-income families with households of two or three people. In at least three projects, some flats could have 226 sq ft of internal floor area, the minimum size adopted for two- to three-member families. It is roughly equivalent to 250 sq ft of saleable area.

In one project, tiny flats could make up as much as 40 per cent of the total, said the sources, who had seen discussion papers about the proposals.

The authority's focus on tiny flats comes even as the government has pledged to increase the living space in public housing in the long run.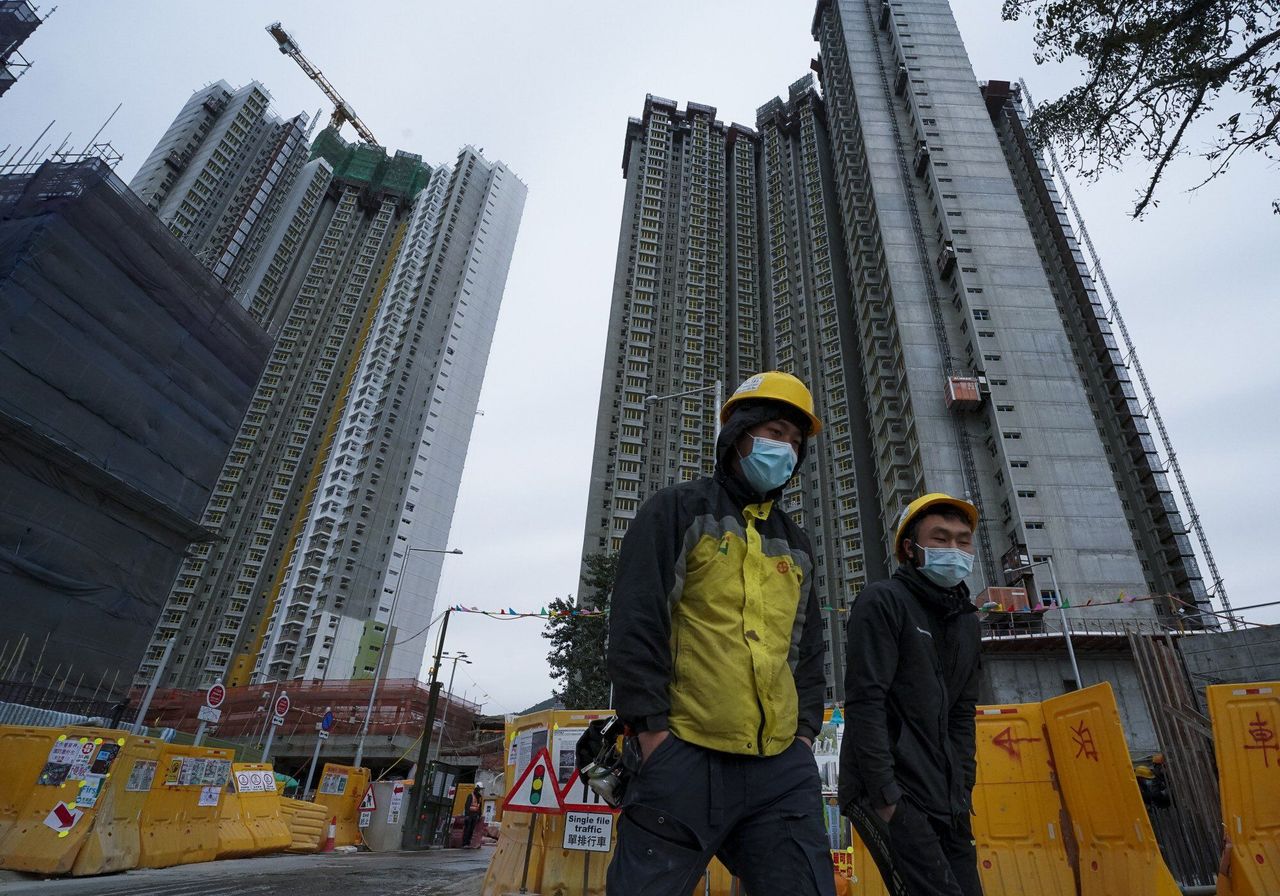 Two workers leave the public housing project Queen's Hill House in Fanling.

In Hong Kong, the world's most expensive property market, private developers have taken to building shoebox homes known as "nano flats" – usually just 200 to 300 sq ft – to lure buyers who cannot afford bigger ones.

The authority introduced flats smaller than 30 sq m (322 sq ft) in 2018, and they made up 14 to 22 per cent of the annual supply under its Home Ownership Scheme between 2018 and last year.

The latest proposals being considered indicate the public sector is looking at these smallest flats as a way to increase the supply sooner and ease the city's housing crisis.

Raymond Chan Yuk-ming, a surveyor and member of the authority's building committee, said: "Smaller flats [will mean] more supply. We should make the best use of land resources."

He added that smaller flats could also be justified by Hong Kong's shrinking household size and the rising number of single applicants.

The three coming projects under the authority's Home Ownership Scheme are at the former Kai Tak airport, Lok Fu in Kowloon and a railway depot site in Siu Ho Wan on Lantau Island.

The Siu Ho Wan site, considered a flagship project, will have about 20,000 flats, with up to half sold as subsidised homes and the rest, private. It is being built in four phases, with the first expected to be ready by 2030.

One of the sources said about 40 per cent out of the 4,280 subsidised homes in the initial phases would be nano flats.

At the Kai Tak project, which is scheduled for completion by 2026-27, about a quarter of the 3,100 flats will be of the smallest size being considered.

"Kai Tak is in an urban area and the project is close to an MTR station. Considering the possible demand among buyers, I think it's legitimate to build some relatively smaller flats," a source said.

The Housing Society, the city's second largest provider of public housing, is also building homes at Kai Tak but is keeping them at 313 to 644 sq ft.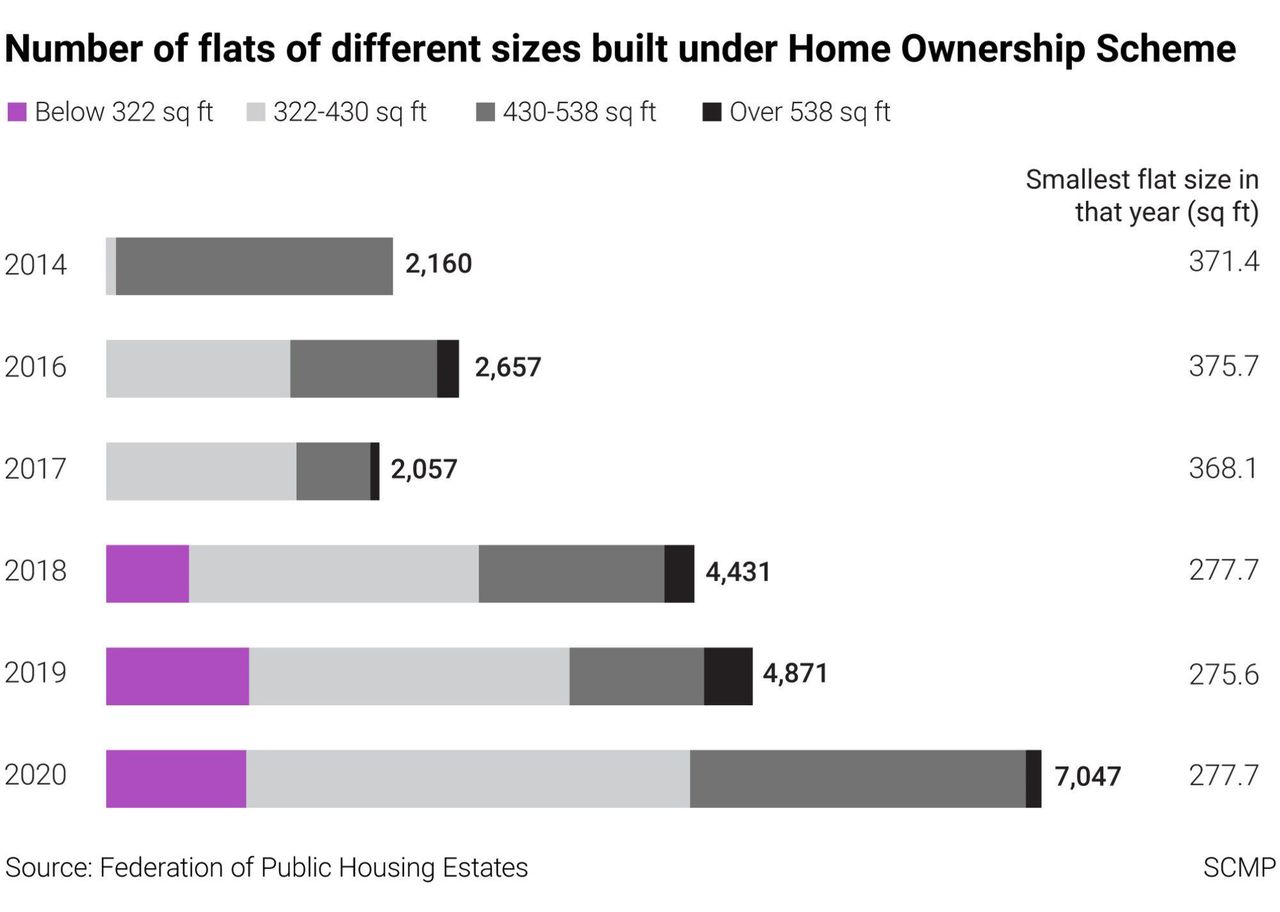 Number of flats of different sizes built under Home Ownership Scheme

A third government-backed housing provider, the Urban Renewal Authority, raised the minimum size of its flats from 260 sq ft to 300 sq ft in 2018.

The self-financing organisation, which redevelops private buildings and produces subsidised homes for the middle class, said in 2017 that the living space for a two-person household should be at least 260 sq ft to accommodate a double bed, basic furniture, and essential items such as a cooker and fridge.

Asked about the plans to build tiny flats, a spokesman for the Housing Authority said generally, the saleable area of subsidised flats was about 269 to 452 sq ft, but smaller ones could be built sometimes.

"Depending on individual site environmental factors, such as location and topography, the authority will also consider designing smaller or larger units to maximise use of the land," he said, adding it would continue to be flexible in working out the size and combination of flats for each project.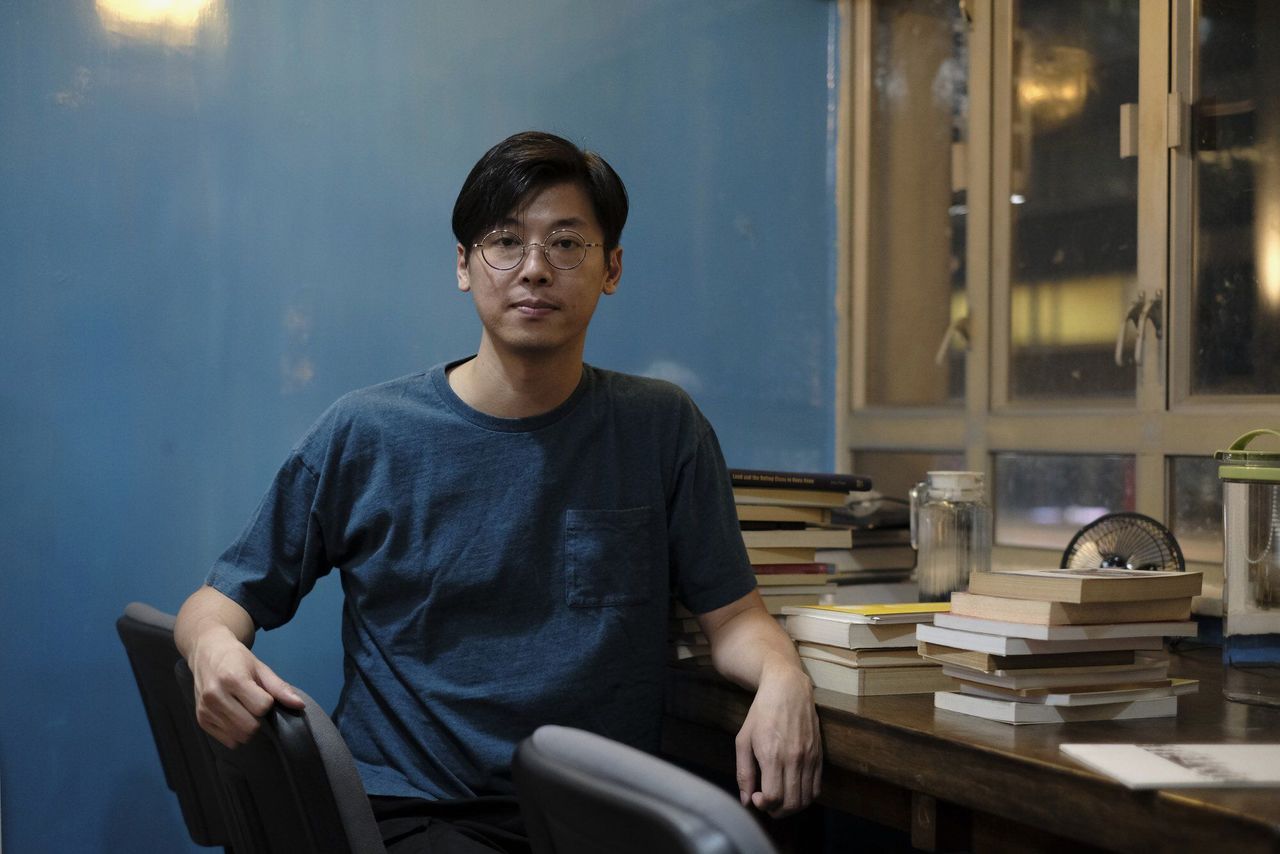 Chan Kim-ching, the founder of the Liber Research Community.

Johnnie Chan Chi-kau, chairman of its building committee, said it was not the authority's policy to meet supply targets at the expense of buyers' living space.

In the Kai Tak project, for example, such small flats would be "only a minority" of the total built, he said.

"We are still assessing different possible flat designs based on the actual site situation and we haven't come to a conclusion yet," he added.

The government has pledged to build 301,000 public-sector flats over the next decade to tackle the lack of affordable housing.

In October, development minister Michael Wong Wai-lun pledged to set a minimum flat size for the private sector and increase the size of public housing by 10 or 20 per cent in the long run – although this is dependent on the first phase of a massive reclamation project around Lantau being completed.

Chan Kim-ching, founder of the Liber Research Community, a civic group that focuses on housing and land issues, wondered if the authority was under pressure to build more flats to meet the government pledge.

"It looks like the government wants to hit its target by making the flats smaller and more compressed," he said.

He said the authority, as a public housing agency, should take the lead in enhancing the quality of people's living conditions, instead of making market-driven decisions.

"It seems they assume single residents will not start a family, given the flat size is barely enough for a two- or three-member household, or they just see such flats as a temporary home for citizens," he said.