Hong Kong health authorities to launch medicine home delivery service for specialist outpatient clinics.
About 20,000 patients a day at Hong Kong public hospitals can opt to have their prescription medicine delivered to their doorsteps after specialist consultations by the end of the year, health authorities have said.

The new service, which will cost HK$65 (US$8) per delivery, was introduced to help cut waiting times at hospital pharmacies.

Patients aged 18 or older who visit specialist outpatient services will be able to use the delivery service, which will start at Queen Mary Hospital in Pok Fu Lam and Tseung Kwan O Hospital in Kowloon on May 15.

Benjamin Lee Shing-cheung, the Health Authority's chief pharmacist, said it had started a Covid-19 medicine delivery service during the fifth wave of the pandemic last year, which provided "precious experience" for expansion of the scheme.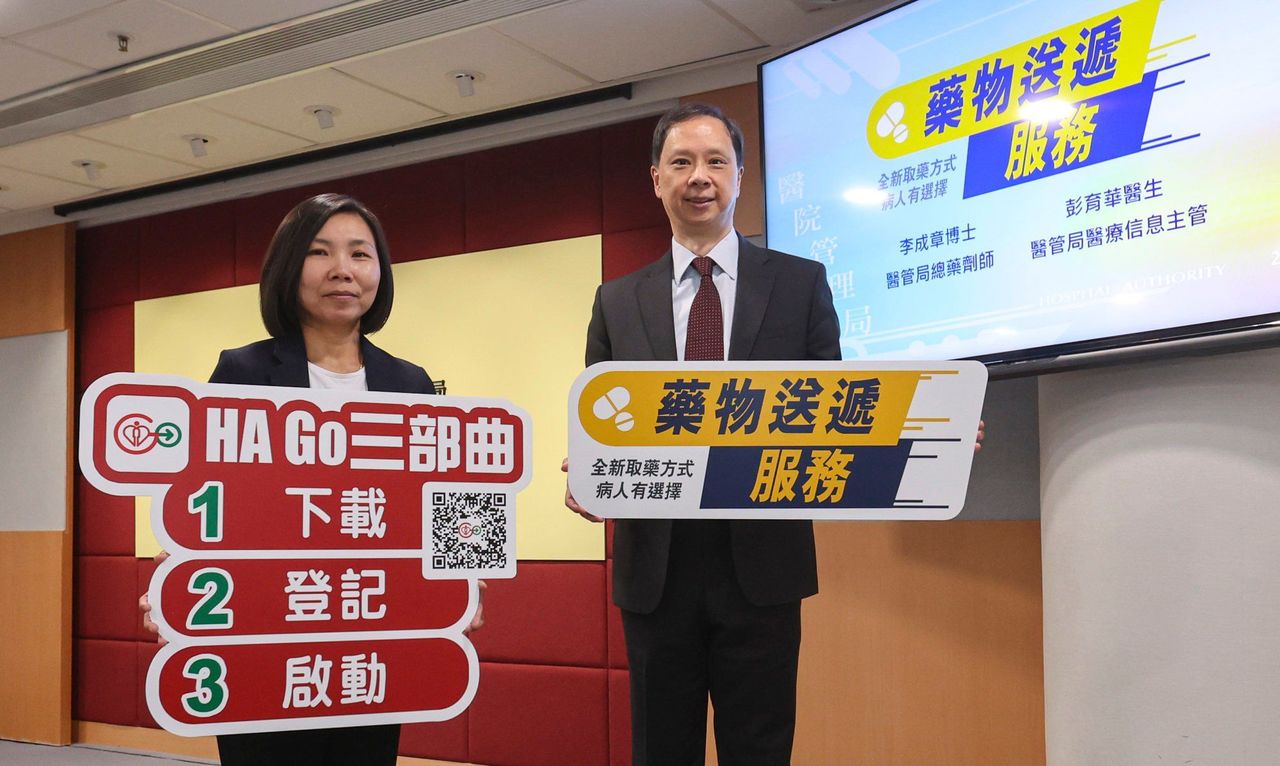 Dr Joanna Pang, the Hospital Authority chief medical informatics officer, and Dr Benjamin Lee, the authority's chief pharmacist, announce the new specialist outpatient prescription home delivery service.

"We hope to optimise our pharmacy services and offer our patients an additional choice of obtaining their medicines … we also wish to help with the development of telemedicine services and improve patients' experience," Lee said.

"The service can save patients' time and avoid waiting at hospitals. It can also shorten the waiting time for other patients queuing at the hospitals."

The Covid-19 medicine delivery was launched last July for patients who used telemedicine services and was extended to residents who had virtual consultations with specialists in March.

The authority said the service would be expanded to hospitals in Central and Western and Southern districts, as well as ones in Kwun Tong and part of Sai Kung districts, in early June. The rest of the city's public hospitals would have the service by the end of the year.

Patients who are members of HA Go, the authority's mobile app, are eligible for the service after visits to specialists for outpatient assessment.

Patients will be required to have sufficient pills at home before delivery can be made so there is no danger of them running out before the new prescription reaches them.

Those with new prescriptions or who are prescribed medicine that needs immediate use are not suitable for the service.

The standard charge will apply irrespective of the amount, weight, size or types of medicine.

Most prescription medicines will be covered, including those that require refrigeration, but drugs classed as dangerous will be excluded.

Patients will be able to complete payment and get a digital queuing ticket on the HA Go app after their appointments. They can opt to pick up their prescriptions at the hospital's pharmacy or use the delivery service.

Staff will be deployed to help patients navigate the HA Go app.

Those using the service can also select a phone or video call with a pharmacist for advice about their prescriptions. Patients can also call the hotline listed on the delivery package to ask for help from pharmacists.

Lee said there were about 20,000 prescriptions a day issued by specialist outpatient services in Hong Kong and the average waiting time was 30 to 40 minutes.

The authority said it expected about 2,000 patients to choose to have their prescriptions delivered.

"Why we chose specialist outpatient services first is because most of the patients are prescribed the same medicine for a long time," Lee said. "There is a large number of them and their medicine intake is huge."

He said that the authority would consider expanding the delivery scheme to children's and general outpatient services.

Lee added delivery would be outsourced to mainland Chinese shipping company SF Express and promised high safety standards.

He said the hospital pharmacies would seal the prescriptions in a bag, which would be placed in a company package.

Lee added that, if necessary, medicine would be stored in refrigerated bags or boxes during transport.

He said SF Express would contact recipients to confirm their names and addresses before the package was delivered.

The medicine must be collected by the patients or a specified agent and a QR code on the HA Go app will have to be shown to the courier on arrival.

Tim Pang Hung-cheong, a patients' rights campaigner from the Society for Community Organisation, welcomed the service and agreed it could help reduce the queuing time at hospital pharmacies.

He added time would be needed to establish how many patients would benefit and that they might take the delivery fee, the amount of medicines and the time cost into account when they opted for the service.

"There is a need to expand the service to general outpatient services as there is also a number of patients who have chronic illnesses with relatively stable conditions," Pang said. "They also have to pick up medicines in large amounts after consultations."