With Panadol in short supply across the city, the Post found one pharmacy selling paracetamol in loose packs and strips, a practice seen as a health risk.
Hong Kong's healthcare system is battling a winter surge of Covid-19 and influenza cases, with 10 accident and emergency units at public hospitals reporting waiting times of more than eight hours, and medical services fully booked for those with mild coronavirus infections.

With empty shelves continuing to frustrate residents looking for Panadol in local pharmacies amid mainland China's worst Covid-19 outbreak in three years, the Post found one shop was selling paracetamol in loose packs and strips, a practice an industry expert warned was a health risk as the medicine's source and storage conditions were unknown.

Meanwhile, Ng Wai-ling, vice-chairwoman of the Hong Kong Medical and Health Care Staff General Union, attributed lengthy waiting times to a recent rise in Covid-19 infections among nurses and support workers, saying the increase in cases had significantly reduced manpower in hospitals by one-third to a half at one point.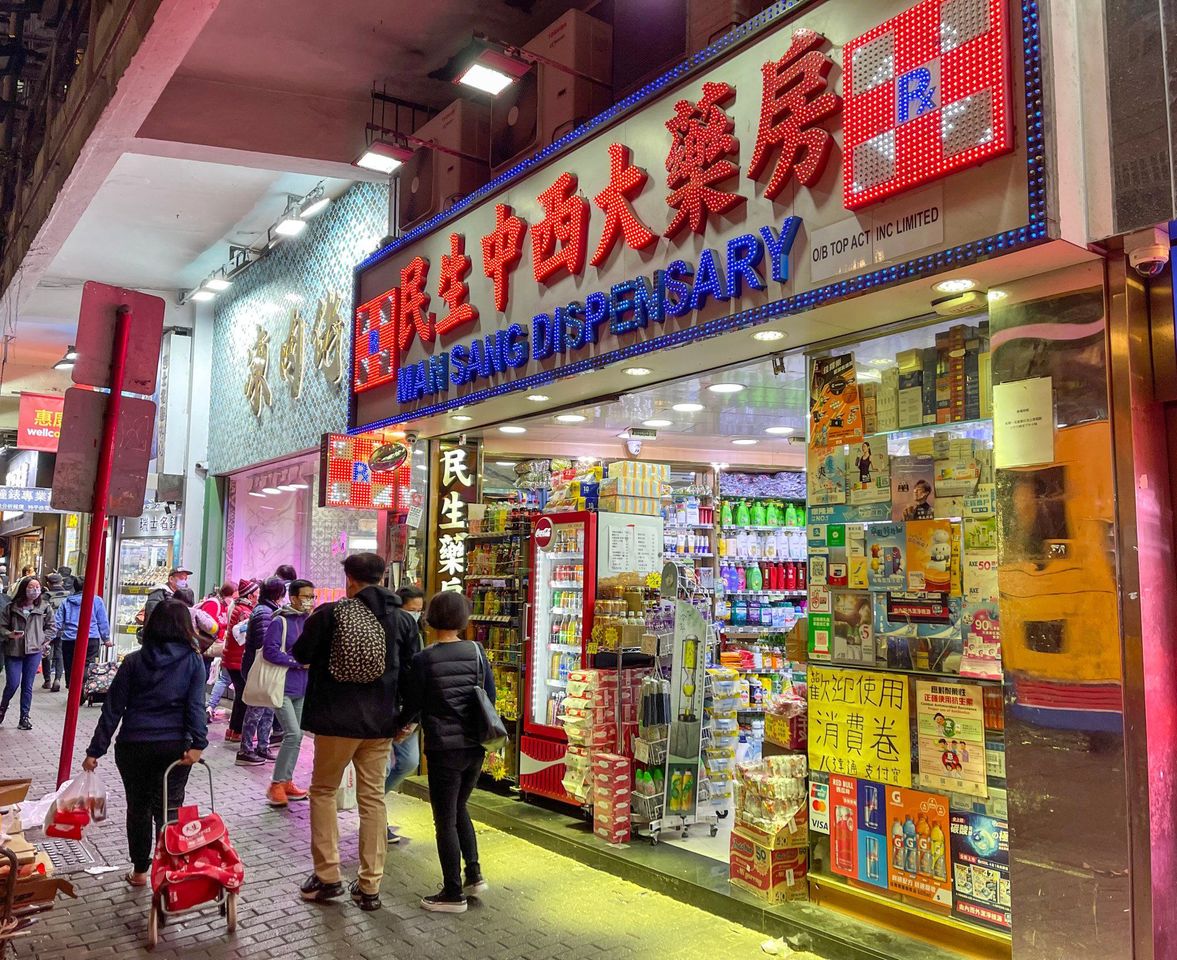 Man Sang Dispensary was spotted selling loose packs of paracetamol.
She expressed concern about a possible influx of
Covid
-19 patients at public hospitals after the Christmas holiday and the reopening of the border with mainland China and called on the authorities to ensure sufficient manpower and supply of medicine.
Accident and emergency departments at 10 out of 18 public hospitals recorded waiting times of eight hours and above on Boxing Day morning,
including all three on Hong Kong Island and two in Kowloon.
The crunch eased in the afternoon, with wait times at four public hospitals dropping to seven hours as of 5pm.
All seven designated clinics and tele-consultation services for
Covid
-19 patients were fully booked as of 4.30pm on Monday, a Post check found.
This was despite the Hospital Authority telling the Post it had already boosted the capacity of online service and the facilities, which now served 4,000 patients in total every day.
The authority stressed that more than half of the quota would be reserved for high-risk patients, including people aged 70 or above, children below five, pregnant women at or after 28 weeks of gestation and the immunocompromised, who could make appointments via a special hotline.
To alleviate the pressure on the public healthcare system, the authorities appealed to
coronavirus
patients to consider using private medical services, as more than 400 doctors could prescribe oral
Covid
-19 drugs.
While Hong Kong residents continued to snap up Panadol – a brand trusted to ease
Covid
-19 symptoms – for themselves or their relatives and friends on the mainland, the Post inspected more than 10 pharmacies across the city, and found one was selling pills containing paracetamol in loose packs and strips.
At Man Sang Dispensary, a pharmacy near Causeway Bay, a salesman said Panadol had been sold out for a long time, but offered to sell 30 white pills stored in a ziplock bag for HK$60, claiming the medicine was equivalent to Panadol.
"This works equally well. They are the same pills that doctors will prescribe you, we have just repacked them from a big bottle," the salesman said.
Jubilant Medical Shop in Wan Chai was the only pharmacy where the Post could find Panadol, but staff were selling a box of 50 extra strength pills for HK$380. The same box usually retails for around HK$150.
A customer, who declined to give her name, came in and bought the entire stock despite the inflated price. She said she had visited five pharmacies in the area but they were all out of Panadol.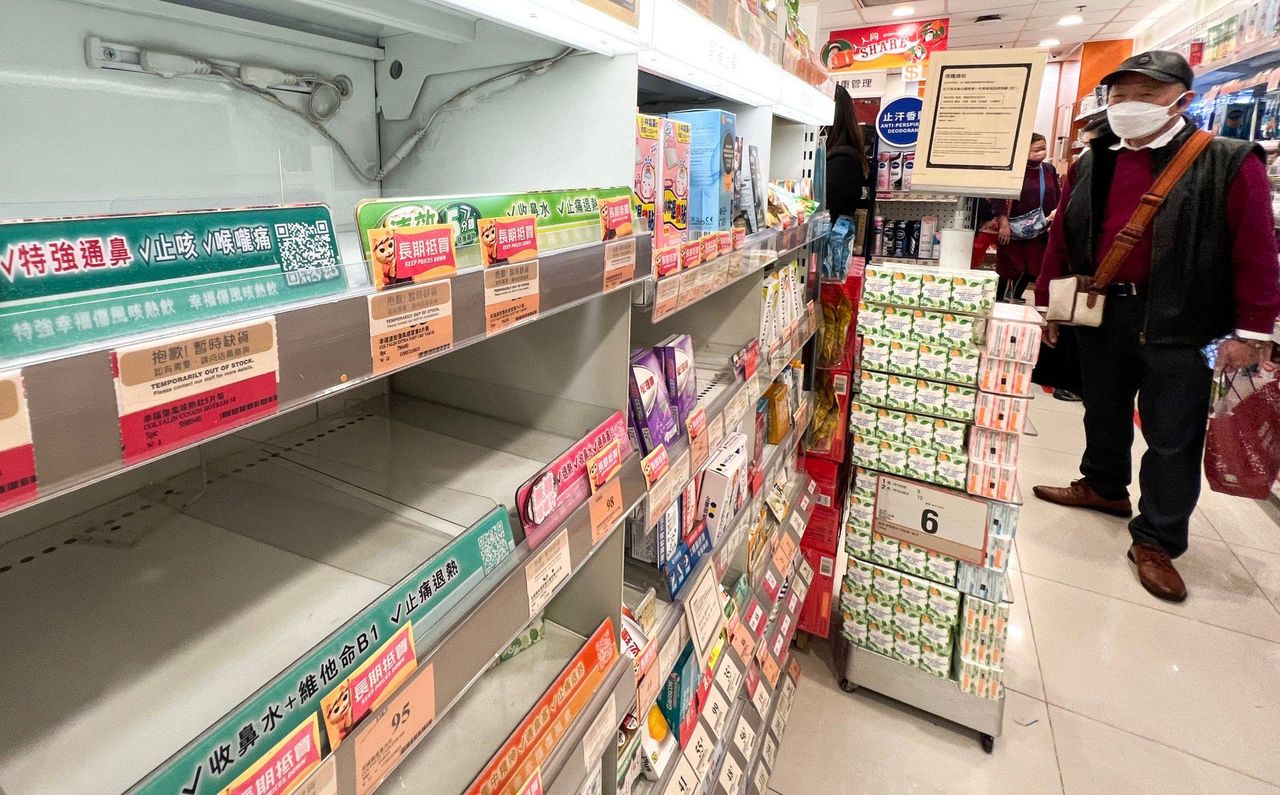 Cold medicine is in short supply at this Hong Kong pharmacy.

William Chui Chun-ming, president of the Society of Hospital Pharmacists of Hong Kong, warned against buying drugs in loose packaging.

"The source and storage conditions of these loose drugs are unknown. If they were stored in damp places, their quality and efficacy may be affected," Chui warned.

"Some unethical pharmacies may seize the chance to clean out their stocks of drugs with unknown sources."

He said some patients would sell leftover medicine prescribed by public doctors to pharmacies, especially brand name drugs such as Panadol.

He advised residents to always buy drugs in their original packaging and from registered pharmacists, rather than from staff members and shopkeepers, to reduce the chance of buying substandard medicine.

The Post has contacted the Health Bureau about the shortage of Panadol, and how it will follow up on the sale of drugs in loose packs.