New ward to be opened at centre on Lantau Island, while some stable patients to be transferred to private institutions as part of measures
Hong Kong's Hospital Authority has stepped up efforts to ease the burden on its facilities from rising Covid-19 infections, but noted that flu cases had already peaked and were on the decline.

The measures included opening another ward at an infection control centre, transferring stable patients to private hospitals, and adding manpower and beds as needed.

"We noticed that for influenza, the number of cases has risen sharply in the past few weeks, but it seems over the past week it has already reached its peak," said Simon Tang Yiu-hang, director of cluster services at the authority.

"For Covid-19, we see the trend is still rising. It's difficult to say whether it has reached its peak, we need to closely monitor the situation."

He said more than 6,000 people visited accident and emergency departments at public hospitals every day. More than 1,200 patients were hospitalised this week, up from 950 in the previous one.

About a third of this week's admissions were Covid-19 cases, he said, adding he expected the number of infections to remain high in the coming weeks.

Dr Larry Lee Lap-yip, a chief manager at the authority, said the government would open another ward with about 140 beds at the North Lantau Hospital Hong Kong Infection Control Centre by Thursday to welcome more of the Covid-19 patients.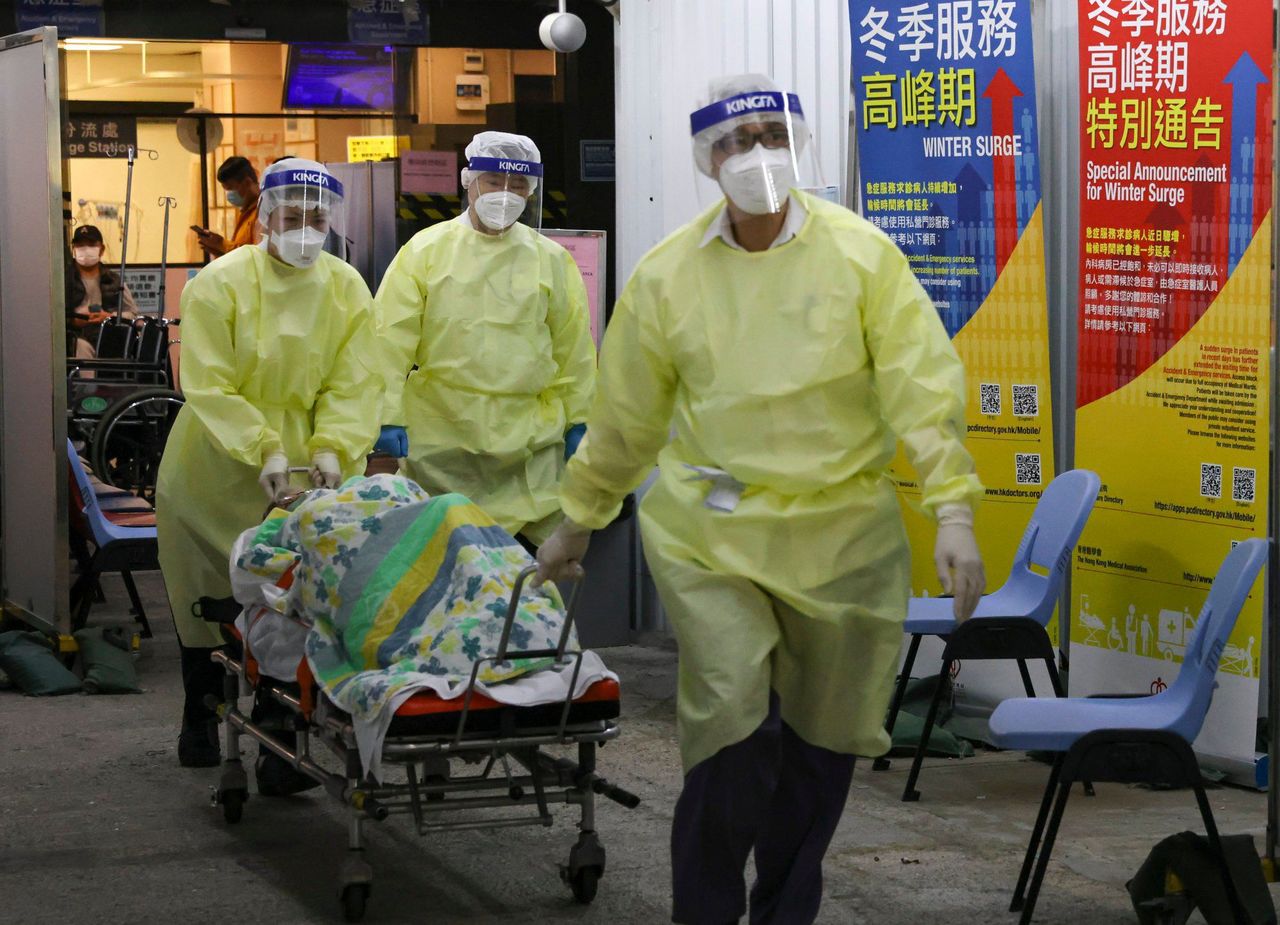 Health workers treat a patient at the accident and emergency ward of the United Christian Hospital in Kwun Tong earlier this year.

The situation of public healthcare hospitalisations was less serious than during the fifth wave of infections last year, he said.

He emphasised there was at present no need to adjust other non-emergency services, as there were fewer severe cases than before.

"Their rate of needing ventilators [and] oxygen is lower than before, that means the clinical severity is lower than the last wave … our hospitals can still maintain services without much adjustment to the elective services," he said.

Secretary for Health Lo Chung-mau told lawmakers on Wednesday that the government's strategy was to focus on protecting high risk groups. He said the risk to the general public had been significantly reduced, with no significant rebounds in case numbers.

Lee said the present discharge guidelines for Covid-19 cases were similar to those for the flu, explaining some patients were recently released after two days of remaining stable.

Owen Tsang Tak-yin, the medical director of the authority's Infectious Disease Centre, said the the most recent statistics showed the median age of hospitalised patients was 78.

"This Monday for example, there were 2,100 Covid-19 patients admitted to the hospital on that day, with 13.7 per cent coming from residential homes," he said, adding that authorities would continue to strengthen support with these facilities.

Medical experts have appealed Hong Kong residents to remain vigilant after the World Health Organization declared an end to the Covid-19 global public health emergency.

Residents should continue to protect themselves with vaccinations and booster shots, they said.