Relaxed rules mean increased numbers, but veteran fans of the turf say Sha Tin racecourse not yet back to normal.
Almost 13,000 Hong Kong fans of the "sport of kings" on Sunday returned to the races after Covid-19 restrictions were eased to allow walk-ins and arrivals with amber codes, but the relaxation did not lead to an influx of tourists.

The Hong Kong Jockey Club, in line with the government's latest relaxation of social-distancing rules, said that racegoers, including amber code holders, were not required to present their vaccine pass QR code for entry from Sunday.

One racing fan in his fifties, who gave his surname as Ma, said he was delighted to be back at the Sha Tin course, but added the atmosphere did not compare with pre-coronavirus times.

He said that he had not been keen on the rule that racegoers had to book seats and buy tickets in advance, introduced during the Omicron variant outbreak.

"I haven't been here for a year and a half as I didn't want to book my entry. I feel relaxed and happy to be back," Ma said.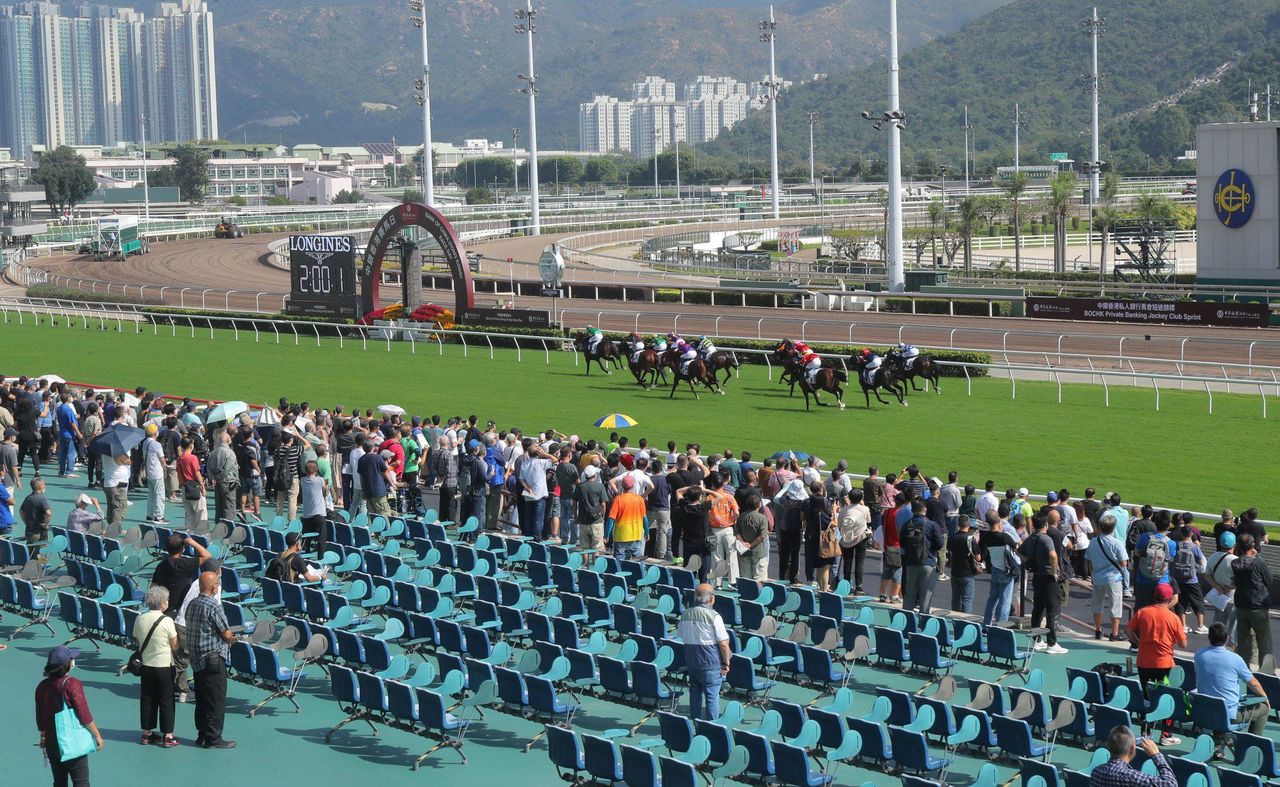 Woodfire Bro, with Derek Leung at the reins, wins the first race at Sha Tin racecourse on Sunday.
But the unemployed fan said there were fewer people than expected at the racecourse's outdoor stands.
"The atmosphere is very different. If you look at overseas races like those in Australia and Japan, you see restrictions relaxed months ago with people not wearing masks – I feel jealous watching on TV," Ma admitted.
"I think maybe 20,000 to 30,000 people will be here, but that's still fewer than before when we talk about tens or hundreds of thousands in the stands."
All that is required under the relaxed regulations is that racegoers scan the venue's QR code with the "Leave Home Safe" risk-exposure app and fulfil
vaccine
pass requirements.
Inbound travellers undergoing the three-day medical surveillance period under the "0+3" model can also enter the racecourse even if they are amber code holders, but few tourists were spotted at the Sha Tin racecourse.
The new measures were introduced as the city recorded 7,736
Covid
-19 cases on Sunday, including 524 imported cases. Thirteen people also died from the virus.
The total case tally now stands at 2,036,681 infections and 10,599 deaths.
Aken Ahmed, a racing fan in his twenties, said that the racecourse was busier than it had been in recent times.
"When I used to come here with bookings, there weren't that many people. It's more crowded today than when I came two weeks ago," Ahmed said.
Ahmed backed the restart of walk-in ticket sales and the decision to allow eating and drinking outside at courses because it made the race-going experience easier.
"If I had to eat at restaurants like before, I might miss the race, but now I can just buy food and eat at my seat," Ahmed explained.
Racing fans can now buy food and drinks from kiosks in the outdoor stands.
Hot dogs and chicken legs were available at HK$29 each (US$3.70), beer was available at HK$47 and non-alcoholic drinks cost between HK$14-20.
Beer and chicken legs appeared to be the biggest sellers at the stands.
Wong Hoi, a construction worker in his fifties, said he was glad to be able to drink outdoors at races again.
"I've bought a beer, of course. You have to drink at the races," Wong said.
He added that being able to enjoy a drink as he watched improved his enjoyment of the races.
The beer garden and live entertainment between races at the Happy Valley racecourse will restart from Wednesday.
Some who were not regular racegoers took advantage of the walk-in tickets to visit the racecourse just to soak up the atmosphere.
Cheung Kwai-sing, 69, who is retired, brought brother-in-law Lee Chiu-kit, 66, to the Sha Tin racecourse on a trip down memory lane as Lee had not visited the track for more than 20 years after he emigrated to the United Kingdom.
"I used to stroll to the racecourse on the weekends as I lived in a public housing estate nearby. I'm a racing fan in the United Kingdom as well," Lee said.
"The atmosphere's not bad. There are fewer people around, but I think it's bound to happen under current circumstances. Nonetheless, the atmosphere is still alive."
Attendance at the two racecourses in the city have plummeted by more than half, with fewer than 8,500 spectators at the start of the season in September, a decrease of about 52 per cent compared with last season.
A total of 12,712 people visited the Sha Tin course on Sunday, an almost 70 per cent increase compared with the 7,538 spectators logged in September.
The Sha Tin course can hold more than 80,000 people.
A Post reporter observed that Hong Kong Jockey Club staff were asking visitors to scan their "Leave Home Safe" app for manual checking before they could buy tickets.
Travellers with amber codes were allowed access to premises with "mask-on" activities without checks for the
vaccine
pass since last Thursday.
An active check involves a second scan of a user's health code on the "Leave Home Safe" app, with a beep used to show clearance for entry.