Health chief Lo Chung-mau says measures are meant to highlight importance of vaccination against respiratory diseases, especially Covid-19 and flu.
Civil servants and volunteers will go from door to door to sign up Hong Kong's elderly in public housing estates in three districts for Covid-19 jabs from Saturday as part of a renewed push to vaccinate high-risk groups which include a free flu shot outreach programme for secondary school students.

Secretary for Health Lo Chung-mau revealed the measures on Friday in a follow-up press briefing on the policy address, as officials confirmed overseas attendees of the coming Global Financial Leaders' Summit would be allowed to join certain activities in "designated venues" and leave via private jet if they tested positive for Covid-19 according to established practice.

"All these measures are meant to highlight the importance of vaccination against respiratory diseases, especially Covid and flu," Lo said, when asked about the inoculation drives.

"Elderly and child vaccinations have not reached ideal levels yet. There are still 28 per cent of those aged 80 and above who have not received a single [Covid-19] jab, with the vaccination rate at 18 per cent only for those under three years."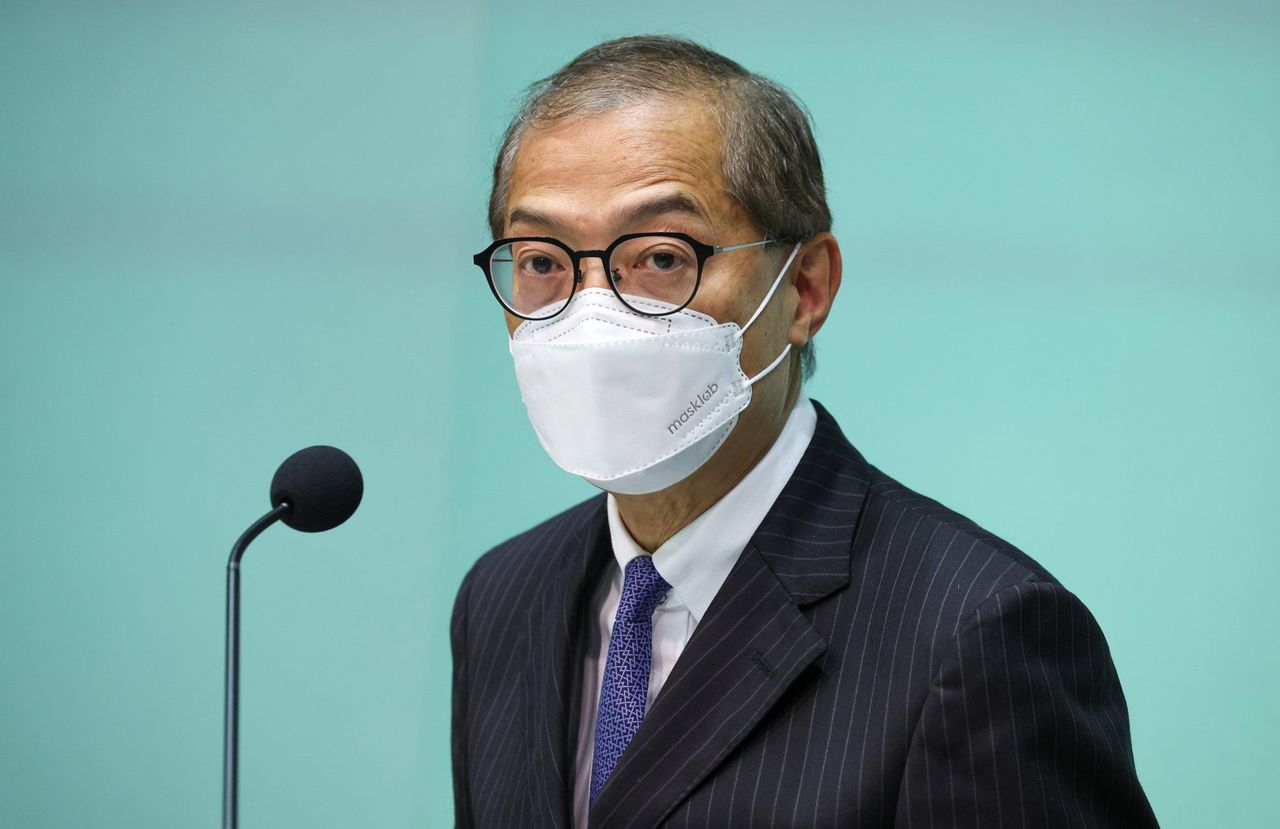 Secretary for Health Lo Chung-mau.

Lo noted that influenza had led to the death of two or three children annually between 2015 and 2019, while in comparison so far this year nine fatalities involving youngsters aged 11 or below were from complications resulting from Covid-19.

Starting on Saturday, a joint operation involving the health and civil service bureaus as well as a number of local NGOs will knock on doors in Wong Tai Sin, Kwun Tong and Kwai Tsing districts, targeting those aged 70 or above who have yet to receive a Covid-19 shot.

Lo has also written to the elderly in these areas in a bid to persuade them to get shots.

With an eye on the coming winter influenza season, Lo also said the government had included secondary school pupils as a priority group for flu inoculation and its outreach programme, which would also allow them to get jabs in private clinics.

On Friday, the city confirmed 5,393 new coronavirus infections, including 370 imported ones, as well as nine more related deaths. The overall tally now stands at 1,863,723 cases, with 10,315 fatalities.

The Post earlier reported that foreign bankers and finance executives attending the summit from November 1 to 3 would not be subject to certain pandemic restrictions for regular arrivals and would be free to eat and mingle in private settings in restaurants, according to two sources.

That means they can meet clients and colleagues at private rooms in high-end restaurants not limited to the Four Seasons Hotel, where some of the conferences will be held, and take a private jet out of the city if they test positive.

At Friday's press conference, officials rejected accusations of favouritism.

"We are balancing the risks of the Covid-19 pandemic versus economic requirements, the livelihood of our citizens as well as financial activities," Lo said.

"It will include PCR and rapid antigen tests, and designated hotel and venues for particular events to take place," the minister added, alluding to plans to allow visits outside the hotel.

"When the government is considering these plans, it is looking at each event's nature, people involved and its impact on Hong Kong to draw up tailor-made plans. There is no favouritism involved."

City leader John Lee Ka-chiu on Wednesday announced an ambitious blueprint for health reform in his maiden policy address to relieve the burden on public hospitals.

Headlining the health section is a new Primary Care Authority, tasked with overseeing and coordinating the provision of community health services such as district health centres in the public sector as well as the private sector.

Lo said the authority would be given the legal right to oversee, provide and procure primary healthcare services, as well as setting standards for service quality and offering training to staff in the sector.

"In the preliminary stage, manpower from the Health Bureau and the Department of Health will be deployed to form an initial structure and will later formally establish the authority in 2024," he said, adding that officials were still looking into the amount of funding that should be allocated to the new body.