Vaccine committee co-convener Professor Ivan Hung says both 'BioNTech and Sinovac jabs are very safe' for children.
No children who received a Covid-19 vaccine injection have reported any serious side effects, a government health adviser has said as he called for parents to receive more education on jabs safety to ease their concerns.

Professor Ivan Hung Fan-ngai, co-convenor of the Expert Committee on Clinical Events Assessment Following Covid-19 Immunisation, sought to reassure residents that vaccines were safe for children.

"[There have been] extremely few severe side effects reported. Both the BioNTech and Sinovac jabs are very safe," Hung told the Post.

"As the BioNTech is one-third of the adult dose and given on the thigh, overall no myocarditis or pericarditis was reported," he said, referring to the inflammation of the heart muscle and the outer lining of the heart.

"Both [BioNTech and Sinovac] vaccines mainly have local side effects of aches, myalgia or minor fever."

The government vaccine expert revealed the findings days after schools said parents were hesitant to inoculate their children against Covid-19 over fears of potential side effects.

Educators warned that the concerns from parents could make it difficult to reach the government target of inoculating 90 per cent of students before full-day in-person classes could resume next month.

The vaccination target followed the decision by authorities on Monday to allow schools who had brought forward summer break to resume face-to-face classes from April 19. But campuses that could not reach the inoculation goal would only be allowed to resume in-person learning for half a day.

According to authorities, 58.8 per cent of children aged between three and 11 had received one dose of a Covid-19 vaccine while only 11 per cent had taken two.

Among those aged 12 to 19, 95 per cent had been administered their first jab and 66 per cent had received their second.

From January, authorities approved the use of the Chinese-made Sinovac vaccine to children aged between five and 11, with the age limit extended to those as young as three in February. The BioNTech jab was also made available to children aged five to 11 in mid-February.

According to the Department of Health, the rate of reported adverse events following vaccination for those aged 19 or below was 0.05 per cent as of February, accounting for about 54 cases out of nearly 910,000 doses administered.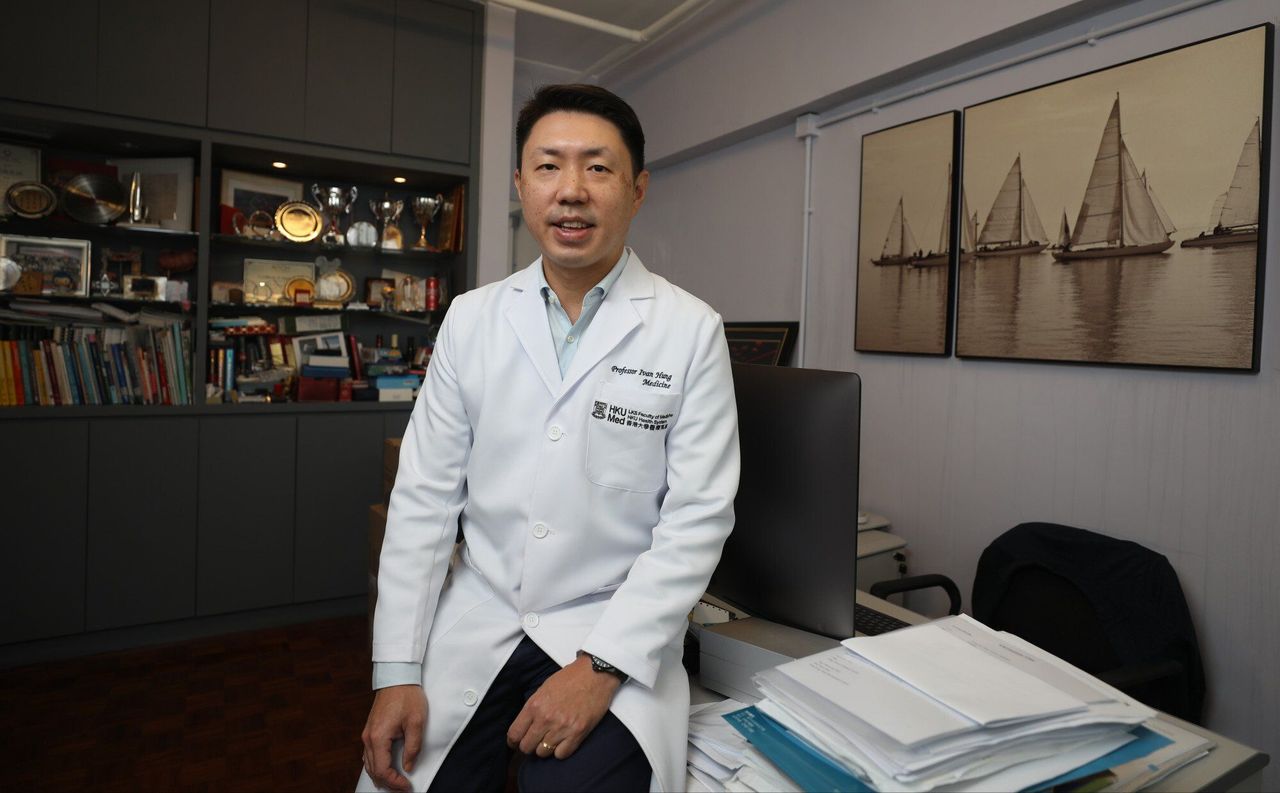 Professor Ivan Hung.

A department-compiled report on the adverse effects of vaccines found that 113 suspected cases of myocarditis had been logged during the same period.

Symptoms reported by 37 of those cases, aged between five and 15, were resolved after treatment. However, the report did not provide a further breakdown of how many of the 113 myocarditis cases were aged between three and 11.

The document noted that other adverse effects included rashes, chest pain and dizziness for those who had received a Sinovac jab, while those who took the BioNTech one mainly reported discomfort in the chest.

The report did not include a breakdown of the side effects experienced by children aged three to 11.

Several kindergarten principals told the Post their vaccinated pupils had only suffered from very mild side effects.

Choi Lai-fong, a council member of the Hong Kong Federation of Education Workers and principal of a private kindergarten, said the major side effect her pupils had experienced was tiredness, with most recovering within a day.

Professor Patrick Ip, president of the Hong Kong Paediatric Society, said the potential side effects among children were much milder compared to adults.

"The common side effects of the Covid-19 vaccine [among children] are not different from common side effects of any kind of vaccine," he said. "The side effects, such as a mild degree of muscle pain, tiredness, low-grade fever and skin rash, are actually signs of a good immune system."

Ip added that the potential risks of catching the virus were more severe than any that were linked to getting vaccinated.

"So far, six children [aged between three and 11] have died in Hong Kong [as of Friday] after catching the virus. These children had been very healthy, but died two to three days after getting infected," he said.

On Saturday, Secretary for the Civil Service Patrick Nip Tak-kuen told a radio programme that 15 per cent of children aged three to 11 had yet to be vaccinated. He added that it was possible they were either infected or listed as close contacts, preventing them from going out to receive their jabs.

If the remaining unvaccinated children got their jabs at a later stage, the inoculation rate could reach 75 per cent, while the government's criteria for resuming classes would help push the figure to 90 per cent.

Hung said a high vaccination rate combined with wearing masks would be sufficient to guarantee the safety of children as they returned to school.

He added that many children would have a robust natural immunity after already contracting the coronavirus.

To boost vaccine uptake, Hung called for more inoculation centres for children and outreach teams at schools, adding that parents should receive more education about the safety of getting jabs.

However, respiratory expert Dr Leung Chi-chiu warned against rushing to resume full-day in-person classes. He said it was impossible to reach a 90 per cent vaccination rate by the end of April, citing the one- to two-month interval required between receiving the first and second jabs.

"What should be really considered before we make the decision of reopening schools is the proportion of children who already got Covid-19 and are immunised naturally, and those who got the second dose coverage," he said.

"Until we reach a good enough balance between these two, it is best to avoid full-day classes."

Mainland Chinese and US data showed that even with high vaccine coverage among students, school outbreaks remained with the Omicron variant, Leung said, adding that data from South Africa showed a high emission rate among children.

The respiratory expert also said he was concerned that the reduced vaccine dosage for children in some instances would not be able to provide sustainable protection from the virus.

"There is still a question mark there regarding sustainability, but we need to see the long-term effect to know for sure, because the Omicron variant is still very new," he said.