Chan Tak-ching left visibly shaken when Food and Environmental Hygiene Department officers took away her roasted chestnut stall in dramatic altercation on Monday.
A 90-year-old hawker may permanently lose the roasted chestnut cart she has relied on for decades to eke out a living in Hong Kong after law enforcement officers seized the stall while she was briefly away.

A row broke out between Chan Tak-ching and dozens of officers in Cheung Sha Wan on Monday, drawing more than a hundred onlookers at one point.

The elderly woman was seen sitting on the ground and pleading with police and hawker control officers from the Food and Environmental Hygiene Department, begging them to only issue her a fine. Chan said she had briefly left the area for a toilet break and handed the cart over to a 29-year-old man, who was later taken away.

The hawker said the man was her goddaughter's son. The mother said he had been charged with unlicensed hawking and had been released on a HK$1,000 (US$127) bail pending a trial set for March 29.

Chan told the Post on Tuesday that she was distressed to learn about the latest developments.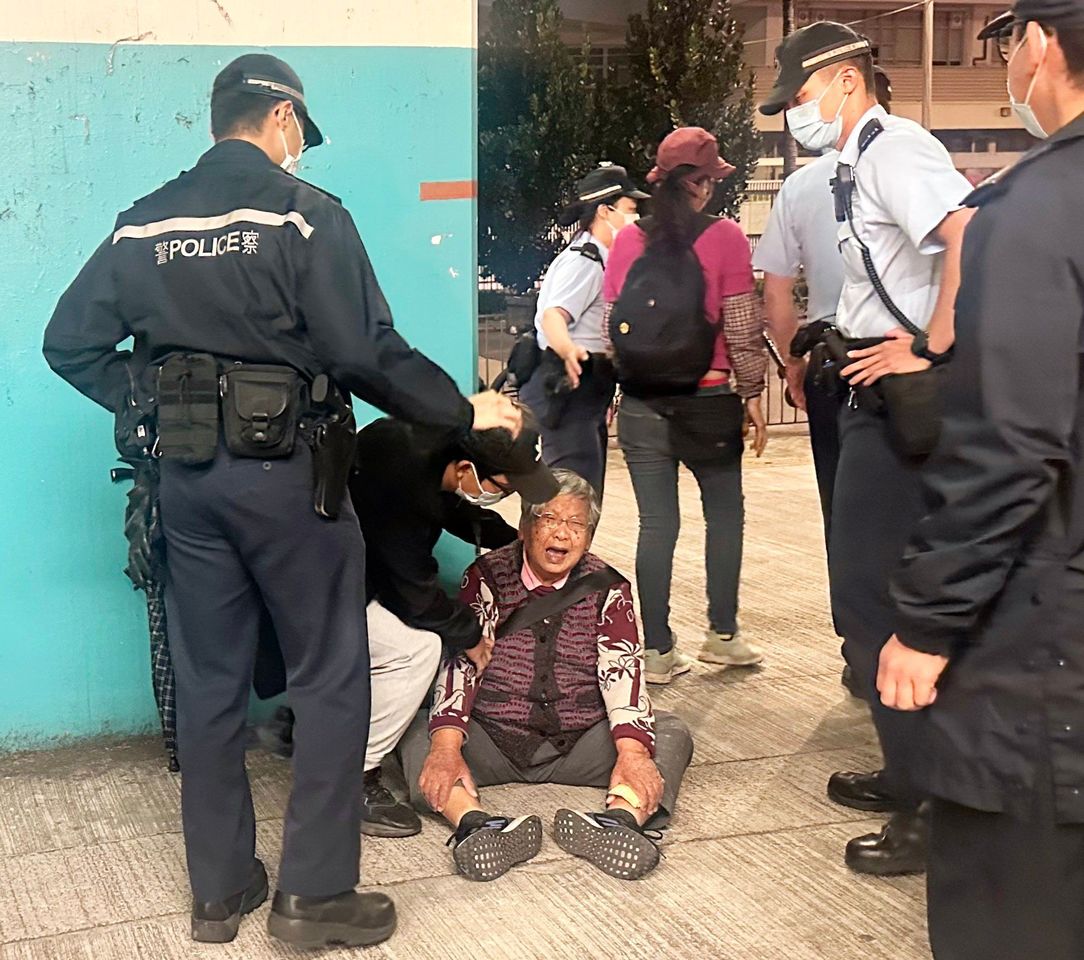 Chan Tak-ching, 90, was left shaken by the Monday night incident.

"He has been helping me run the cart for several years, while I take care of the money bag," she said. "The female officer was going too far ... She said we were peddling the chestnuts at a hawker black spot, but in fact, we were not."

She added she wanted her cart back as soon as possible to continue the business she has run for decades.

The department on Tuesday night said equipment and goods would be immediately seized as evidence whenever officers make arrests for illegal hawking. They would be confiscated permanently if a suspect was eventually convicted, a spokeswoman said.

She said officers had warned a licensed hawker against operating at "a busy thoroughfare" at 6.45pm. An hour later, they went back to the site and found "sufficient evidence" that a man was operating the stall without a licence, "causing obstruction in a public place".

"The enforcement action was not against the licence-holding woman, who only showed up more than half an hour after the operation started," she said, adding that the site was a "black spot" for complaints.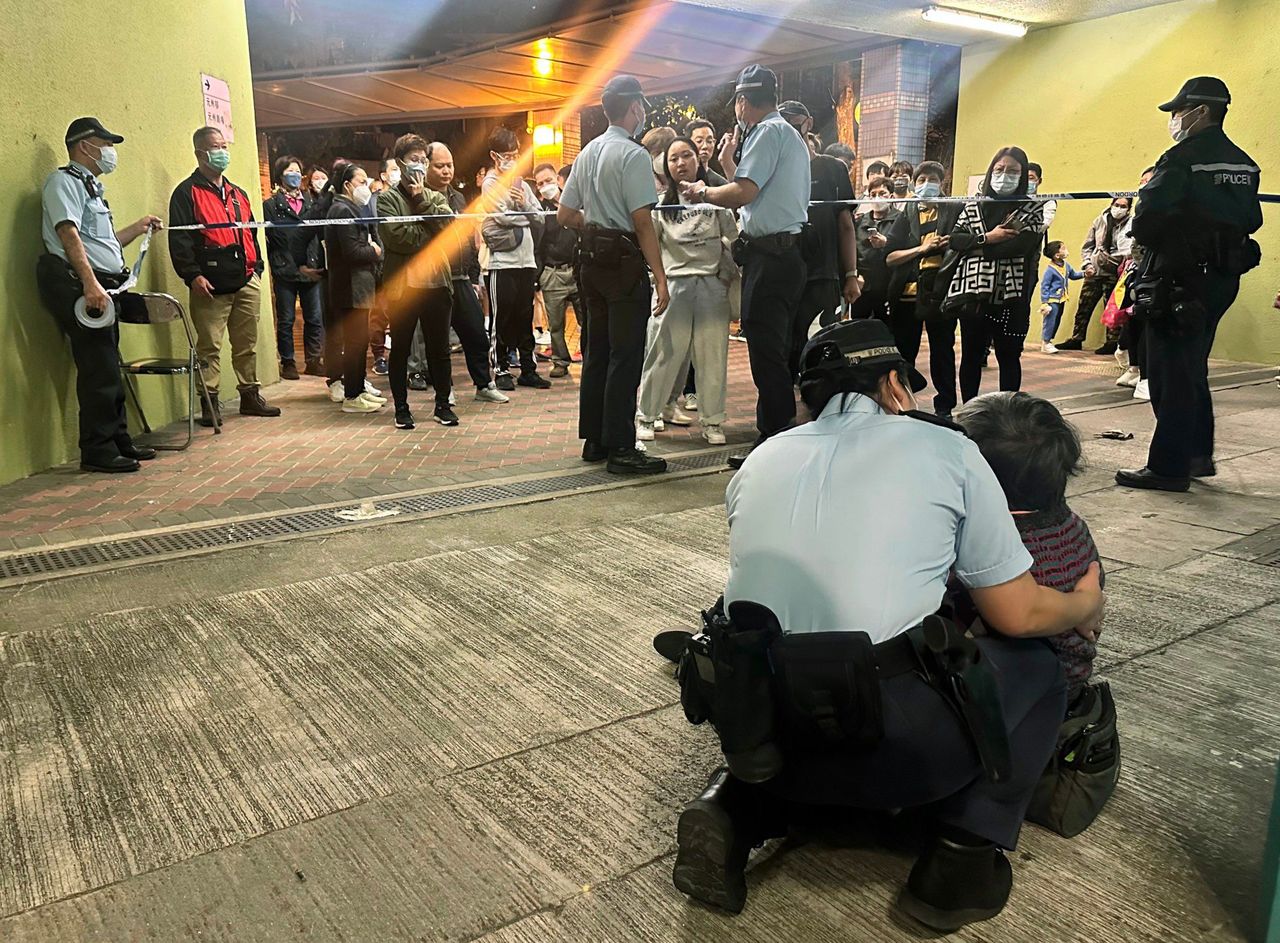 A crowd of onlookers gathered during the altercation.

"We have been considerate in enforcing laws against illegal hawking ... Immediate operations are carried out to ensure food safety and protect people's health."

Lawmaker Doreen Kong Yuk-foon said hawkers should be properly regulated for the sake of environmental hygiene but authorities should try to be more compassionate when dealing with cases.

"The simple question is: can a hawker not go to the toilet? ... It's debatable whether the officers had to confiscate her cart, which is the tool for her to make a living," she said.

Vincent Cheng Wing-shun, of the Legislative Council's food safety and environmental hygiene panel, shared Kong's views, but said it was important to also understand the difficulties faced by law enforcement in overseeing the sellers.

"There were cases where some elderly hawkers would sublet their hawker licences to others. Officers may take action once they find a booth operator is not the licence holder," said Cheng, adding that Sham Shui Po, next to Cheung Sha Wan, is notorious for illegal hawking activities.

But both Kong and Cheng dismissed the idea of relaxing the hawker policy or issuing more licences.
Lawmaker Chan Hoi-yan, the chairman of the Legco panel, said there was a need to review the hawker policy, especially as the government had plans to launch gourmet marketplaces or food fairs under the "Happy Hong Kong" campaign.

"It seems unavoidable that some form of street hawker licences may have to be issued. Or the government can allow itinerant hawkers to hire assistants too," Chan said.

In Hong Kong, the government's policy is to keep areas with high pedestrian traffic "hawker-free", as well as places with complaints over their activities.

Officers will first issue a verbal warning if the traders cause obstruction and they will take enforcement action if the instructions are not heeded, including possibly seizing the cart.

According to the department, there were 5,504 licensed hawkers at the end of 2022, of which only 304 held itinerant licences. The figures were slightly down from 5,598 and 330 respectively in 2021.

While a fixed-pitch hawker can hire assistants to help man the stall when the hawker is away, an itinerant hawker cannot.

The current policy does not allow "succession" or "transfer" of itinerant hawker licences, although it is possible for those with fixed-pitch permits.

According to the department, hawker control teams inspect licensed fixed-pitch stalls often and regulate the operation of itinerant hawkers whenever they are found hawking in the streets. They will take enforcement action to deal with irregularities, such action resulting in 1,715 convictions in 2021, according to latest available figures.

To combat unlicensed hawking, the hawker control team also conducts raids at hawker "black spots". There were 4,168 convictions of unlicensed hawker or hawker-related offences in 2021. At the end of December 2021, the number of unlicensed hawkers was around 1,199.