Undersecretary for Health Libby Lee admits authorities have rarely used 'Leave Home Safe' app to track movement history of patients amid surging infections.
Hong Kong residents may be allowed to travel to mainland China without having to undergo quarantine before Lunar New Year if a pilot scheme being considered gets the green light, the Post has learned.

Two official mainland sources said the scheme would allow a quota big enough to meet the demands of most Hongkongers seeking to cross the border during the festive season, but travellers would still be required to undergo three days of medical surveillance.

The proposal was revealed two days after Beijing relaxed pandemic isolation and health code rules for mainlanders in a significant shift from China's zero-Covid policy, although Hong Kong authorities remain cautious about any major easing of restrictions because of surging daily infections.

A top city health official on Friday dismissed the notion of reading Beijing's policy shift as a sign of a full border reopening for Hong Kong.

But the two mainland sources said there was "a good chance" of a "large-scale" pilot programme for quarantine-free travel starting before the Lunar New Year break, which begins on January 22.

"Many [Hongkongers] have not had a good reunion [with families on the mainland] for the past few years. We do hope this year can be different," a Beijing-based official said.

He said the quota, to be decided by Hong Kong and mainland authorities in coming days, was likely to be "much higher" than the 2,000 to 3,000 target in previous discussions between the two sides last year. The previous border reopening attempt was suspended because of Hong Kong's fifth wave of coronavirus cases.

But the source also cautioned that a full reopening could only come at a "later stage", depending on whether the central government was confident mainland hospitals were able to cope with substantially more imported cases.

"The central government needs to handle the opening with caution. We cannot do a full opening right away as it might cause Guangdong and other neighbouring provinces' infections to increase exponentially and overstress the local healthcare system," he said.

Quarantine-free travel between the mainland and Hong Kong has been suspended for more than two years.

A Shenzhen-based official said the mainland's land checkpoints with Hong Kong were "starting some preparation work for the relaxation of cross-border controls".

That included checking immigration systems and hardware that had been left idle for more than two years to ensure they still functioned, he said, adding that a massive clean-up and sterilisation effort would follow in coming weeks.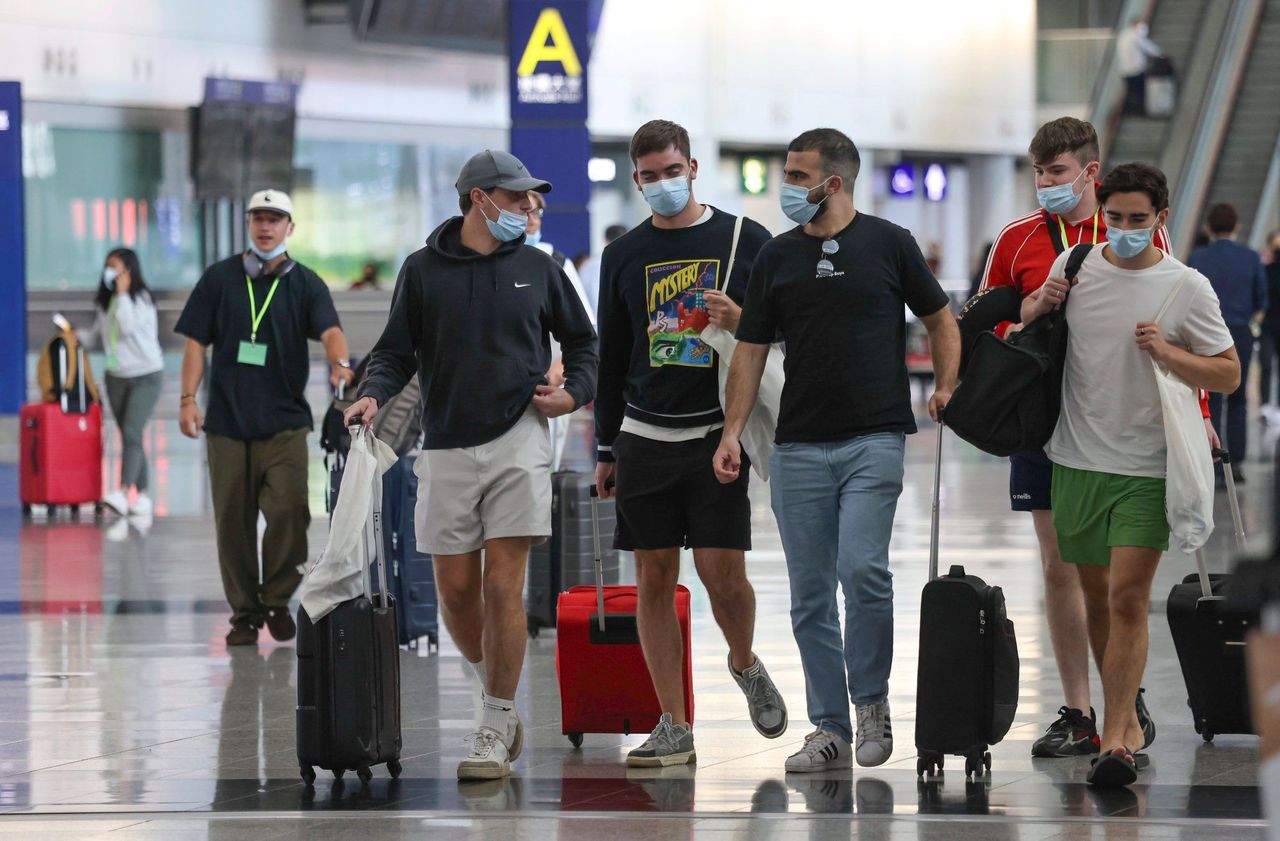 Arrivals at Hong Kong airport.
Hong Kong's health secretary Lo Chung-mau did not disclose any possible reopening plans at a Legislative Council meeting on Friday, striking a less optimistic note instead.
Lo said he believed it was very unlikely that the mainland would ease its "5+3" entry rule during Lunar New Year. Under the scheme, incoming visitors must undergo five days of hotel quarantine and three of health monitoring.
"Although the mainland has adjusted its anti-pandemic measures, those are all internal control measures. I do not think resuming quarantine-free travel between Hong Kong and the mainland is a topic for now," he said.
Under the relaxed rules on the mainland,
Covid
-19 patients with mild or no symptoms can isolate at home for five days instead of spending a week at a centralised government facility. Close contacts can also quarantine at home for five days instead of eight.
Mainland residents no longer need to present a green health code, previously issued to users with negative polymerase chain reaction (PCR) test results, when entering public places, except hospitals, schools and care homes for the elderly.
Lo, however, pledged to step up negotiation efforts with mainland authorities to further increase quarantine hotel quota for mainland-bound travellers, which was doubled to 2,000 spots two days ago, following the policy shift.
He said he believed strengthening the quota would be far easier and quicker than implementing a reverse quarantine scheme announced by the government earlier, under which northbound travellers would use public isolation facilities at the Lok Ma Chau Loop before crossing the border.
Lawmaker Kingsley Wong Kwok said he hoped mainland authorities would increase the hotel quotas and gradually scrap quarantine for arrivals to make cross-border family visits easier during Lunar New Year, if travellers were vaccinated and returned negative results in PCR tests.
Respiratory medicine specialist Dr Leung Chi-chiu said
Covid
-19 cases in Hong Kong were relatively stable with mild fluctuations, so they had little impact on the progress of reopening the mainland border. But he estimated mainland authorities might only reopen the border with Hong Kong after three to six months.
Hong Kong on Friday reported 13,924 new
coronavirus
cases, including 647 imported infections, a slight drop from the previous day. Another 23 deaths were also recorded.
Timothy Chui Ting-pong, executive director of the Hong Kong Tourism Association, said the increased quarantine quota was hardly sufficient.
"Before the pandemic more than 200,000 people crossed the border every single day, but now there is just a quota of 2,000, which accounts for only 1 per cent. One can easily tell whether it's enough," Chui said.
He said Hong Kong should take extra infection control steps to ensure the mainland's healthcare system faced no additional burden, and suggested residents take daily PCR tests for two days before departure.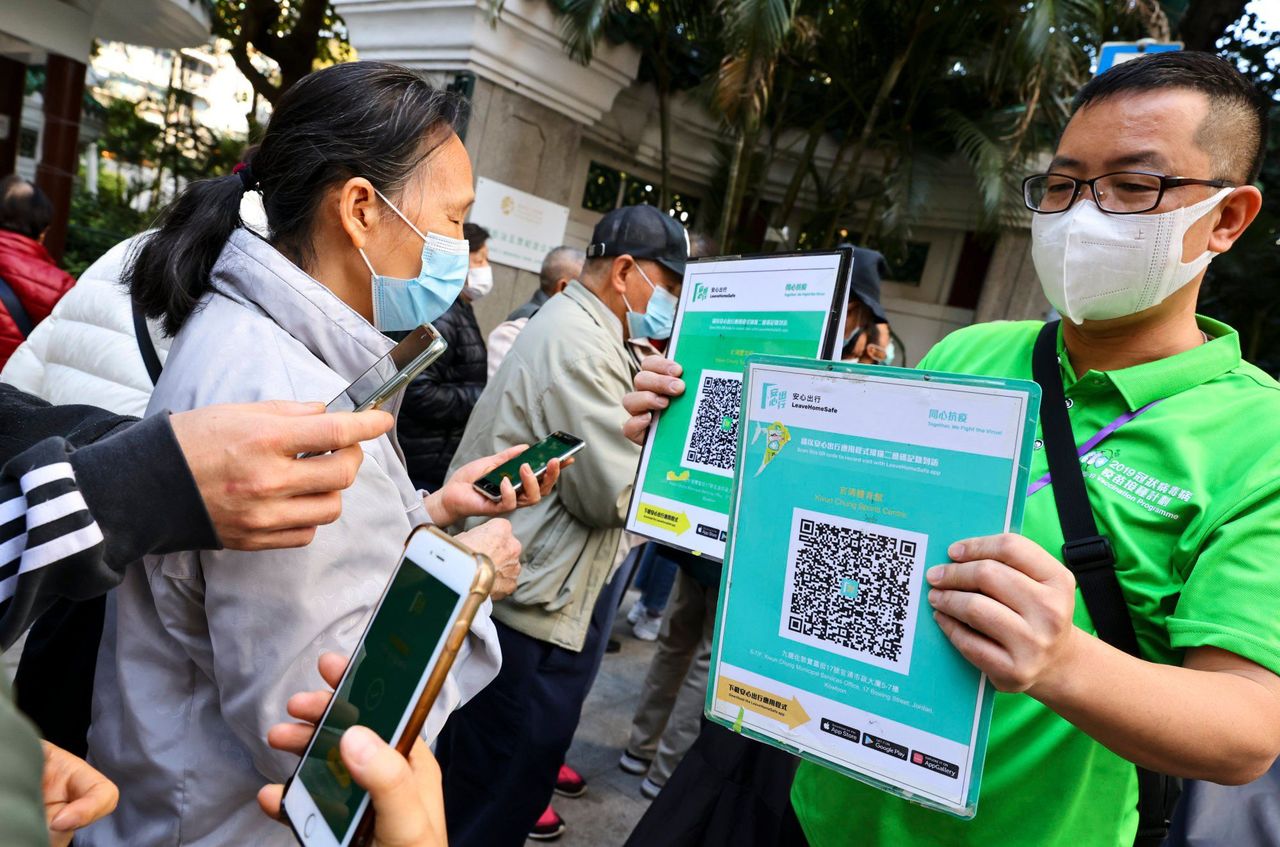 A vaccination centre worker displays QR codes for users to scan on their 'Leave Home Safe' app.

During the Legco meeting, the health minister also reiterated that most pandemic rules currently in place, including use of the "Leave Home Safe" risk-exposure app for entry to most public premises and the vaccine pass scheme, would remain for the near future, despite the mainland's policy shift.

"The health code system on the mainland is nothing like our 'Leave Home Safe' app and vaccine pass scheme," he said. "We won't simply cancel these measures because the mainland did so.

"These measures have played an important role in controlling the pandemic, especially the vaccine pass scheme. It's the reason we have a high vaccination rate."

Meanwhile, Undersecretary for Health Dr Libby Lee Ha-yun conceded that the government had rarely used the app to track Covid-19 patients' contacts as infections surged.

University of Hong Kong microbiologist Dr Ho Pak-leung urged the government to scrap use of the app, with residents simply showing their inoculation records upon entering premises such as restaurants or staff could conduct random checks.