Government cancels appointments for German-made jab after dozens of issues found with packaging, prompting investigation.
Health officials abruptly suspended Hong Kong's BioNTech vaccination roll-out on Wednesday, dismissing safety concerns but saying they were taking no chances after frontline staff reported more than 50 instances of defective packaging to the German manufacturer.

The government announced at around 10am the cancellation of bookings until further notice at all community vaccination centres administering the Covid-19 shots, leaving many who arrived hours earlier anxious and frustrated over the lack of timely information.

Amid the confusion, more than 1,000 ended up receiving their BioNTech jabs at 19 centres across the city, taking the total of recipients so far to 151,300.

Officials assured them the doses in question, identified as "batch 210102", did not pose any health risk.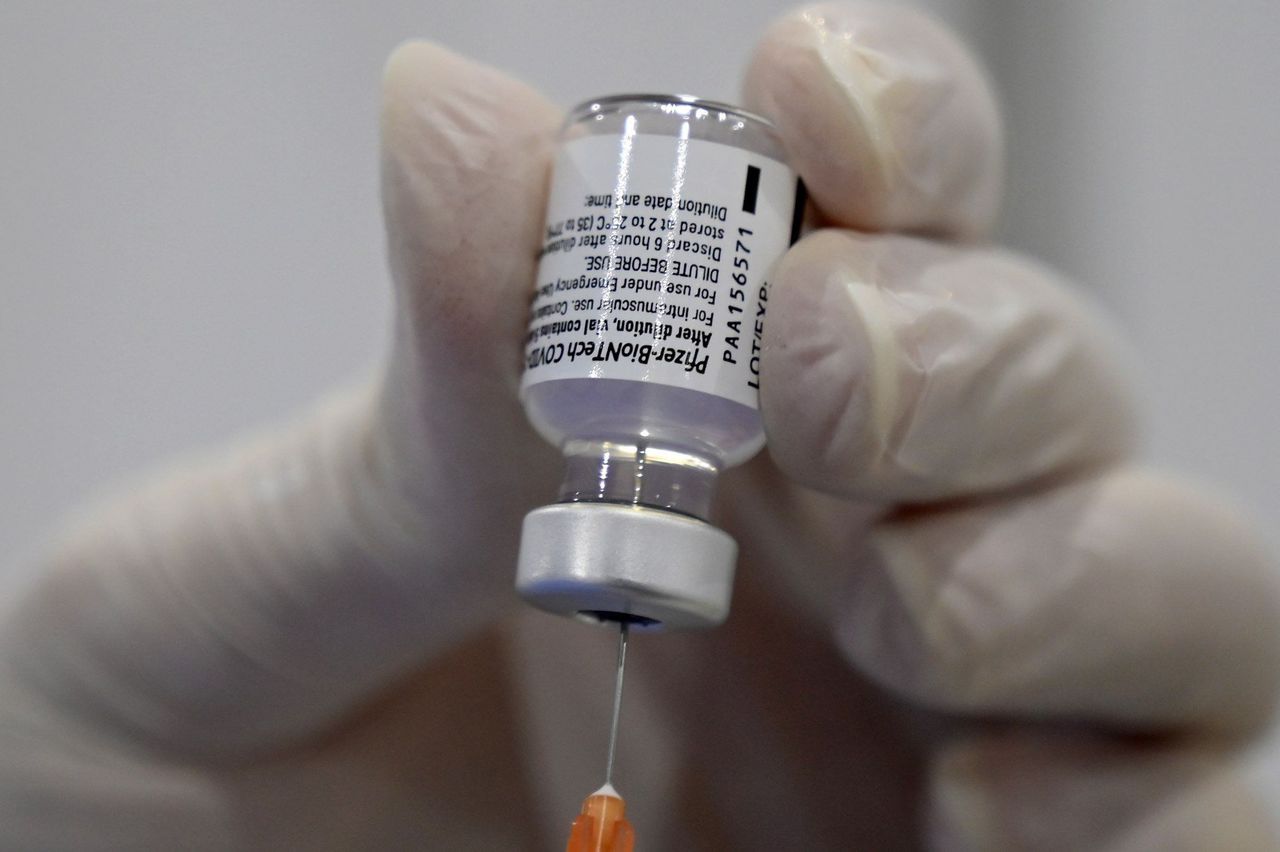 BioNTech has notified Hong Kong and Macau of issues with vials of 'batch 210102' of its Covid-19 vaccine.

Secretary for Food and Health Professor Sophia Chan Siu-chee stressed the suspension was purely a precautionary measure.

"Fosun Pharma [the agent distributing BioNTech in mainland China, Hong Kong and Macau] has told us that they have no reason to believe the doses now pose safety risks. But they found some packaging defects, so they need to investigate it," she said.

The first major interruption to Hong Kong's mass vaccination programme since it began a month ago – which now means only China's Sinovac will be available for the time being – came as the city confirmed 10 new coronavirus infections, four of them locally transmitted.

Two more deaths following Covid-19 vaccination, both involving chronically ill patients who took Sinovac shots, were reported on Wednesday by an expert committee monitoring adverse reactions.

One was an 80-year-old woman who was vaccinated on March 2 and died on March 19, and the other a 60-year-old man who died on Wednesday after getting vaccinated on March 11.

Experts also revealed that nine more people had suffered temporary facial paralysis, most of them after receiving the Sinovac jab, taking the total to 11.

After an emergency meeting with Fosun, Director of Health Dr Constance Chan Hon-yee revealed that staff involved in the vaccination programme had previously reported eight incidents of cracked vials and 22 air pressure issues resulting in leaks, all of which had been relayed to the manufacturer.

A further 16 reports of vial seals being loose or out of position were made, as well as 11 about stains or marks on the exterior of the glass containers.

Chan said all the vials identified with packaging defects had been disposed of, and none had been administered to the public.

"Because of this situation, we made such reports to Fosun and requested them to follow up with the manufacturer," Chan said.

"The manufacturer, after receiving our reports, this morning notified Hong Kong in written form that they could not see any problems related to the safety of batch 210102. But they need to conduct a thorough investigation. For the sake of caution, they requested Hong Kong to suspend the use of this batch."

About a quarter of the 585,000 doses in batch 210102 had been administered so far, Chan said, while another 758,000 doses from a second batch remained in storage.

Secretary for Civil Service Patrick Nip Tak-kuen, the top government official overseeing Hong Kong's vaccination campaign, said 1,080 doses of BioNTech had already been administered at 19 centres in the morning before the suspension notice was issued.

Some 11,000 unused doses taken out of storage in minus 70 degrees Celsius temperatures and stored in the community vaccination centres at temperatures of 2 to 8 degrees were likely to go to waste, he added.

"As we have paused the vaccination, it is very likely that those vaccines cannot be used," Nip said.

The minister was speaking a day after he told the Post in an interview that the number of people coming forward to be vaccinated met only half the daily capacity, and urged the city to pick up the pace if it was to achieve herd immunity sooner.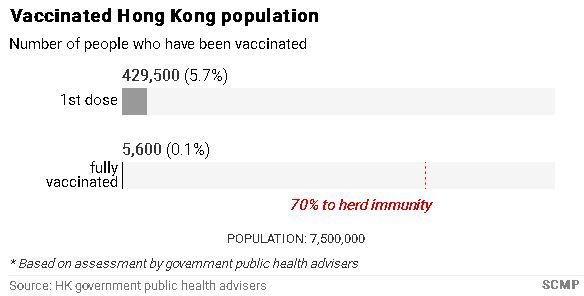 While officials did not specify when the packaging defects had been identified, a source said it was "concerning" that problems with several vials had been flagged within the first few days of the BioNTech roll-out earlier this month.

Officials insisted the city's surveillance and monitoring system for the vaccination programme was working as intended, and it was generally up to the drug makers to decide when to suspend or resume the use of a product.

"If a large batch of products is involved during the manufacturing, there is usually an acceptable range of deviation in packaging for those drug makers," health director Chan said. "We have been regularly reporting the figures to the pharmaceutical firm, and it would decide under what situation it would notify us to wait for an investigation report before resuming the use of a product."

Professor Ivan Hung Fan-ngai, a co-convenor of the expert committee monitoring adverse reactions to vaccines, expected the BioNTech roll-out to resume soon.

"It's a very minor hiccup in terms of the vaccination programme," Hung said. "I'm sure it will resume as soon as possible."

University of Hong Kong microbiologist Professor Ho Pak-leung said there was no need for the public to be too concerned.

"This incident only involves packaging defects instead of safety and quality issues. I believe that the Hong Kong and Macau governments are only taking preventive measures to suspend vaccination," he said.

Hours before the official explanation, people arrived for their appointments on Wednesday morning to find vaccination centres closed and their bookings cancelled.

Company director Michael, 48, said he had decided to head over to the Sai Ying Pun vaccination centre from his office across the street after reading the news to see if he could still get a shot.

"I have friends who have already got it. It's just frustrating I can't when it's my turn," he said, but added that he still had confidence in the vaccines.

Jez Yong, 32, who works in a consultancy firm and received his first BioNTech dose on Tuesday morning, spoke for many when he asked about the potential problems that could arise from the defective packaging.

"Like lower effectiveness? Would the second jab mean that wouldn't be an issue?" he said.

Health director Chan said mainland Chinese company Fosun had pledged to conduct an immediate investigation, covering areas including the manufacturing process and logistical operations.

"The direction of the investigation would involve contacting the manufacturer in Germany and conducting investigations in the manufacturing plant," she said, adding the investigation report would be submitted to the Department of Health as soon as possible. "On the Hong Kong side … there will be a review of the entire logistics chain."

Chan said those most affected would be people scheduled to receive their second dose on Saturday, the first BioNTech recipients to get the booster shots.

"If the current stock in Hong Kong cannot be used, we will request the pharmaceutical firm to deliver another batch as soon as possible," she said.

The health director said based on earlier recommendations from the Centre for Health Protection, the second dose of BioNTech could be administered 19 to 42 days after the first injection.

The vaccination scare had an immediate impact on Hong Kong's stock market, with the benchmark Hang Seng Index closing 2.03 per cent, or 579 points, lower at 27,918.

About 1 ½ hours before the Hong Kong government issued the suspension notice, Macau confirmed that its residents would not be receiving BioNTech jabs from the batch in question.

Hong Kong has also signed an agreement with British-Swedish pharmaceutical firm AstraZeneca to buy the vaccine it developed with Oxford University, which will not be available until the second half of the year.

As of 8pm, official figures showed a total of 412,800 people, or about 5.5 per cent of the city's population, had been vaccinated. Of those, 151,300 had received the first dose of the BioNTech vaccine, compared with 261,500 for the Sinovac one.