Group of volunteer swimmers, expatriates and locals, non-profit organisation offers free lessons to disadvantaged children and domestic helpers.
Domestic helper Kurnia Waty avoided swimming for about 20 years after she almost drowned in a river near her home in Bandung, Indonesia.

But after reading about accidental drownings in Hong Kong three years ago, she felt it was time to improve her survival skills.

"My fear, anxiety and trauma affected me a lot," recalled Waty, 45, who has been in Hong Kong for 15 years. "But swimming is an important life skill."

She turned to the Splash Foundation, a charity offering free swimming classes to underprivileged children and adults, including domestic helpers.

The group, which has taught about 4,000 people how to swim since its establishment in 2015, has set a target of training another 3,000 this year alone.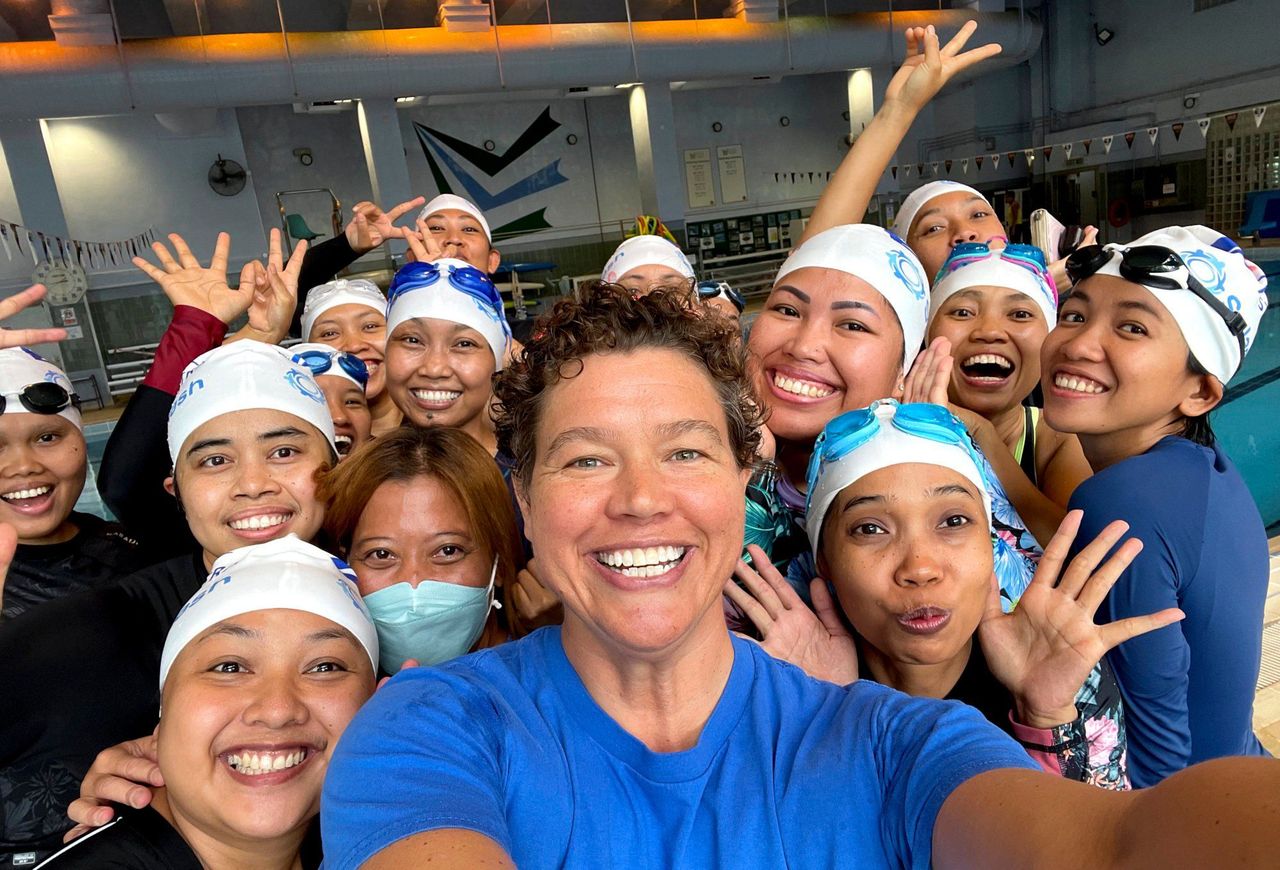 Libby Alexander, co-founder and CEO of Splash Foundation, with some of the group's swimming students.

Waty completed 12 hour-long beginners' lessons and another 12 for intermediate swimmers and gained confidence as she progressed. Swimming became her favourite sport.

Then, in 2021, she was on a sampan in Aberdeen and fell overboard. Unlike Waty's bad memory of the day she fell into the river, she did not panic and swam back to the boat within minutes, she said.

"Swimming saved and changed my life," she said.

The charity has so far trained about 3,000 domestic helpers, mainly from the Philippines and Indonesia, and 1,000 disadvantaged children.

With a group of volunteer swimmers, expatriates and locals, the non-profit organisation offered free lessons to disadvantaged children and domestic helpers who had neither the opportunity nor the means to learn to swim, said Libby Alexander, Splash's chief executive officer and co-founder.

Private lessons were also available, but cost about HK$150 (US$19) an hour.

Alexander said public awareness of swimming as a life skill was relatively low in Hong Kong, where nearly half of the population did not know how.

Most of the city's 330,000 domestic helpers also could not swim, based on statistics from their countries.

The group, registered as a charity in 2016, now has 100 to 150 volunteer coaches. Aside from those who instruct adults, there are also 15 professional coaches to teach children.

Splash offers each student 20 hours of swimming lessons, with an hour-long session every week. Lessons are run at pools at international schools, some of which are offered free, on weekdays and weekends.

It also has free YouTube swimming lessons available to everyone.

"Our vision is to make swimming accessible to people who don't normally have access," said Alexander, who is from the United States and learned to swim when she was three years old. She has been in Hong Kong since 2010.

She said learning to swim helped children and adults overcome their fear of water and encouraged them to try other new things. They also built social networks through the sport.

She highlighted the difference the new skill made to domestic helpers.

Alexander said: "We have seen changes in the women over the course of the programme, in their confidence, self-esteem and connection with each other. It is more than swimming."

Filipino domestic helper Golda Mae Pay-ong, 34, said that since learning to swim at Splash, it had become her favourite sport, offering her a fun break from work.

She said her hometown in northern Philippines did not have community swimming pools and the lessons she took in college were too basic. She said she took up swimming to relieve stress from work.

She added that attending the course taught her self-discipline and persistence as she woke up early and kept her Sunday routine of swimming in a pool near her employer's home in Yuen Long.

"Swimming has given me positive vibes to focus on good things, to be happy, have fun with water and relax," she said.