City residents returning from South Africa, Botswana and six other nations must spend the first of three weeks of quarantine at a government facility.
Hong Kong has further tightened quarantine rules for its residents arriving from eight African countries following the detection of a new, highly infectious coronavirus variant, requiring them to complete the first week of their mandatory confinement in a government facility.

The Centre for Health Protection said on Saturday that Hong Kong residents arriving from South Africa, Botswana, Eswatini, Lesotho, Mozambique, Malawi, Namibia and Zimbabwe would immediately be sent to Penny's Bay quarantine centre. The measure takes effect on Sunday.

They will be subject to daily testing over seven days at the government-run facility before they are allowed to complete the remaining stretch of their 21-day compulsory quarantine in a designated hotel.

A total ban on non-Hong Kong residents entering the city has been in force for those eight African countries since Saturday.

Governments across the world have responded to the new B.1.1.529 variant – first detected in Botswana – by imposing stricter border controls including outright travel bans against several countries on the continent.

Hong Kong's second straight day of imposing tougher border controls on such nations followed the World Health Organization's decision to name the new variant "Omicron", after the Greek letter. It also classified Omicron as a "variant of concern" given the greater risks it could pose compared with the Delta variety.

Two cases of the new variant have already been confirmed in Hong Kong, involving arrivals who tested positive while in quarantine.

The Philippines, Switzerland, and Antigua and Barbuda on Saturday became the latest countries to impose new restrictions on travellers from Hong Kong.

Health officials in the Philippines recommended a ban on travellers from the city, while the Swiss government required visitors from the city to undergo 10 days of quarantine before entering the country.

On Saturday, Hong Kong confirmed three new imported Covid-19 infections from Britain, India and Russia, taking the city's total to 12,424 with 213 related deaths. All three people carried the Delta variant and were fully vaccinated.

In response to the new risks posed by the variant, which has a large number of mutations, Secretary for the Civil Service Patrick Nip Tak-kuen said health authorities were considering plans to ban unvaccinated residents from entering "high-risk" premises, such as restaurants, schools, hostels, cinemas, performance halls and sports venues.

"When there are some people choosing not to get the shots for non-medical reasons, we will need to have different treatment for them and those who have been vaccinated," he told a radio show.

"Otherwise, the inoculated might have to pay the consequences that will arise from the choices made by the unvaccinated."

University of Hong Kong microbiologist Yuen Kwok-yung backed the move, as did other experts who advised the government, Nip said, adding there were plenty of overseas examples to refer to.

The approach of "punishing" residents who refused to be vaccinated was floated by officials in May, when they announced plans to boost the city's sluggish inoculation drive.

Executive Council convenor Bernard Chan also weighed in on the prospect of the government pressuring more people to receive shots, citing medical experts' advice that a vaccination rate of at least 80 per cent was needed to reopen the city's border for travellers from mainland China and overseas.

"Without reopening the border, how can Hong Kong's economy recover?" he said. "Countries or cities worldwide are raising vaccination rates to combat Covid-19, why does Hong Kong not do the same?"

Earlier this week, Hong Kong finally hit its initial target of having 70 per cent of the eligible population vaccinated with a first dose, almost nine months since its citywide drive was launched in February.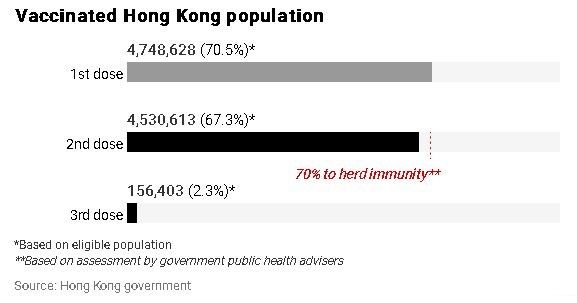 On Saturday, Nip said the city should aim for a rate of at least 80 per cent in striving for quarantine-free resumption of travel with the mainland and overseas countries.

Target groups would be the elderly – with the jab rate for those aged 60 or above remaining at 49 per cent – students and workers in the private sector.

He said authorities would step up the drive to alleviate concerns over possible side effects, and urged the private sector to follow the government in requiring its unvaccinated workers to be tested bi-weekly.

The government would also lower the minimum age for Sinovac shots to 12 from next Thursday, to further boost the jab rate of the 12-19 group to more than 72 per cent. Nip said the government would provide on-site vaccination services to schools.

He announced that from next year, 10 of the existing 21 community vaccination centres would continue to operate, with three providing Sinovac shots and seven offering BioNTech jabs. More vaccination stations would be set up in two more public hospitals, taking the total to 11.

From next Friday, residents can also get doses on the government's new vaccination vehicles to be parked in housing estates in Sha Tin, Kwun Tong, Kwai Tsing and Tuen Mun, according to a government statement.

Meanwhile, a government spokeswoman said it was investigating after a Hong Kong nurse was accused of faking Covid-19 vaccination records.

A media report on Saturday alleged that a nurse at a vaccination station in Queen Elizabeth Hospital in Yau Ma Tei had falsely declared administering injections to her relatives and friends so they could obtain vaccination records. The station is run by Town Health International Medical Group.

The spokeswoman said: "The investigation is still ongoing. We will take the matter seriously and conduct a follow-up if some people are found to be in breach of the regulations."