League of Social Democrats head Chan Po-ying warns of clampdown on dissent after court fines her HK$1,000 for collecting donations without permit.
A law governing public fundraising events in Hong Kong could be used to clamp down on political dissent, an opposition party chairwoman said on Thursday, after she was fined HK$1,000 (US$127) for collecting donations without a permit.

Chan Po-ying, leader of the League of Social Democrats, warned that Kowloon City Court's ruling would be a blow to small political groups that were struggling to survive without public donations.

The 67-year-old also expressed concerns that police could use a municipal law designed to penalise nuisance to suppress opposition voices before the enactment of proposed crowdfunding legislation that will provide authorities with extra legal tools to do so.

Chan was speaking after she and a volunteer for the league were found guilty under the Summary Offences Ordinance over an unauthorised fundraising campaign in Mong Kok on July 24, 2021.

The legislation rules that anyone without lawful authority or excuse that takes part in fundraising campaigns without a permit could be fined HK$2,000 or jailed for three months.

The court heard Chan and Christina Tang Yuen-ching, a former assistant to ex-lawmaker "Long Hair" Leung Kwok-hung, had set up a street booth on a footbridge on Sai Yee Street to rally public support and urge authorities to "release political prisoners".

Leung was remanded in custody at the time for allegedly violating the Beijing-imposed national security law by plotting to subvert state power through an opposition-led unofficial legislative primary election in July 2020.

He denies the charge and is at present on trial alongside 15 others who have also pleaded not guilty.

Two roll-up banners erected at the booth featured a QR code that linked to the political group's Patreon webpage – an online platform that allows creators to charge for the content – together with slogans that called for online donations, the court heard.

Deputy Magistrate Cao Yuanshan on Thursday dismissed the defence submission that appealing to the public to make online donations fell outside the scope of the law.

Any act done in public for the purpose of collecting money, regardless of the method of donation, could potentially have an impact on social order or even amount to nuisance, he said.

Chan, Tang and a third volunteer, Ho Wing-yat, were cleared of the charge in relation to another street booth set up on the same footbridge on August 14, 2021, as the magistrate found insufficient evidence the trio had intended to raise funds on the day concerned.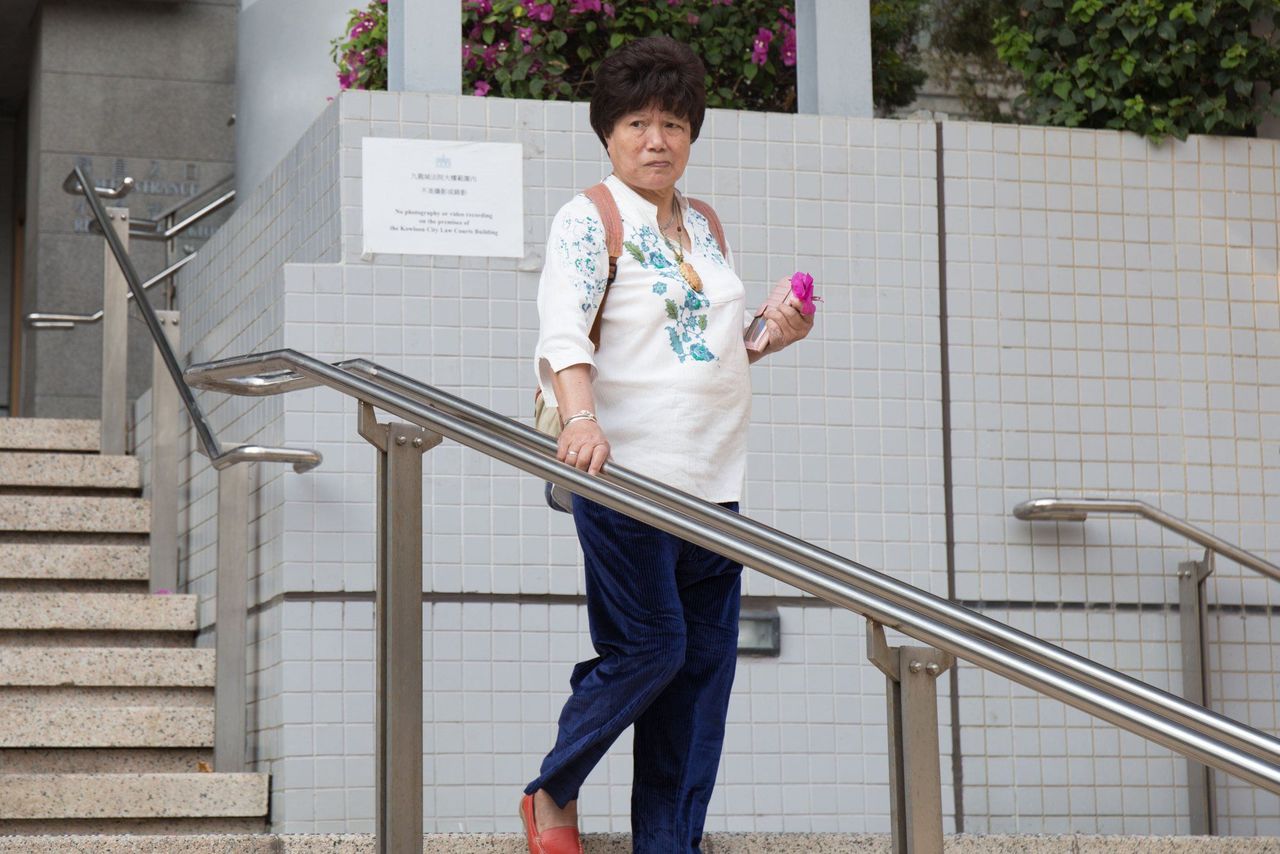 Christina Tang Yuen-ching, a former assistant to ex-lawmaker "Long Hair" Leung Kwok-hung, was also found guilty of collecting donations without a permit.

Chan and Tang were fined HK$1,000 and HK$800 respectively over the July 24 campaign.

The league's chairwoman, who is also Leung's wife, said the ruling was unfair and failed to take into account she had only called for donations via virtual channels instead of public places.

She said attempts to secure a permit from authorities would be futile and pointed out that the application procedure was marred by bureaucracy and political censorship.

The incident marked the second time a public fundraising campaign by the political group had been targeted by police.

Chan and three party volunteers were fined up to HK$1,200 by another magistrate in May 2022 after they pleaded guilty to the same offence committed outside Sha Tin railway station on June 26, 2021.

Prosecutors said in the earlier case that police invoked the Summary Offences Ordinance for the first time to regulate fundraising in public by political groups in light of the situation in society "in the past few years", a reference to the 2019 anti-government protests.