Authorities in Shenzhen scramble to find replacements for over 100 quarantined mainland Chinese truckers to ease supply delays.
Fresh food supply shocks are set to continue as over 100 mainland Chinese cross-border drivers transporting vegetables to Hong Kong have been placed in quarantine, causing a severe shortage of truckers and stalling the transport of goods to the city.

Authorities in Shenzhen are already scrambling to find replacements for over 100 quarantined mainland truckers to ease delays in vegetable and fresh food supplies, after 12 more drivers tested positive for Covid-19 on Monday, according to a source familiar with the situation.

As of Monday, Shenzhen's checkpoint office said a total of 35 cross-border drivers had either been confirmed as infected or tested preliminary-positive for the virus since early this month. The 100 others were placed in quarantine after being identified as close contacts of the confirmed cases.

Cheung Yuk-fai, a representative of the Hong Kong-Guangdong Transportation Drivers and Employees Association, said that only about 50 Hong Kong cross-border vegetable truckers were still working as the remaining 250 were forced to undergo quarantine after being close contacts of the Covid-19 patients.

But some truck drivers in the Guangdong province were reluctant to accept the job because of the heightened risk of infections and the possibility of undergoing three weeks of quarantine.

Meanwhile, Hong Kong Land Transport Council chairman Stanley Chiang Chi-wai said that wages of up to HK$6,000 (US$769) per trip were being offered to new drivers.

But he warned that the city would continue to face food shortages unless the mainland authorities allowed local cross-border drivers to directly collect goods from Shenzhen markets and recognised their Hong Kong licensing qualifications to increase the supply of truckers.

"This food supply crisis will persist if the shortage of cross-border drivers is not resolved," Chiang said. "As the supply of fresh food and other necessities is stalled, the prices have inevitably shot up and Hong Kong consumers will continue to suffer from the price increases."

Meanwhile, fresh food supplies in Hong Kong have taken a further hit after the main supply route to the city – the interchange venue at Man Kam To Control Point – was temporarily closed for disinfection.

Hong Kong receives 92 per cent of vegetables, 94 per cent of fresh pork and 97 per cent of live freshwater fish from the mainland.

According to the Vegetable Marketing Organisation, Chinese green cabbage sold for HK$6.60 per kilogram at the beginning of the month, but was going for HK$21.70 as of Saturday.

Fresh food items, especially vegetables, have quickly sold out in many supermarkets across the city while prices at some wet market stalls were reported to have more than doubled.

A Food and Health Bureau spokesman said the fresh food supply from the mainland had been reduced between 40 per cent to 50 per cent, but had gradually improved after the Shenzhen authorities set up more temporary interchange venues.

On Monday, Secretary for Transport and Housing Frank Chan Fan, who is leading a task force to ensure stable fresh food supplies from the mainland, acknowledged that strict anti-epidemic measures imposed by Shenzhen officials on cross-border drivers had seriously impacted supplies in Hong Kong.

"We have to respect Shenzhen's arrangements," he said in a Legislative Council meeting. "We are also working with the mainland to develop a multipronged approach, in order to ensure goods needed by Hong Kong can be shipped on time."

An official familiar with the operation of Man Kam To Control Point said the Shenzhen government was trying to mobilise qualified drivers to make up for the current shortfall.

"There are just a few hundred regular cross-border truck drivers in total, with a substantial percentage of them out of action, the handover operation at the control point became very slow," said the official, who asked to remain anonymous.

According to the official, the control point processes about 300 truckloads of goods per day heading to Hong Kong, but as of Monday afternoon, only "a few dozen" trucks had managed to reach the city.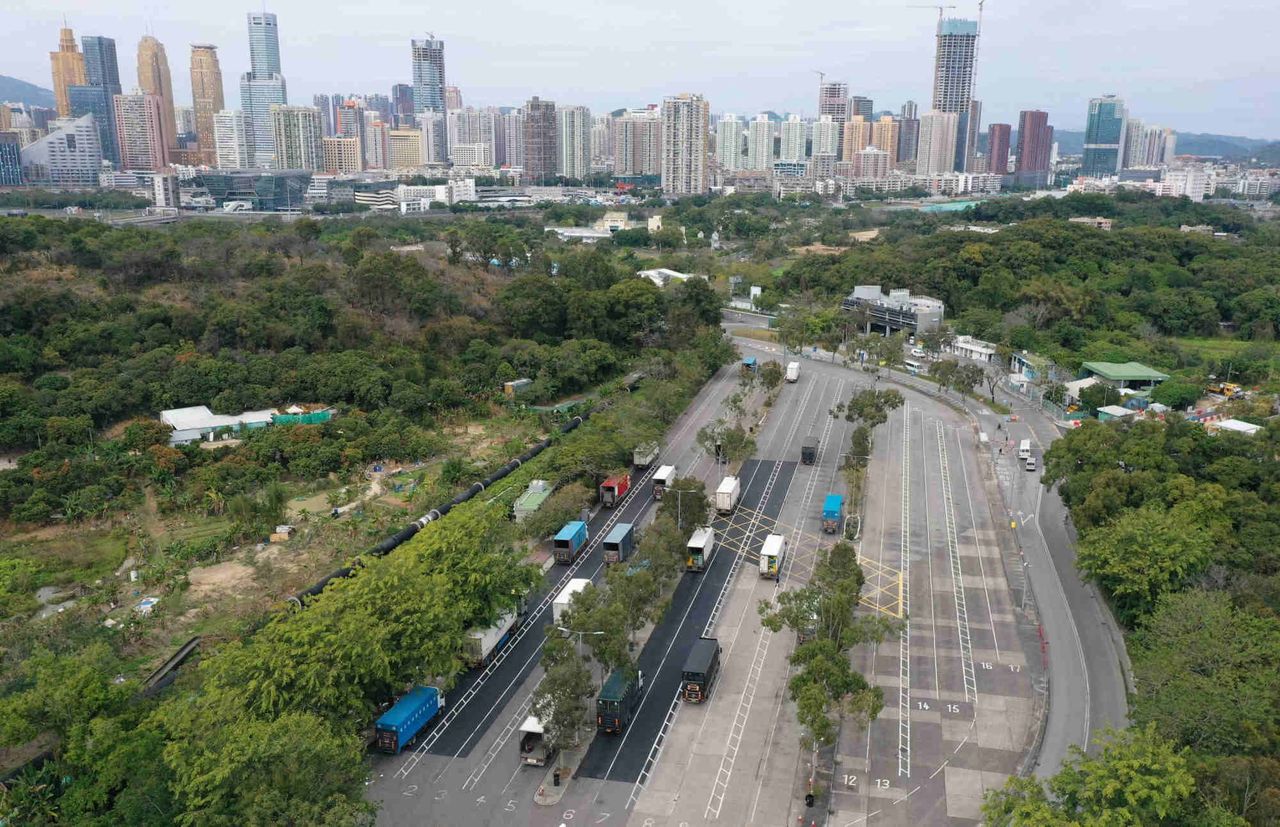 Aerial view of Man Kam To Control Point in Sheung Shui.

As part of containment efforts, Hong Kong drivers have been barred from loading goods on the mainland and were forced to rely on the staff at designated interchange venues to do the job.

But some drivers have been allowed to directly pick up the cargo in Shenzhen and return to Hong Kong as a temporary measure, the source said, but only if they did not leave the truck during the process.

"I sympathise with them," he said. "Hong Kong drivers have to endure very long hours driving without leaving the driver's seat [under this arrangement]."

Trucker association representative Cheung said that despite the announcement to allow Hong Kong drivers to go directly to the vegetable wholesale market to load goods, the arrangements had not been implemented as of Monday morning.

"We, the Hong Kong drivers, are waiting for the mainland government to give us a proof of approval," he told a radio programme on Monday. "But the village committee and street offices in mainland did not allow us to go to the wholesale market. We hope this can be solved soon."

"Ah How", a Guangdong truck driver in his forties, said the prospect of getting infected and being quarantined had put him off the job despite the attractive pay.

"I can make around 4,000 yuan in an okay day just by taking delivery orders within Guangdong. Some cross-provincial jobs can even pay more. Some friends told me driving cross-border to Hong Kong can pay up to nearly 10,000 yuan a day. But I am very hesitant," he said.

But one Hong Kong cross-border truck driver Cheong Chan said he had no choice but to continue to head north as local delivery jobs did not pay enough.

"Since the start of the pandemic, local truck delivery jobs have almost halved. I have no choice but to continue to drive up to Man Kam To until one day I am down with Covid-19," Chan said. "I got all the vaccine jabs, so I can make this money."