Bidding for 175 wet goods stalls begins, with three-by-four-metre stall attracting highest bid of HK$56,000.
Hong Kong's florists expressed optimism about the business ahead of a Lunar New Year fair, bidding up to 10 times the opening price for stalls on Wednesday despite Covid-19 curbs set to remain in place at the festive event.

The fair, which was suspended this year as the pandemic raged, will be held from January 16 to 22 next year at 15 locations, including Victoria Park in Causeway Bay.

Dry goods and food stalls will be banned for a fourth and third time, respectively.

Hui So-hing, a senior superintendent at the Food and Environmental Hygiene Department said he expected 32,000 people to visit Victoria Park, adding crowd-control measures would be implemented.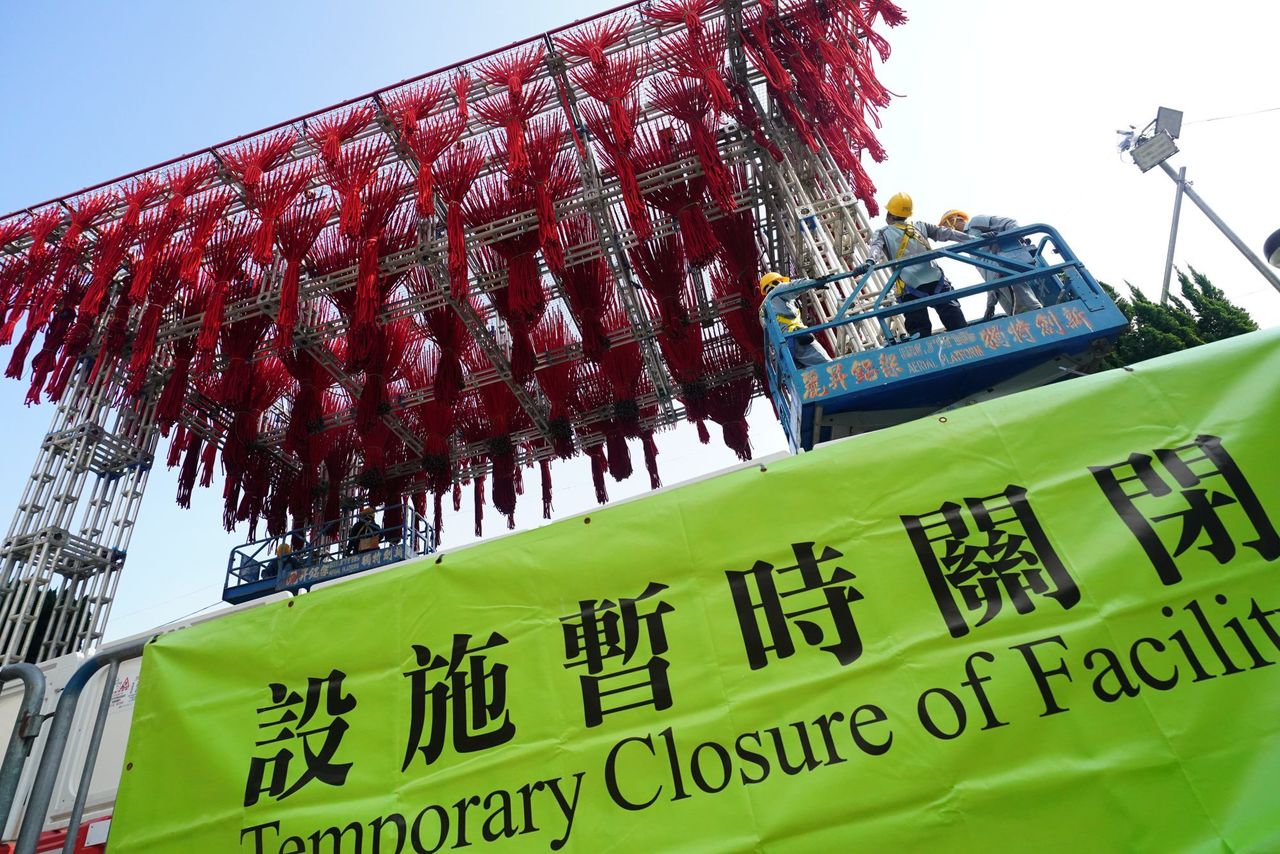 The government cancelled this year's Lunar New Year fair in January due to the Covid-19 pandemic.
She also said the fair could be cancelled if the city's epidemic situation worsened.
Bidding for the 175 wet goods stalls at the event began on Wednesday, with a three-by-four-metre stall attracting the highest bid of HK$56,000 (US$7,134), an amount that was 10 times its starting price of HK$5,440. The highest bid in the previous fair was HK$51,000 for a stall with the same size and opening price.
All the 120 stalls marked for the first of the two-day auction were sold, fetching a total of HK$3.57 million, according to the department. The remaining 55 stalls will be auctioned on Thursday.
Siu Yin-ling, 61, who works in the funeral industry, secured stall number 67 for HK$50,000, the second highest bid on Wednesday.
"Stall number 67 means a lot to me because I started doing business with my partners at the fair [with this number] three decades ago. I'm in it to win it," Siu said.
She added she had planned to invest a total of HK$300,000 for the fair and was confident she could make a profit of more than HK$100,000.
"I have always made a profit in the past 30 years at the fair just selling different kinds of one-stem flowers. They sell fast compared with traditional new year plants," she said, adding she made almost HK$100,000 in 2021.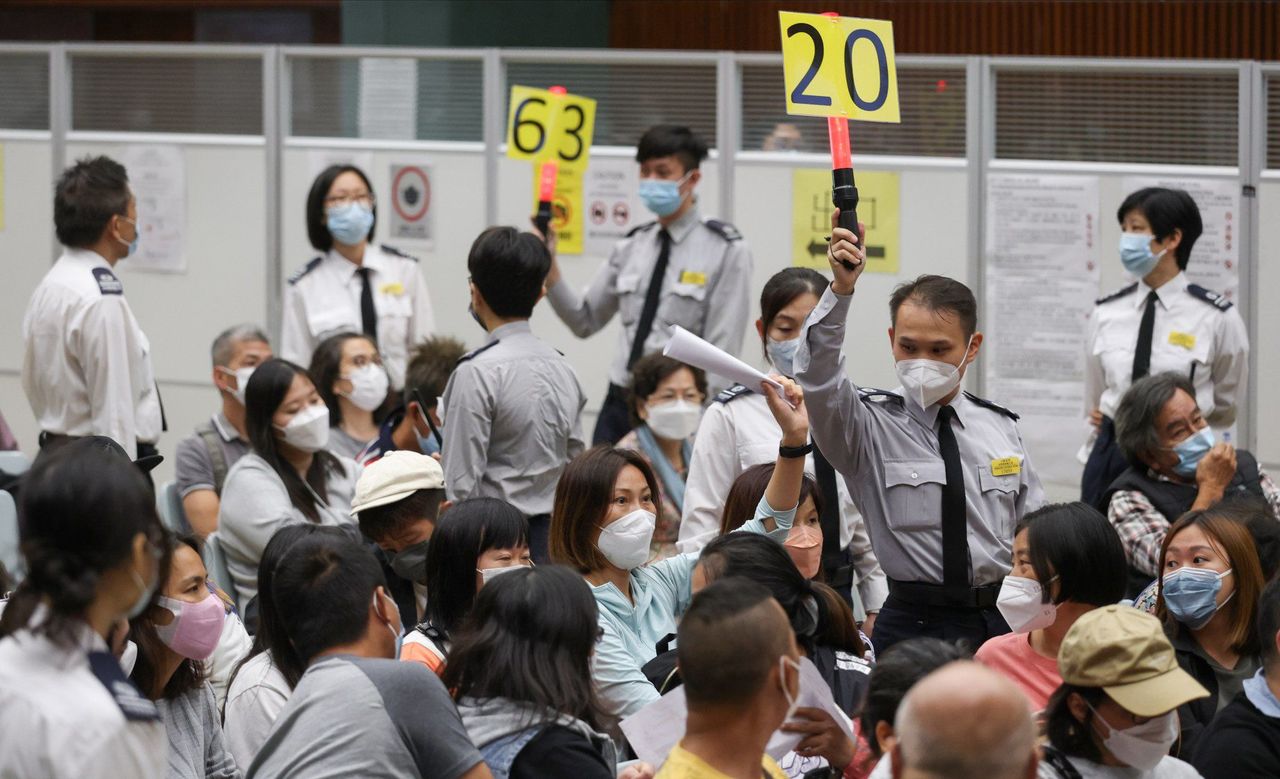 All the 120 stalls marked for the first of the two-day auction on Wednesday were sold.

Kwok Pak-tung, 50, a co-owner and manager of IMY Orchid Garden, managed to secure stall No 1 near the exit of Hing Fat Street at HK$36,000 after 26 bids.

The manager, who oversees two gardens in Guangdong and Fujian provinces, said he planned to bid for four stalls with a budget of HK$200,000 selling only moth orchids, or phalaenopsis, and daffodils.

"The location is right at the entrance. People will come anyway, even with some Covid restrictions, and end up buying something. I'm confident I will make money, otherwise I won't place any bids," he said.

Kwok added he had made HK$2 million in profit with four stalls he had secured in 2021, and HK$1 million this year when he ended up selling the flowers elsewhere after the fair was cancelled.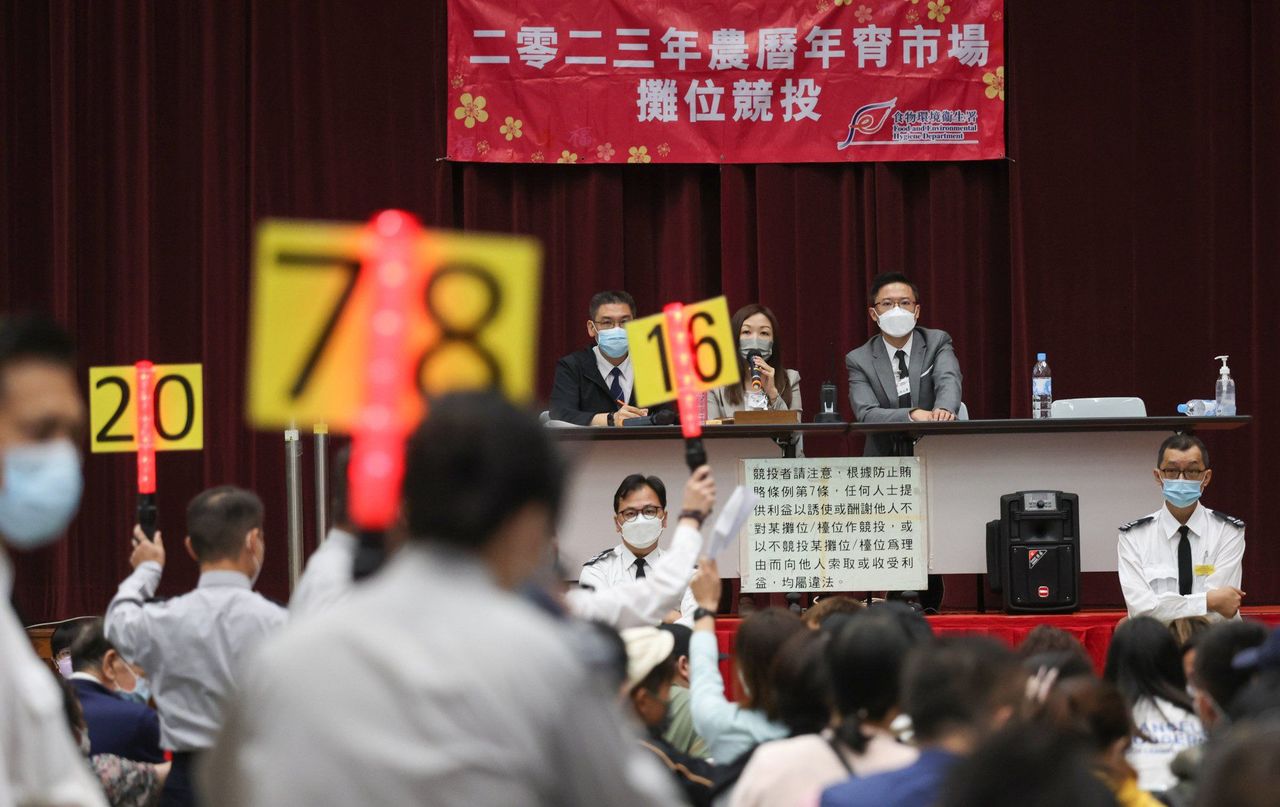 Bids are made for next year's Lunar New Year fair stalls on Wednesday.

Yeung Siu-lung, better known as the "orchid king", who is the director of Chiba Garden, bid for eight stalls on Wednesday and planned to secure six more on Thursday.

"The stalls I chose are simply for easier access for drop off. I won't compete with others for the popular stalls because my old customers always come back to the same spots," he said.

"It's new year time. People just want to go out and buy something joyous at home. I'm very optimistic about the sales. It's good if the government lifts those restrictions, but I truly believe it won't have an impact on my business at the fair," Yeung said.

The auction also attracted first-time bidder Michelle Ng Lok-lam, 30, who owns a laundry mat in Shek Kip Mei. She successfully bid for two stalls for HK$61,000 with the support of her parents, who own a human resources social enterprise that assists people with disabilities and ex-prisoners.

"I just want people to be happy during the Lunar New Year and I'm thankful for the support of my parents when I said I want to try bidding a stall," Ng said.

"We don't know about the cost or whether we will make profit from this, but if we do, we will donate our profit through other social enterprises."