Financial secretary doubles down on prediction that city will record more than HK$100 billion deficit.
Hong Kong's finance chief has said he is not optimistic about this year's economic outlook, but cautioned against excessive pessimism as mainland China's growth remains positive and the coronavirus pandemic has started to ease.

Financial Secretary Paul Chan Mo-po doubled down on his earlier prediction it was "inevitable" the city's deficit would top HK$100 billion (US$12.7 billion) for the financial year ending in March, while fiscal reserves would fall to about HK$800 billion from more than HK$900 billion.

"It is not a small number either," he said. "Our reserve was supposed to be stored for the rainy days, and it should be used when the environment is not good. During these recent times, residents have been facing much pressure. We want to safeguard our economy and employment, so that people's minds can be more at ease."

As the economy was facing challenges, it was all the more important for him and other senior officials to travel abroad to meet business leaders and government officials in Asia to promote the city, he added.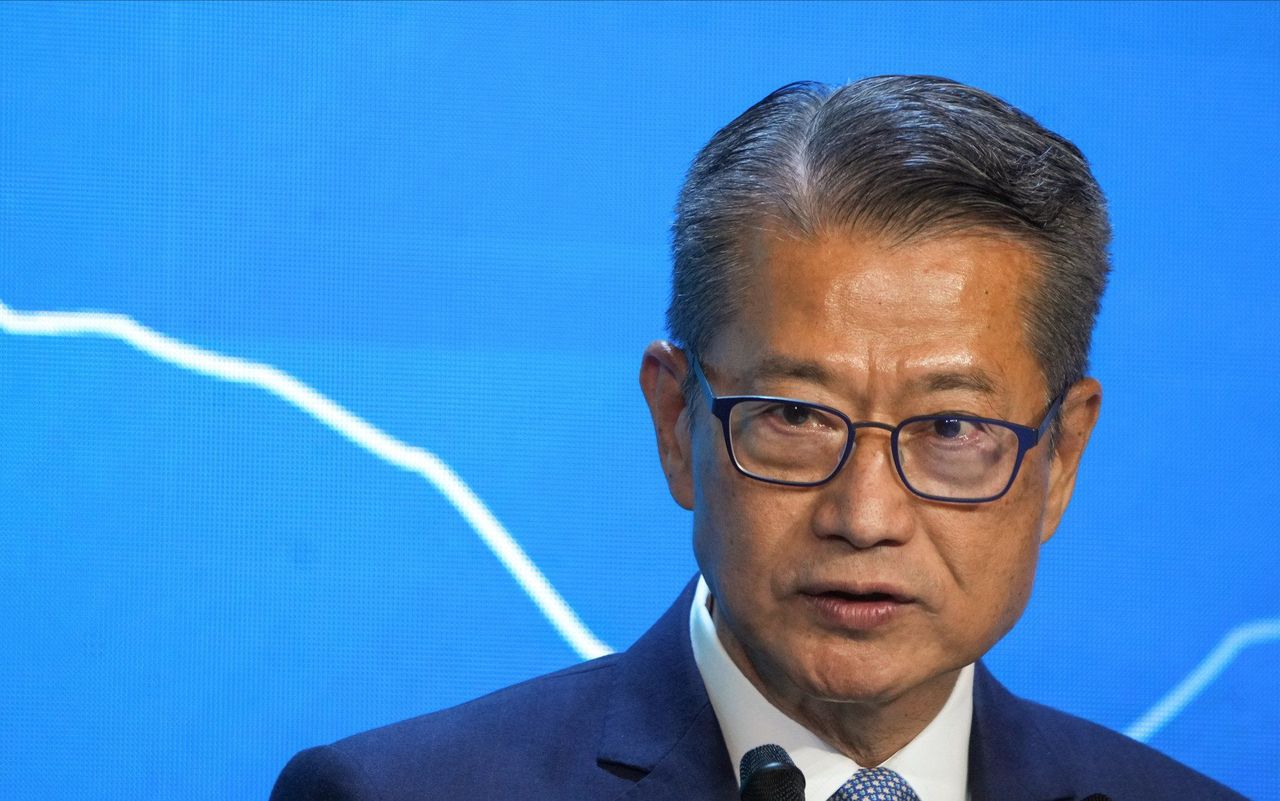 Hong Kong Financial Secretary Paul Chan.
After returning from the Middle East at the end of last month, Chan left Hong Kong on Sunday afternoon to take part in the G20 summit in Bali, Indonesia, as a member of the Chinese delegation.
Chief Executive John Lee Ka-chiu will visit Bangkok at the end of this week to attend the Asia-Pacific Economic Cooperation's meetings.
In February, Chan estimated a HK$56.3 billion deficit for the 2022-23 financial year. But the Hong Kong government on Friday downgraded its full-year economic forecast, from between 0.5 per cent growth and 0.5 per cent contraction, to a 3.2 per cent drop amid a continuing recession, citing a deteriorating external environment and the
Covid
-19 pandemic.
According to the Hong Kong government, the city's economy showed a widening year-on-year contraction in the third quarter of this year. The gross domestic product (GDP) for July to September fell by 4.5 per cent from a year earlier, after declining 1.3 per cent in the preceding quarter.
Hong Kong's economy contracted by 1.7 per cent and 6.5 per cent in 2019 and 2020 respectively, and rebounded by 6.3 per cent last year.
Hong Kong's latest economic performance stood in stark contrast with rivals in the region, which have further opened up. Singapore's economy grew 4.4 per cent in the third quarter year on year, and expected its GDP this year to grow by 3 to 4 per cent.
Speaking on a radio programme on Sunday, Chan said Hong Kong was set to record another year of economic contraction because the external environment had dampened the city's exports.
"The interest rates abroad have increased, slowing down demand for exports from Hong Kong. Our cross-border transport also has yet to completely resume – about 8,000 vehicles travel across the border every day, which was only half of the daily figure pre-
Covid
," he said.
But apart from exports, the levels of consumption and investment – as the other two pillars of Hong Kong's economy – were largely stable thanks to the government's digital vouchers and public works, he noted.
"I am not optimistic about this year's outlook, but there's no need to be too pessimistic … Speaking overall, the mainland's economy is still heading in a positive direction, even though it has slowed down for some time amid structural adjustments."
Asked whether he would announce measures to relieve the financial burden on residents in his budget speech in February, Chan said he would be consulting the public on the matter soon.
"If the economic situation remains bad, the government would need to roll out countercyclical measures," he said.
Chan added these would include implementing more infrastructure and land projects to boost investment. Increased land supply would also bring more revenue to the government.
Asked why the budget deficit could be so much larger than expected, Chan pointed to declining revenue from profit tax, stamp duty and land sales amid the sluggish economy, and the relatively quiet stock and property markets.
Gary Ng Cheuk-yan, a senior economist for Asia-Pacific at Natixis Corporate and Investment Bank, said he felt that Chan was too optimistic about Hong Kong's economy and public finances.
"The government's revenue from profit tax, salary tax and land sale had already decreased, but with the city's population ageing, its expenditure on social welfare and health will increase," he said.
"There has also been an outflow of talent from Hong Kong … I think the government will soon need to consider issuing more bonds to support the growth in public spending."
Ng said the government had been eager to keep an amount equivalent to at least 12 months of public spending in its reserves. As HK$800 billion was equivalent to more than 13 months of government spending, Chan might consider the level acceptable, he added.
Simon Lee Siu-po, an economist and honorary fellow at the Asia-Pacific Institute of Business at Chinese University, said the government needed to consider ways to broaden its tax base and increase revenue through more proactive investment strategies.
On the radio programme, Chan also said Hong Kong had a relatively small and open economy that was vulnerable to external changes. But that did not mean that speculators could challenge Hong Kong's economy by attacking the city's stock market and dollar.
He said that after the Hong Kong
dollar was attacked in the late 1990s, regulators strengthened their monitoring system. "If they attack us, I'm confident that they will lose," he said.
Protective measures included a monitoring system that operated around the clock, while banks were required to declare any large-scale selling of the Hong Kong dollar, the secretary added.
Looking ahead, Chan said he hoped that Hong Kong would be able to attract more tech firms to come to the city.
Asked whether Hong Kong would relax stamp duty measures to lure talent, Chan said he believed the city was attractive to foreigners in many ways.
"You can come here for a cosmopolitan lifestyle. We have the facilities at the West Kowloon cultural hub and several renowned orchestras. We also have easily accessible country parks … and at least hundreds of good restaurants here," he said.