Industry leaders in Hong Kong worry this will increase costs for coming funerals and slow down afterlife care services.
Hong Kong is facing a shortage of coffins and ritual offerings from mainland China in the wake of a week-long Covid-19 lockdown in neighbouring Shenzhen, further affecting funeral services in the city.

With cross-border traffic restricted since the lockdown began on Monday, funeral service industry leaders in Hong Kong said it was very difficult for mainland-made coffins to be delivered to the city.

They said they were worried this would increase costs for coming funerals and potentially slow down afterlife care services as bodies would remain longer at mortuaries and crematoriums used less.

Asked how her administration would alleviate the local coffin shortage, Chief Executive Carrie Lam said on Wednesday the Food and Health Bureau had been in close contact with the city's funeral industry, and working with the mainland on supplying coffins to Hong Kong via sea.

In a statement on Wednesday night, the government said 360 coffins had arrived in Hong Kong smoothly by land and sea over the past three days, after the sector's concerns were relayed to mainland authorities.

It added that a new batch of about 730 coffins would also arrive by sea on Friday, while governments on both sides had coordinated on the trips quota for cross-border goods vehicles to supply coffins to Hong Kong.

Earlier in the day, the Food and Environmental Hygiene Department said it had ordered about 180 coffins from the mainland to be delivered to Hong Kong in the next two days via land and sea.

Kwok Hoi-bong, chairman of the Funeral Business Association industry group, said families would have to reschedule funeral arrangements given the surge in deaths and lack of coffins.

Hong Kong has been facing a daily average of 200 to 250 coronavirus-related deaths since early this week.

"There are only about 300 coffins left in Hong Kong, and they will be used up in two to three days," Kwok told a radio programme on Wednesday morning.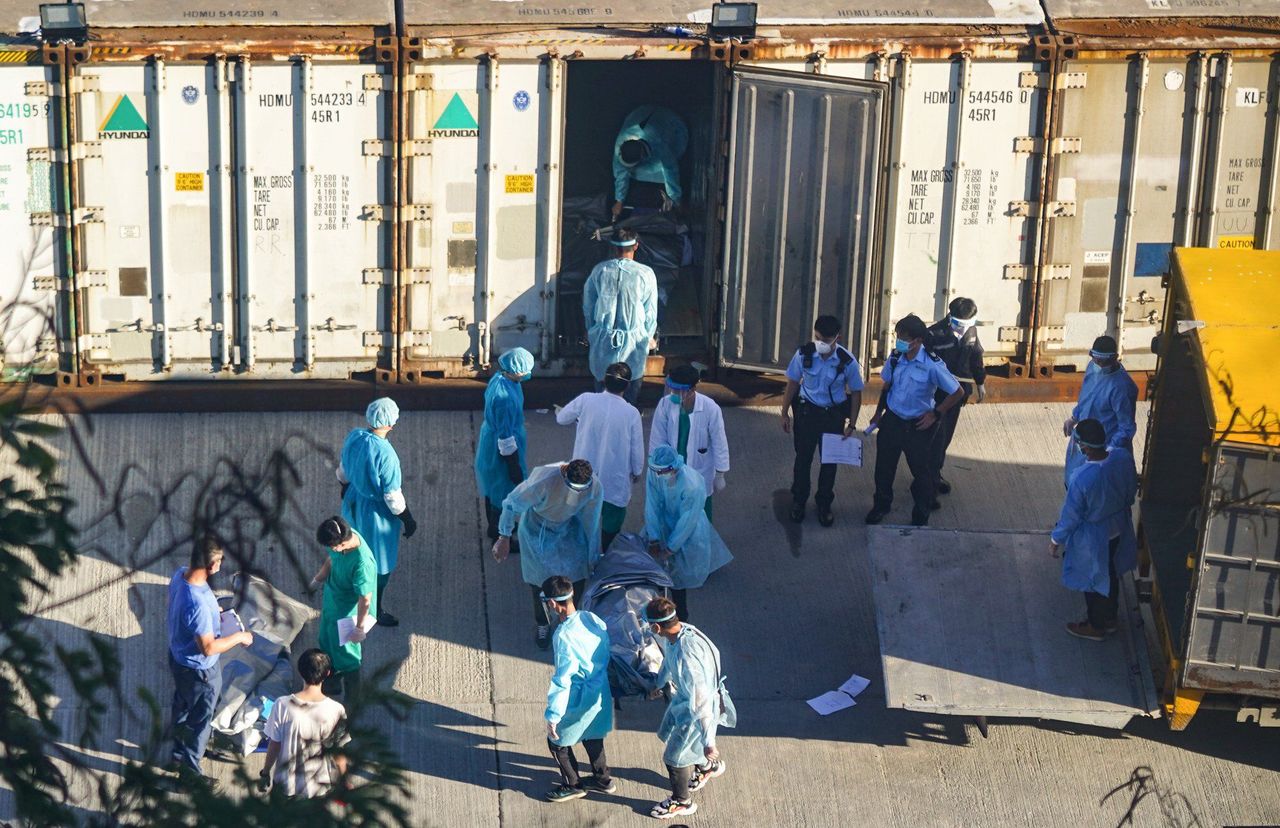 Workers transfer bodies of Covid-19 victims into a refrigerated shipping container outside a public mortuary in Hong Kong.

Kwok reiterated that the bottlenecks were down to logistics because of tight lockdown measures across the border. He said delivery times were "erratic, taking around three to six days while customs clearance also took longer than usual".

He said an order made more than 10 days ago for about 130 coffins was only delivered on Tuesday.

Kwok told the Post on Wednesday that including shipping times and customs procedures, it could take up to 10 days from shipment for the coffins to be available for use.

"But what about that week or so before these shipped coffins arrive? We can't operate on a coffin vacuum here," Kwok said.

In response to a Post inquiry on Wednesday, the Food and Environmental Hygiene Department said it had followed up on the matter since receiving pleas from coffin suppliers on Sunday.

The department has since relayed the message to mainland authorities that coffins are to be classified as a "necessary supply" in a bid for priority arrangements at the border.

Service providers have also lamented rising costs and fewer options for customers.

Patrick Leung, sales director of Kowloon Funeral Parlour, told the Post the company had run out of cheaper coffin options, with only the more expensive ones left.

"We have around 30 to 40 coffins in stock, but that's not enough," he said, but added he had not faced delays for previous orders and operations were not really affected.

Thereza Lee, director of Peaceful Home, a funeral services social enterprise, said her company had run out of stock for basic-style coffins, which typically cost less, with only more expensive ones available.

In a bid to ensure a sustainable coffin supply amid the uncertainty around imports from Shenzhen, Lee has switched to using locally manufactured eco-friendly coffins as the default choice in the company's service packages.

"We don't want to affect existing customers who have already begun funeral proceedings for their loved ones, so we will shoulder the cost for switching coffins and recommend them to choose the eco-friendly coffins. However, for customers who previously paid a discounted price for our services, we might have to charge an additional few hundred dollars for the switch of coffins," Lee said.

Lee added that the impact of the current coffin shortage could already be felt before Shenzhen's lockdown.

"Our coffin supplier has been winding down their services for a while. Since last week, they have stopped dressing the coffins they send to our store. This meant our staff had to hire external craftsmen to dress the coffins that we use," Lee said.

Lee said she expected a 10 per cent rise in price for new clients from Wednesday.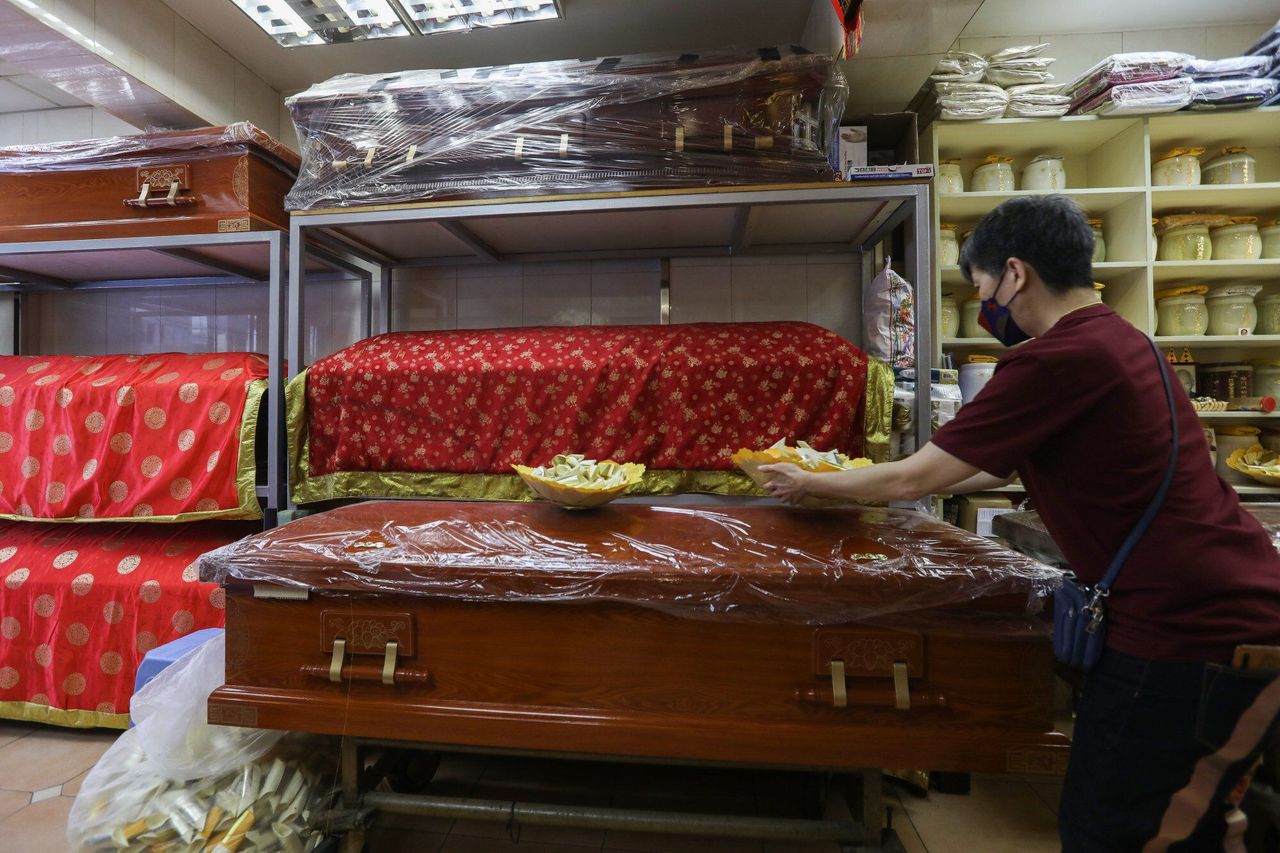 Paper offering and coffins at a funeral services shop in Hung Hom district.

A 50-year-old worker in the funeral services industry, who wanted to be known as Leung, expressed doubt about the government's order of 180 coffins.

"The new supply isn't even enough to cover a day of deaths in Hong Kong! The quality, style and size of those coffins are also unknown," Leung said. "There are specific size requirements for cremations, while people want to be able to view the entire body of their loved ones in a funeral."

Leung said the coffin crunch would only slow down the entire afterlife services system in Hong Kong, as families became hesitant to cremate their deceased loved ones.

"People won't book cremation slots unless they have secured a coffin, because bodies are not allowed to be cremated without a coffin in Hong Kong. The more families want to start funeral proceedings when things calm down, the more crowded mortuaries will be."