Authorities confirm 2 imported Covid-19 cases, from Russia and the United States.
Hong Kong has confirmed the extension of its Covid-19 vaccination programme to October, as officials aim for 70 per cent of the population having received at least one dose by the end of next month.

Keeping the community vaccination centres open for another month forms part of the government's latest push towards herd immunity against the coronavirus amid higher uptake of the jabs.

"The demand for Covid-19 vaccination has increased recently. Should the vaccination progress be maintained at the current pace or increase, it is likely that 70 per cent of the eligible population will at least have had their first dose of a vaccine by the end of September," a government spokesman said on Friday.

Civil Service chief Patrick Nip Tak-kuen earlier expressed confidence in hitting that goal if the city could maintain its daily rate of administering at least 30,000 jabs.

As of Friday, a total of 6.06 million vaccine shots had been administered to the public, exceeding the 6 million mark for the first time. About 3.43 million people, or 45.8 per cent of the city's population, have received their first dose, while 2.63 million, or 35 per cent of the population, have received their second shot.

Ministers have repeatedly said a full border reopening with mainland China hinged on local vaccination rates, with the 70 per cent mark previously touted by health experts and some officials as a key target. Hong Kong reached the milestone this week of having half its eligible population vaccinated with a first dose.

Bookings for the extended vaccination period from September 1 will start on Saturday at 26 of the centres, which will be condensed from the current network of 29 facilities.

The centres are the only places in the city administering the German-made BioNTech jabs. Those wanting the Chinese-produced Sinovac vaccine can also go to one of the Hospital Authority's 26 outpatient clinics, operations at which are similarly being extended.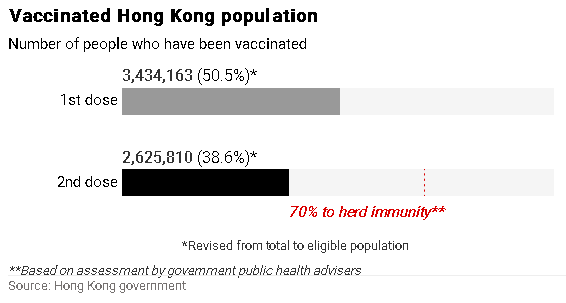 A new shipment of BioNTech jabs – about 956,000 shots – arrived in Hong Kong from Germany on Friday. More than 3.6 million doses from the 7.5 million BioNTech shots ordered have already been administered.

Respiratory medicine specialist Dr Leung Chi-chiu said it made sense to extend the operations of community inoculation centres. "There is still supply and demand for it, I don't see why we should not extend those centres for people who want to get jabbed."

He said the recent increase in vaccine uptake was good news for the city, but warned that the vaccination rate of key demographics – such as elderly people aged 60 and above, who were most vulnerable to illness from the coronavirus – was still hovering at only about 20 per cent.

A total of 13,800 day passes have been handed since last week to elderly Hongkongers aged 70 and above so they can get vaccinated without booking. Authorities have said they would consider offering walk-in services to those aged between 60 and 69 in due course.

Leung said Hongkongers had a "diminishing window of opportunity" to get protected with the vaccine. Not only was supply decreasing but autumn and winter were approaching – when the flu season made respiratory diseases more deadly, he added.

Hong Kong on Friday confirmed two imported Covid-19 infections, arriving from Russia and the United States. The latter patient had been fully inoculated with BioNTech jabs and tested positive for vaccine-generated antibodies.

The latest cases brought the local tally to 12,004, with 212 related fatalities.

Health authorities on Friday evening also announced a snap lockdown for overnight testing of residents at Sea View Mansion in Sheung Wan after a 32-year-old man tested preliminary-positive for Covid-19.

The asymptomatic patient, who carried the more transmissible L452R strain, travelled to the US last month and returned to the city on Thursday via Doha. His pre-departure tests conducted on July 24 in Hong Kong and August 2 in the US both returned negative results.

Meanwhile, the Centre for Health Protection was notified of a confirmed case in Japan, which involved a 29-year-old female patient who had departed from Hong Kong on July 29 via Cathay flight CX520. Her sample collected on July 30 tested positive and she remains asymptomatic.

The centre said premises at which she had lived and worked – The Premier (Block 6), Chianti, at Discovery Bay on Lantau Island, as well as a unit at Tower A in Mira Place at Tsim Sha Tsui, respectively – during her incubation period had been placed under compulsory testing notices.

In a separate development, Migrante International, a group advancing the rights of migrant workers focusing on Filipino domestic helpers in Hong Kong, has demanded officials lift the travel ban on the Philippines as soon as possible to allow workers into the city.

At a press conference, spokeswoman Joanna Concepcion also urged the Philippine government to subsidise the temporary housing costs of prospective workers during their months of waiting in Manila, as well as their medical fees during the pandemic.

Hong Kong authorities earlier this week announced an overhaul of entry requirements based on the assessment of Covid-19 risk.

The Philippines will be on the new top tier of "high-risk" countries from Monday onwards, but vaccinated residents such as domestic helpers will be allowed to enter.

Officials, however, are still in talks with consulates on how to confirm the authenticity of vaccination records from the workers' home countries to enable inoculated helpers to travel to Hong Kong.