Four-person limit on public gatherings to remain in place but more users will be allowed at sports venues and some entertainment spots.
Hong Kong will extend most social-distancing measures for another two weeks but introduce minor changes allowing more people at sports facilities, cinemas and performance venues.

The rules will remain broadly in place despite a streak of zero local cases extending to 30 days, with the city confirming just one imported Covid-19
infection on Wednesday.

In another development, the residential Chung Mei Building in Tai Kok Tsui was put under overnight lockdown, after Australian authorities confirmed that a resident who left Hong Kong on June 26 had the Delta variant.

His pre-departure Covid-19 test on June 24 was negative, but he was subsequently found to be positive on June 29. The man, who is asymptomatic, worked on the 21st floor of Tower One of Kowloon Commerce Centre in Kwai Chung.

Local health officials, meanwhile, will keep the four-person limit on public gatherings, cited by authorities when banning events such as this year's Tiananmen vigil on June 4, in place.

But more users will be allowed at sports venues and some entertainment spots. Public skating rinks can boost capacity to 50 per cent if all staff have been fully vaccinated, and to 100 per cent if users have received two doses for at least 14 days.

Staff and users exercising in a certain area of indoor sports premises will be exempted from wearing masks if they have been fully vaccinated.

The number of people allowed into cinemas, performance venues and museums will be increased to at most 85 per cent of the original capacity, from previous caps of 50 to 75 per cent.

A similar cap would apply to the number of spectators at public skating rings, sports venues and swimming pools, from 75 per cent previously.

"The local epidemic situation has become stable, but the threat brought by mutant strains to the global epidemic situation cannot be neglected," a spokesman for the Food and Health Bureau said.

"If the vaccination rate in Hong Kong can be raised sooner to achieve herd immunity, the social-distancing measures can be further relaxed to allow Hong Kong to return to normality as soon as possible."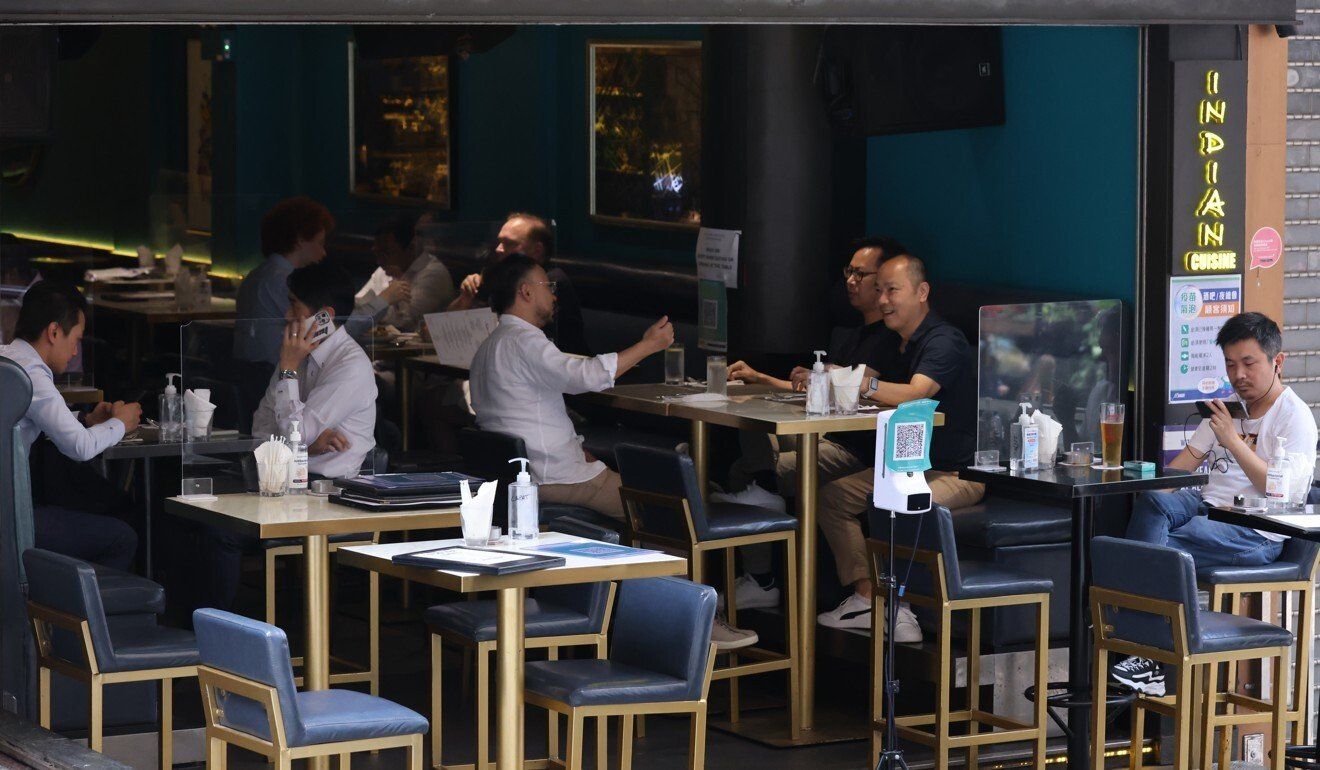 Bars and pubs are permitted to host four people per table.

The latest imported case involved a 32-year-old man who arrived from Greece. He had received two doses of a vaccine in Denmark earlier this year.

The city's tally of confirmed infections stood at 11,945, with 212 related deaths. Fewer than five people tested preliminary-positive on Wednesday.

Under social-distancing rules that took effect on June 24 and were due to expire, restaurants were allowed to operate at three-quarters capacity, provided staff had received at least one vaccine dose and use of the government's "Leave Home Safe" risk-exposure app was made mandatory for customers.

Restaurants where staff had been fully vaccinated and customers had received at least one shot were allowed to run at full capacity, with the maximum number of diners per table increased from eight to 12, with banquet seating volume bumped up to 180 people. This had been earlier capped at 50 for indoor events and 100 for outdoor ones.

To boost the vaccination rate and consumer spending as well as capitalise on the government's HK$36 billion (US$4.6 billion) consumption voucher scheme, the food and catering sector will roll out a dining bonanza by offering discounts of 30 per cent from July 15 to the end of August. Only diners who have had at least one jab will enjoy the discounts.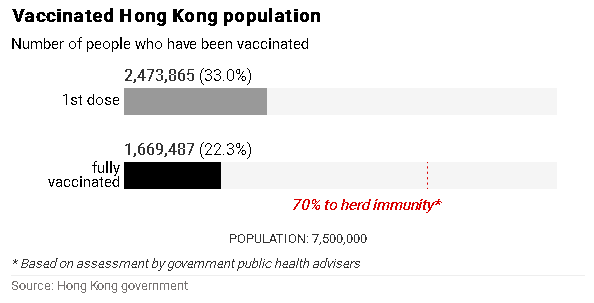 Executive councillor and lawmaker Tommy Cheung Yu-yan, who is coordinating the scheme as the representative of the food and beverage sector, said he expected more than 1,000 restaurants would take part.

"Through this campaign we hope to boost local spending and encourage people to get vaccinated so we can achieve herd immunity very soon," he said.

The lawmaker hoped the industry could claim a major share of the scheme, generating about HK$20 billion in revenue for restaurants.

The Tourism Board and Hong Kong and China Gas Company are helping promote the campaign, which will start with participating eateries offering the 30 per cent discount for groups of at least four people. A list of participating restaurants is available at http://diningdiscount.hk/.

Respiratory medicine specialist Dr Leung Chi-chiu said that given the Covid-19 situation in nearby places such as Singapore and Taiwan, he saw no room for relaxing social-distancing rules if the government intended to open the city's borders.

"Several imported patients entered the community over the past few months," he said. "If we now loosen the regulations while the government cannot guarantee zero leakage of imported patients into the community, a superspreading of the virus in the community would be possible, which would spark another wave of infections."

As of Wednesday, around 33 per cent of the city's 7.5 million population had been vaccinated with at least one dose, and 22.3 per cent had received two shots.

Mutant strain cases have emerged in recent weeks that were subsequently traced to imported infections.

On Monday, health officials reclassified a hotel cleaner's virus infection as linked to an imported case from Indonesia. The cleaner, 41, was confirmed last week with the L452R mutation, which has been linked to several more transmissive variants, including the Delta one first reported in India.

Two further infections discovered in late June, stemming from an airport worker, were also reclassified as "epidemiologically linked with imported case".

A 20-year-old woman whose 17-year-old sister was infected with the Alpha variant, first identified in Britain, is the most recent local case from June 7.