Issue comes to light after a 59-year-old man with multiple chronic illnesses was sent to isolation facility and died.
Hong Kong residents who report a positive Covid-19 test result to the government through its dedicated website are not required to provide a detailed history about chronic illnesses, which health experts and a patients' rights advocate say undermines the ability of medical professionals to prioritise care and could lead to death.

The issue of triage for quarantining coronavirus patients came to light after authorities sent a 59-year-old man with multiple chronic illnesses to the government-run Penny's Bay facility and who later collapsed and died on Sunday.

The incident followed the death of 87-year-old actor Kenneth Tsang Kong at a quarantine hotel in Kowloon late last month. The veteran performer had also suffered from chronic diseases.

On Wednesday, the Centre for Health Protection's principal medical and health officer Albert Au Ka-wing declined to comment on individual cases, but said that in general Covid-19 patients were required to report their symptoms and personal particulars, and officials would then assess the urgency of care based on several risk factors, including age and health conditions.

"If there are dangerous symptoms, of course they will have to go to accident and emergency departments immediately and seek medical help," he said.

The Hospital Authority said the 59-year-old man, who had received a kidney transplant in 2018, suffered from high blood pressure, diabetes, sleep apnoea and renal and heart failures.

The patient tested positive for Covid-19 on April 28, and after he collapsed at Penny's Bay on Sunday, he was found to have low blood sugar. He did not have a heartbeat when he was taken to hospital. The case will be referred to the Coroner's Court for investigation.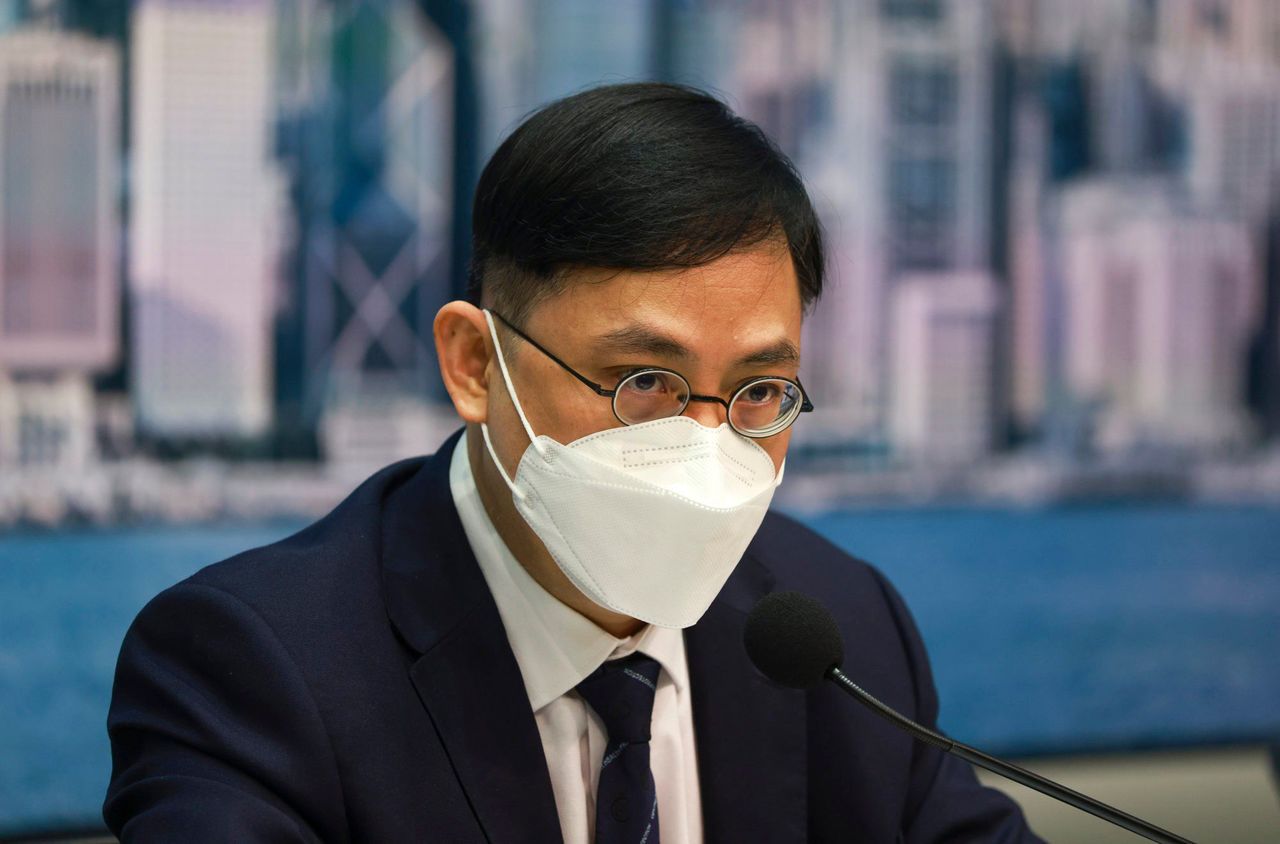 Centre for Health Protection's principal medical and health officer Albert Au.

But Au was unable to say whether the man had reported his history of chronic illnesses nor why he was deemed fit enough to be sent to Penny's Bay instead of the hospital to be placed under quarantine and medical observation.

A Post check of the self-reporting website found it does not provide any space for people to provide information about their history of chronic illnesses. A patient is asked to provide details of the positive test, vaccinations and their symptoms of Covid-19, such as fever, chest pain and difficulty in breathing.

There are also a number of yes or no questions on whether a patient can monitor their own health effectively and seek help when necessary, or if they require long-term care by household members. Residents are also asked to state if they are immunocompromised, which is explained on the site as including people who have been receiving cancer treatments in the last 12 months, or if they are on active immunosuppressive drugs.

Medical sector lawmaker Dr David Lam Tzit-yuen said the lack of reporting of key details such as medical history and chronic illnesses could leave medical professionals with incomplete information when they are carrying out triage.

"I doubt many patients could understand fully what the term immunocompromised means," said Lam, a surgeon by training. "Details matter. Heart failure is a broad term that can encompass a wide range of conditions.

"A patient who has completed a kidney transplant would no longer be considered as having renal failure. These details would be better in the hands of the medical professionals conducting triage."

With daily caseloads dwindling to about 300 in recent days, Lam also suggested the Department of Health resume telephoning patients to check on their medical conditions, in case some were not familiar with navigating the website.

Dr Joseph Tsang Kay-yan, co-chairman of the Medical Association's advisory committee on communicable diseases, said the 59-year-old patient should have been sent to North Lantau Hospital, a dedicated infectious disease facility, in the first place.

"The patient, especially if he is unvaccinated, clearly has the potential of developing a serious complication from the Covid-19 infection, which can progress quickly to death," Tsang said. "He could be better cared for in a medical facility with constant medical attention, with regular ward visits or check-ups by consultant doctors."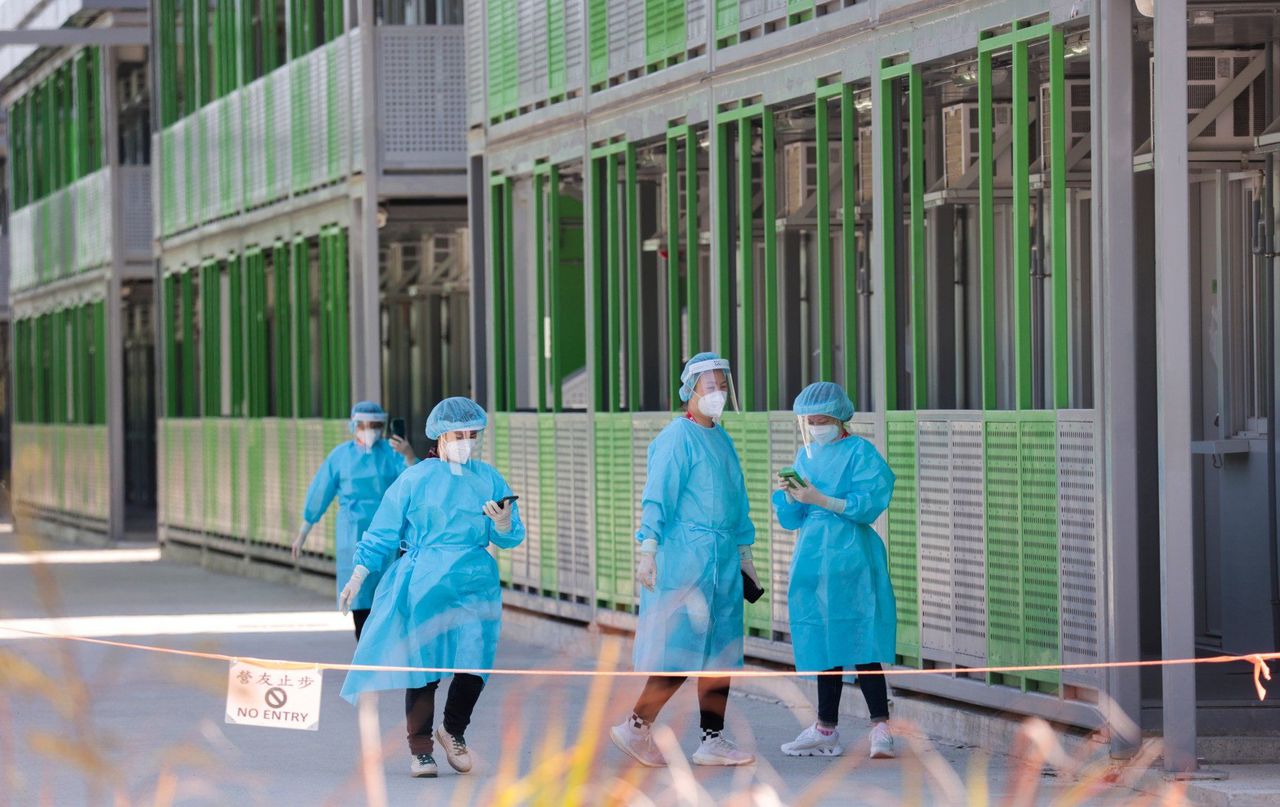 Health workers at Penny's Bay Quarantine Centre on Lantau Island.

Tsang noted that the division between the department and the Hospital Authority was another long-standing problem. The former takes charge of triage and quarantine, while the latter is responsible for treatment and storage of patients' medical records. It means an official conducting triage under the department would not be able to easily access vital medical information.

Tsang also pointed out that telemedicine could be used to get a better grasp of a patient's condition, rather than the government relying solely on the self-reporting website.

Alex Lam Chi-yau, chairman of Hong Kong Patients' Voices, said the case reinforced the need for officials to review existing pandemic policies. As the fifth wave continued to subside, officials could move medical professionals from closed makeshift facilities, such as the one at AsiaWorld-Expo, to other sites like Penny's Bay to ensure more medical help was at hand, he said.

In a written reply to the Post, a department spokeswoman said assessment questions were drafted based on "known risk factors" and if a patient was assessed as having health issues unsuitable for isolation upon arrival at Penny's Bay, a medical team would transfer the person to a hospital.