Measures making life more difficult for the unvaccinated appear to be the only way to drive vaccine uptake among holdouts, experts now say.
With countless carrots having failed to entice some Hongkongers to get vaccinated and the city facing a potential fifth wave of coronavirus infections driven by the Omicron variant, it is time for the government to pick up the stick, health experts and analysts have said.

The renewed urgency on the inoculation front came as the city's health minister, Sophia Chan Siu-chee, revealed on Friday that the government would require all people entering restaurants, gyms, cinemas, libraries and other public premises to have received at least one dose of a coronavirus vaccine, with the measure set to take effect before the Lunar New Year in February.

Hong Kong confirmed its first local Omicron infections on Saturday, involving two people who dined at a restaurant where a Cathay Pacific aircrew member infected with the variant ate. A third patron was listed as preliminary-positive.

Chief Executive Carrie Lam Cheng Yuet-ngor has said increasing the vaccination rate would be a priority for her administration this year.

Hong Kong launched its Covid-19 inoculation campaign more than 10 months ago, but just 72.4 per cent of the eligible population has received at least one shot. Vaccination rates among the elderly remain especially low, with just 20.5 per cent of those aged 80 and above having taken at least one dose.

The working-age population had a higher vaccination rate, with more than 80 per cent of people in their forties and fifties having received at least one dose.

But a leading pandemic adviser, Professor Yuen Kwok-yung, has been pushing for months to boost the rate through a tough vaccine passport scheme that would bar unvaccinated people from restaurants, workplaces and even schools.

He has cited punitive measures adopted by Singapore and Western countries, such as requiring people who choose not to get vaccinated for personal reasons to pay for their own medical fees if they are infected with Covid-19.

Yuen has argued that Hong Kong's vaccination rate needs to reach at least 90 per cent by summer, which would allow the city to develop sufficient protection before the arrival of winter, when virus transmission is more efficient.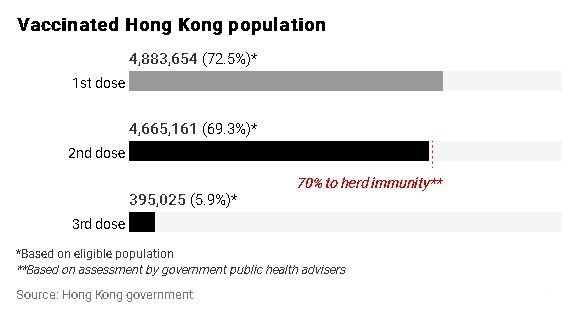 However, his proposals had not garnered much support until about 10 days ago, when the Civil Service Bureau announced that all public employees would have to be vaccinated by mid-February to enter their workplaces or otherwise undergo testing every three days.

Medical experts and political analysts are now saying the time has come to introduce tougher measures to push up vaccination figures, though some argue that a softer approach – such as giving people cash to get their shots -should also be taken with the elderly.

Elderly Commission chairman Dr Lam Ching-choi, also a member of the leader's de facto cabinet, the Executive Council, said it was necessary to turn the screws a bit, particularly when it came to people dead set against vaccination.

"For those who are resolute in not getting vaccinated, they will remain the same no matter how many sweeteners they are given," Lam said. "They will need to feel a bit of pain to take action."

For a vaccine passport scheme to be effective, Lam said, it would have to be implemented in places where seniors often went, such as yum cha spots, government premises and elderly centres. Authorities could also consider making vaccination a prerequisite for visitations at elderly care homes, he added.

To facilitate the measures, there should also be home vaccination services for physically disabled elderly people who were not able to leave their residences, Lam said.

Professor Kwok Kin-on, from Chinese University's school of public health, said requiring vaccine passports at workplaces would also force a minority of the working population who have not been inoculated to get a shot.

"[Intervention at] workplaces is effective. There could be an increase in the vaccine uptake rate," Kwok said, while noting there would also be side effects, such as further undermining public trust in the government.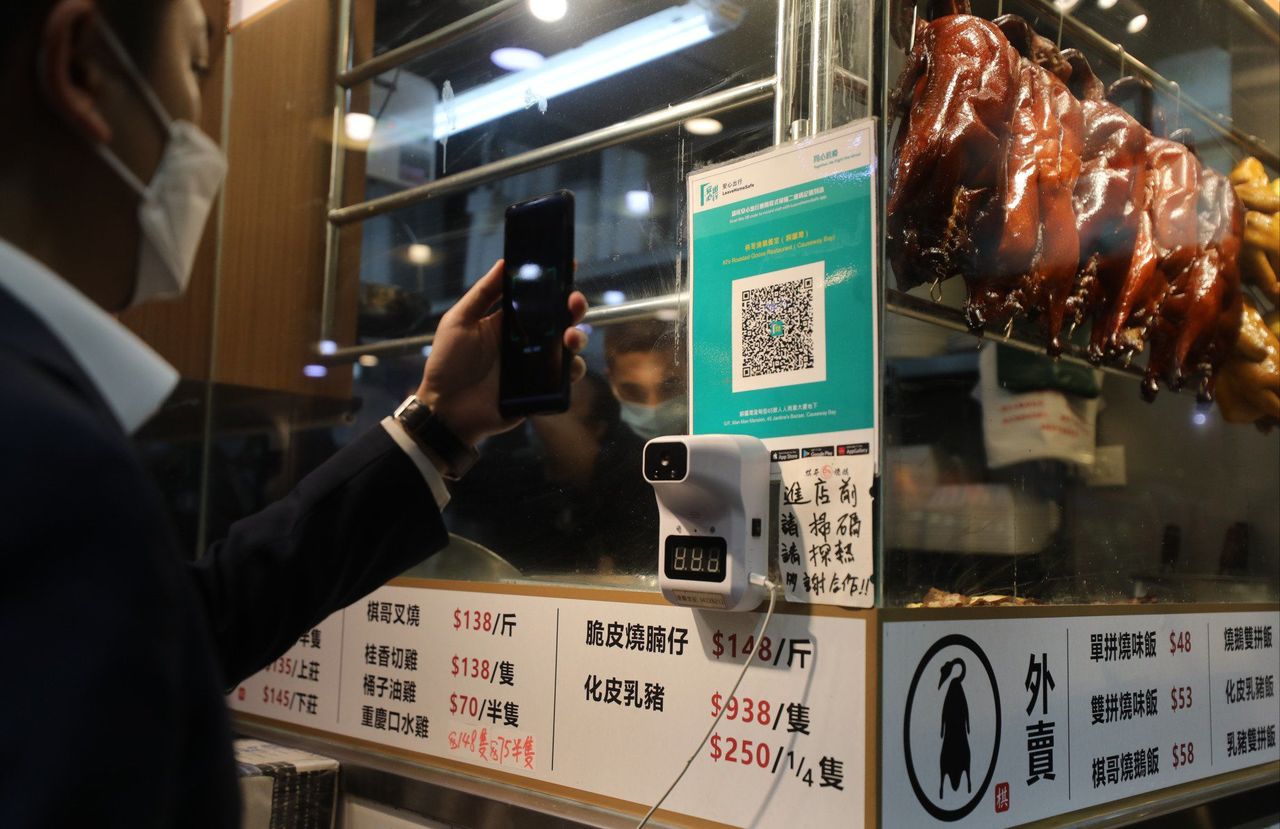 For a vaccine passport scheme to be effective, it would have to be implemented in places seniors frequent, like yum cha spots, one expert says.

To strike a balance, he said, the government should also offer rewards to the public.

"The government might need to consider opening the border and letting people go travelling," he said.

For the elderly, Kwok said a less stringent approach would be preferred, adding clearer explanations from doctors would be important in encouraging more seniors to get their jabs.

"We would need doctors to sit down and talk to them, whether the jabs are safe or suitable for them. At the moment, such information is still not yet clear enough," Kwok said, noting that the health condition of each elderly person was different. "We would need an authority figure to let them know they can go for their jabs."

Respiratory medicine expert Dr Leung Chi-chiu also said a softer approach with the elderly, such as a "reward scheme", would garner wider social acceptance.

For instance, the government could consider giving a one-off rise in the Old Age Allowance to elderly people who got their first doses.

"If we have exhausted all methods to ask the elderly to take actions to protect themselves … but still can't reach the goal, we will then be forced to take a more compulsory approach," Leung said, adding that a gradual method would trigger fewer controversies.

While paying elderly people to get vaccinated would put a dent in the public coffers, Leung warned that the medical costs and economic losses would be much higher if many of them were infected in a new wave.

But from a political point of view, taking bolder steps could bring Hong Kong out of its "predicament", said Lau Siu-kai, vice-president of the Chinese Association of Hong Kong and Macau Studies, a semi-official think tank.

"For sure there will be opposition. But there are also some people disappointed with the current situation, in which the border reopening with mainland China is still not yet happening," Lau said. "Launching vaccine passports might be a way out for Hong Kong."

He added that the roughly 70 per cent of the eligible population who had already been vaccinated were likely to be supporters of the government's tougher measures.

Sales representative Leon Wong, 35, said he supported using vaccine passports to boost the inoculation rate, especially among the elderly.

"It's been close to a year since the elderly could take the vaccine, and yet the numbers are still so low. Instead of giving more old age allowance, the government should deduct it from the elderly who refuse to get jabbed," he said.

Clinic clerk Peter Ng, 66, said the government could also do more to encourage the elderly to get inoculated.

"Monetary incentives might work on the elderly from the lower income group who live from pay cheque to pay cheque," said the 66 year-old. "Only when the government shows determination to enforce the vaccine mandate will the vaccination rates go up."

But a 74-year-old retiree, surnamed Wong, said she would not get inoculated regardless of carrots or sticks, citing potential side effects as her main concern.

"If I am not allowed to go to yum cha, I will not go. Even if they pay me, I won't get vaccinated. Nothing can incentivise me," she said.