Former No 2 official John Lee also vows to initiate talks with mainland Chinese counterparts on quarantine-free cross-border travel once he is elected.
Sole Hong Kong chief executive candidate John Lee Ka-chiu's manifesto will focus on areas such as housing, care for the elderly, technology and civil service reform, with less emphasis on national security in a bid to soften his image, and he plans to unveil it next week, the Post has learned.

The former No 2 official has also vowed to initiate talks with mainland Chinese counterparts on quarantine-free cross-border travel once he is elected, touting his leadership in talks last year when he was chief secretary.

Meanwhile, a powerful committee chaired by Financial Secretary Paul Chan Mo-po that vets election hopefuls approved Lee's candidacy on Monday, declaring him the sole candidate nominated for the May 8 poll, four days after he submitted his bid with 786 nominations.

After meeting five major business chambers on Monday afternoon, Lee thanked the vetting panel for its approval and said he would also reach out to Hong Kong people.

"The Election Committee members are very important," he said, referring to the body that picks the city's leader, "but it's more important to explain my plans to Hong Kong residents so society can be united and have a consensus on starting a new chapter for the city together."

But he stopped short of revealing his plans for public talks or consultations.

A source familiar with the former chief secretary's campaign work said Lee and his team would focus on writing up the platform this week, as time was limited before the election.

"He wants to give people hope, like telling the public the next five years will be very good," the insider said. "Like improving people's livelihoods, fostering a closer relationship with the mainland, and strengthening Hong Kong as a financial centre."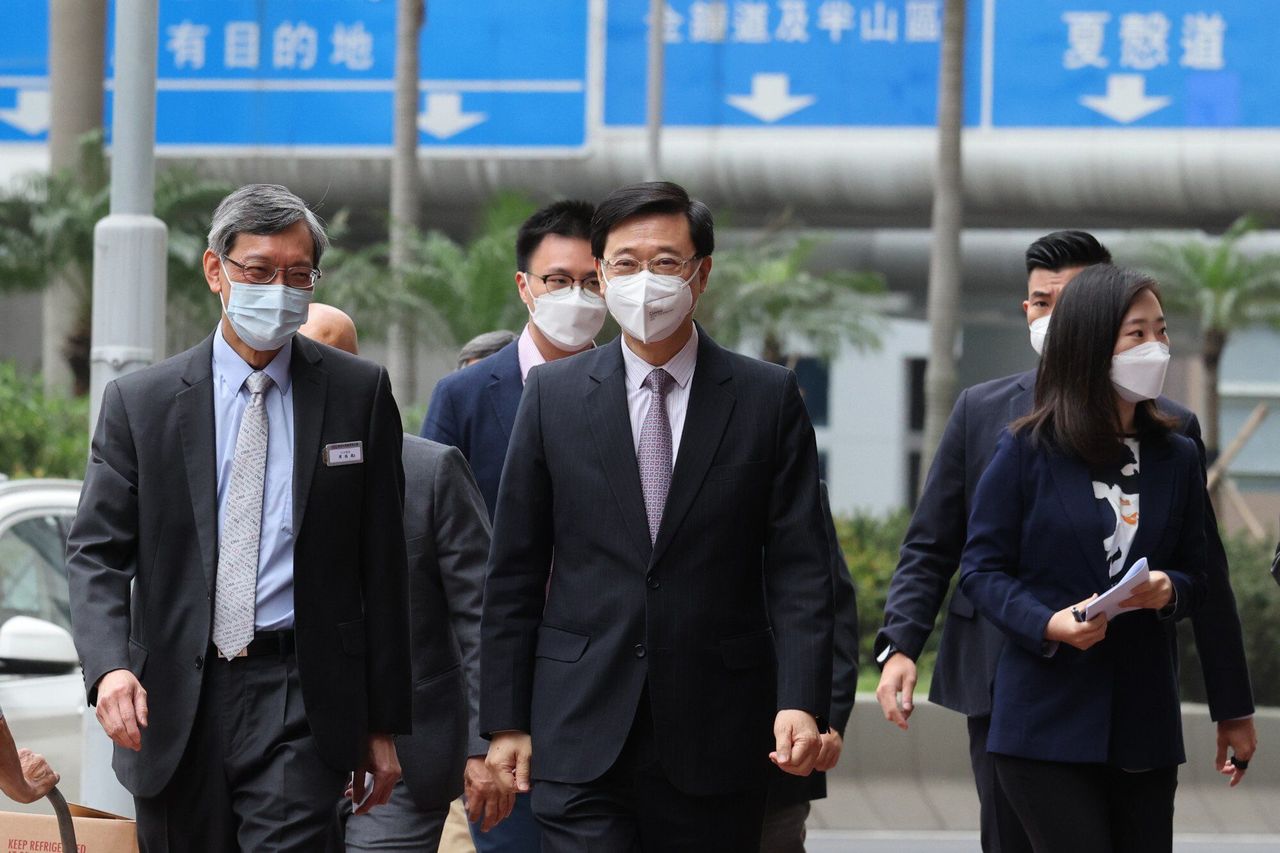 John Lee met five business groups on Monday.

The source added: "Lee will also hope to build a more peaceful image, less hawkish some would say, although there are some national security issues like legislating Article 23 of the Basic Law he will do."

One main focus of Lee's platform will be housing, including pushing ahead with the Northern Metropolis plan and the Lantau Tomorrow project – a controversial scheme to build artificial islands in waters off Lantau Island for homes and a business hub – alongside other initiatives, according to insiders.

The first source said Lee was not expected to outline all his plans in detail, rather he would focus more on some policy principles.

The metropolis plan, first unveiled in incumbent city leader Carrie Lam Cheng Yuet-ngor's policy address last October, aims to turn parts of rural areas near the border with Shenzhen into an economic and residential hub housing 2½ million people.

Development plans for major areas under the Northern Metropolis blueprint, including the San Tin area which is envisioned as a "technopole" – or hi-tech cluster- with more than 1,100 hectares, are expected to be formulated within two to three years.

Lee told a media briefing on Monday afternoon that he had been working hard on his manifesto, and would reveal it as soon as possible.

On the civil service, he said he wanted to work with the "committed and capable" government employees to establish a "result-based" culture.

"We can build a team which will solve problems collectively and make the biggest achievements," he said.

"I'll be asking them to do things that will create results, and then through this process of seeing results, and then reinforcing with more results, the culture will be built."

Lee on Sunday pledged to improve the civil service's procedures and culture, and urged lawmakers "not to be stingy with praise" for a workforce he regards as having strong administrative abilities.

He will also focus on the resumption of cross-border travel with the mainland. Lee said he had received a positive response from mainland authorities in his previous talks with officials.

"I know it's not easy, it's full of challenges, but I will initiate [talks] as soon as possible … This is one of my key focuses," he said. "[Mainland counterparts] also hope Hong Kong can be good."

Lee added: "I will be pragmatic … as many foreigners, businessmen, researchers and the education sector would hope to return to the mainland via Hong Kong."

He had earlier suggested that if elected, he would lead Hong Kong with an emphasis on results, boost the city's global competitiveness and consolidate the foundations for the city to reach new heights.

In past weeks, the former official also raised several areas of concern for his prospective administration, including a push for Article 23 legislation – a local national security law required under the city's mini-constitution – to complement Beijing's version imposed two years ago.

He also expressed hope that work could soon begin on restructuring the government, and he would also support regulating crowdfunding, as the city's laws were insufficient to oversee potentially problematic campaigns.

Lee on Monday met five of the city's major local chambers – the Hong Kong General Chamber of Commerce (HKGCC), the Chinese General Chamber of Commerce (CGCC), the Federation of Hong Kong Industries (FHKI), the Chinese Manufacturers' Association of Hong Kong (CMA) and the Chinese Importers' and Exporters' Association.

Veteran banker Peter Wong Tung-shun, chairman of the HKGCC, said they discussed with Lee the challenges facing Hong Kong talent, the economy and the financial sector.

He said Lee told them he wanted to unite all sectors, and would be pragmatic in solving problems. Wong added that Lee also said he had some ideas about the border reopening, but it would take time.

Lawmaker Jeffrey Lam Kin-fung, who represents the chamber in the Legislative Council, said Lee recognised that the city's civil servants were diligent and capable but that they were restricted by some "frameworks" or bureaucracy.

He added that Lee did not say he wanted to "fix or reform" the civil service but that he would handle some rules or ordinances that were outdated.

Lee also told them he would invite talented and knowledgeable people to join the government to form an open team with networks and connections, according to Lam.

CMA president Allen Shi Lop-tak also suggested in the meeting the importance of forming an Innovation, Technology and Industrial Bureau to re-industrialise Hong Kong and turn it into a global tech hub.

Shi said some members argued that even though quarantine-free travel with the mainland could not resume yet, the city should reopen its international borders for overseas travellers to remain internationally competitive.

FHKI chairman Sunny Chai Ngai-chiu, also chairman of Hong Kong Science and Technology Parks, said he hoped the next administration would increase investment in innovation and technology and the city's re-industrialisation.

Chai added that he had confidence in the next administration, as the Northern Metropolis project would ensure integration and information technology cooperation between Hong Kong and the rest of the Greater Bay Area would not slow down.

Lee is the sole candidate in the election but more than 1,400 Election Committee members will still need to cast their ballot on May 8 for him to be officially picked as the city's leader for a five-year term until 2027.