No need for grandstanding in 'elite politics' as public not involved in voting, observers say.
Hong Kong's powerful, revamped Election Committee will be decided this month, but at least 121 candidates have nothing to say as far as manifestos go.

They left that section blank when filing their nominations, a move some candidates and pro-establishment analysts called "playing safe in the city's new landscape of elite politics".

Among those who filled the section were some property tycoons who stated their expectations for the city's next leader on housing issues and resolving deep-seated problems.

Most of the others included straightforward slogans or statements. The candidates' manifestos were posted online by the Registration and Electoral Office last week.

After Beijing's overhaul of Hong Kong's electoral system to ensure only "patriots" hold political office, the Election Committee has been expanded to 1,500 members and tasked with not only choosing the chief executive, but also nominating lawmakers, and sending a group of its own members to the Legislative Council.

The election on September 19 has 1,056 candidates for 967 seats, with the remainder to be filled by appointed, ex officio, members.

There will be contests for only 364 seats in 13 of the committee's 40 subsectors representing different professions and trades. These include the legal, education, medical and health services, and social welfare groups.

A closer look at the manifestos showed that representatives of major developers – previously regarded as "kingmakers" in the Election Committee – were relatively more outspoken.

Sun Hung Kai Properties' Adam Kwok Kai-fai said he hoped the government could increase the supply of homes, especially public housing, and speed up development in the New Territories.

Adrian Cheng Chi-kong, of New World Development, pledged to vote for a leader who loved the country and Hong Kong, and would guide the city towards good governance.

Martin Lee Ka-shing, from Henderson Land Development, focused on patriots running the city and hoped to "resolve deep-seated conflicts in Hong Kong together".

Wheelock's Douglas Woo Chun-kuen hoped the new leader could maintain social harmony and economic prosperity, actively promote sustainable development, support the principle of "one country, two systems" and strengthen the city's long-term competitiveness.

Only four of those who left their manifestos blank face a contest, as the rest will claim their seats uncontested.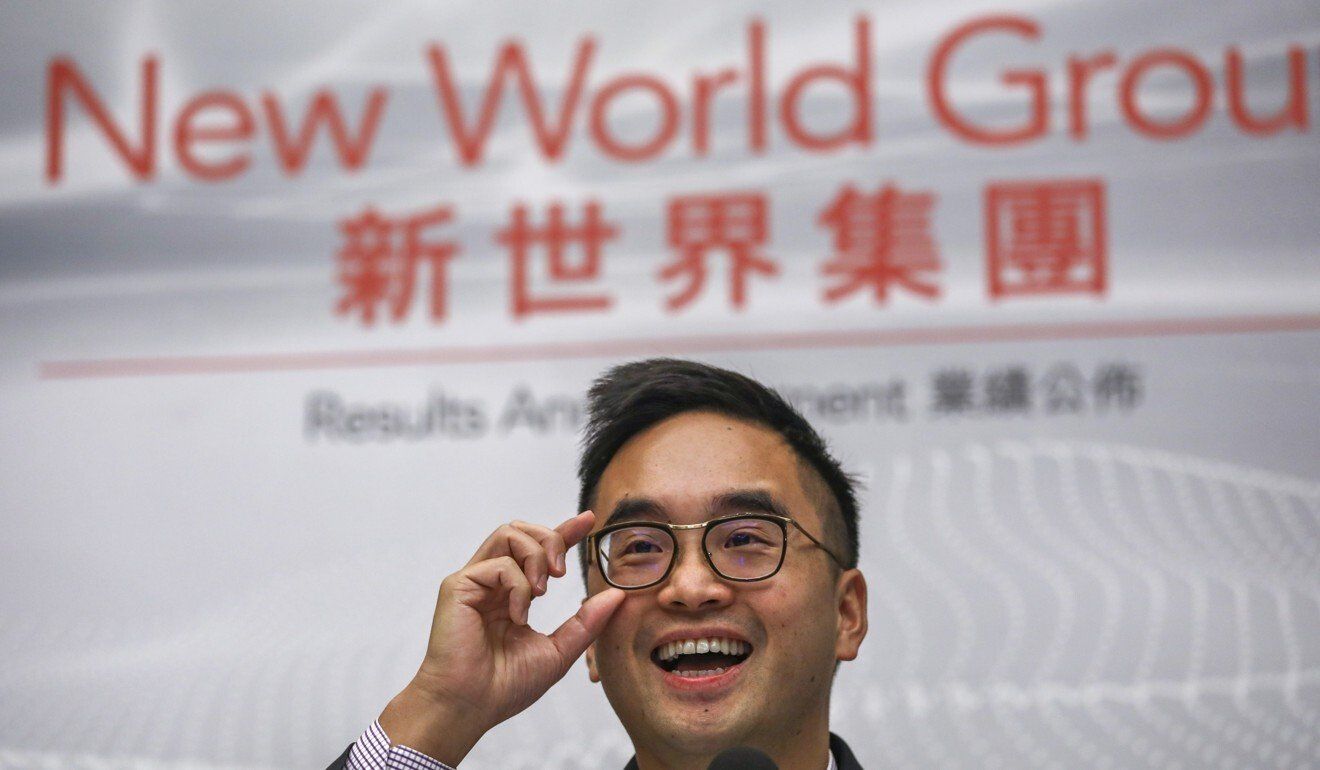 Adrian Cheng, executive vice-chairman and general manager of New World Development Management.

They include tycoons Richard Li Tzar-kai, younger son of billionaire Li Ka-shing, and Sun Hung Kai Properties' Christopher Kwok Kai-wang, who have both secured places in the Employers' Federation of Hong Kong subsector which will not have a contest.

Four candidates in the sports, performing arts, culture and publication subsectors – which will be uncontested – left their manifestos blank. They include table tennis coach Li Ching, who led Hong Kong's women's team to their bronze medal success at the Tokyo Olympics, and director Derek Yee Tung-sing.

The 27 candidates from the Heung Yee Kuk, the powerful rural body representing the interests of indigenous villagers in the New Territories, as well as 50 delegates to national organisations had nothing to say in their manifestos.

The kuk team chose to announce its joint manifesto at a press conference led by chairman Kenneth Lau Ip-keung.

They said they would support patriotic candidates who pledged allegiance to the Basic Law, the city's mini-constitution, and also "fully promote and cooperate with the government to develop the New Territories".

Film director Clifton Ko Chi-sum, now in a subsector for national organisations, said he "forgot" to fill in the manifesto section, as he was previously part of the cultural subsector.

"But this does not mean I do not have expectations for the chief executive. I hope the next leader can solve the housing problems, as well as resuming cross-border travel with mainland China as soon as possible," he told the Post.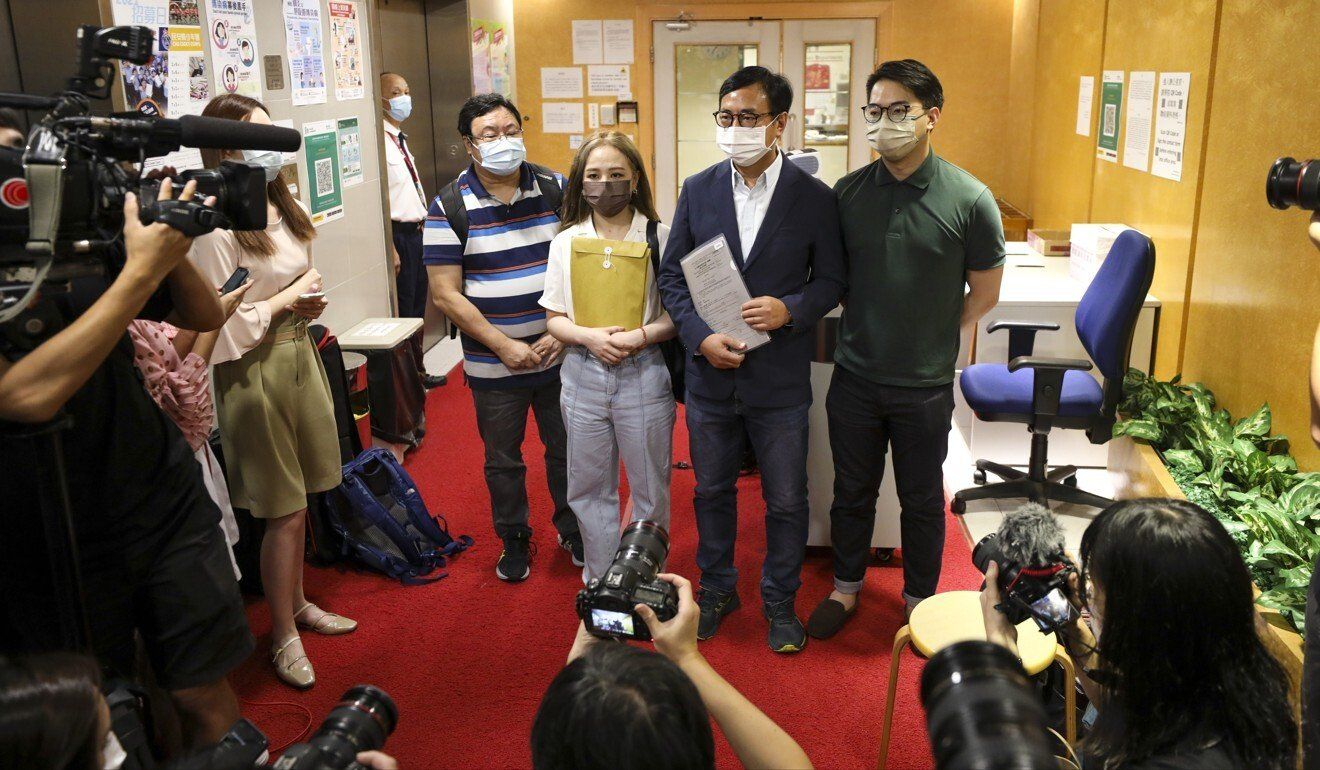 Tik Chi-yuen, a former member of the Legislative Council and of North District Council, submits his application to the Election Committee in Wan Chai.

Eddy Li Sau-hung, president of the Hong Kong Economic and Trade Association, also brushed aside the question of his missing manifesto, saying: "In our import and export subsector, every voter knows me very well, and whether I filled in the manifesto or not will not affect their impression of my ability."

He added that he was trying to play it safe, as he was not familiar with the new rules under Beijing's electoral changes, such as what counted as election expenses.

Lau Siu-kai, vice-president of semi-official Beijing think tank the Chinese Association of Hong Kong and Macau Studies, said he understood that some candidates might "hope to play safe".

"In the new electoral system, we do not expect to see very outspoken or outstanding candidates. Voters know who they are and understand that these candidates have been approved by the central and Hong Kong governments, so it makes no difference whether they have a political platform," he said.

"In elite politics, candidates do not have to show off their abilities as most of the voters are not the general public."

The state of play this year is a stark contrast to the polls five years ago, when the smaller 1,200-member Election Committee saw contests in 25 of 38 subsectors, with 246,000 voters registered to cast ballots.

This year, there are only 7,900 voters, as individual voting has been replaced by corporate voting.

Even among candidates who filled in the manifesto section of their nomination, most did not try too hard to make elaborate statements.

Candidates for the new 17-seat commercial subsector, formerly the Hong Kong Chinese Enterprises Association dominated by patriotic heavyweights, mostly wrote that they supported "patriots ruling Hong Kong".

All 16 candidates in the engineering subsector wrote the same slogan, "Engineers – power the future," while the 17 candidates in the tourism subsector put down, "Together we create a better future".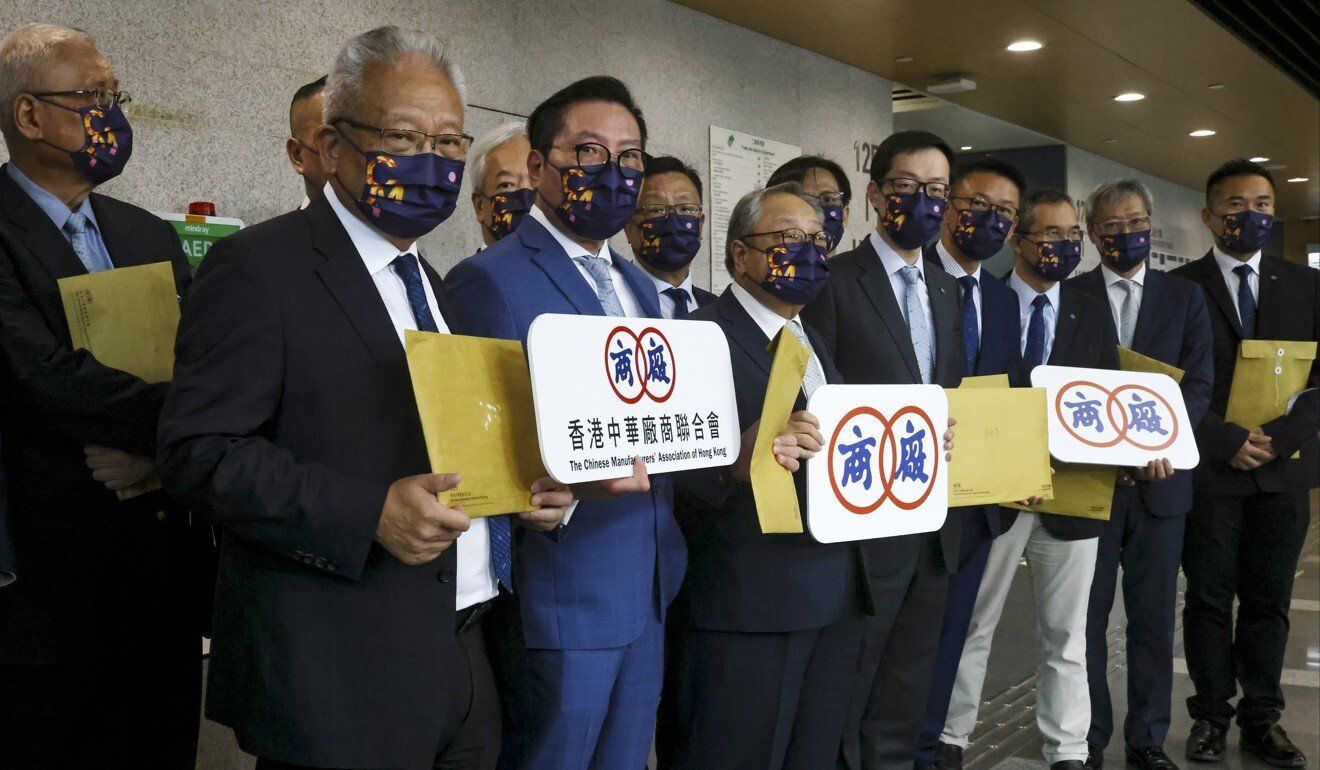 Members of The Chinese Manufacturers' Association of Hong Kong meet the media before submitting their applications for seats on the Election Committee.

Former Democratic Party members Tik Chi-yuen and Francis Chau Yin-ming, regarded as moderates Beijing is willing to accept, are running in the social welfare subsector with 23 candidates competing for 15 seats.

Tik said in his manifesto that "the chief executive should listen, while the legislature has to be diverse". He also highlighted issues such as poverty, ageing and youth employment.

John Burns, emeritus professor of politics and public administration at the University of Hong Kong, said politicians' manifestos played some role in contested elections, but most seats under the Election Committee were not contested.

"The nominees' statements in the Election Committee' uncontested elections are mostly formulaic, focused on one constituent, the Chinese Communist Party," he said. "Even in the so-called 'contested' subsectors, there are few real contests and most nominees will become Election Committee members."

He found Tik's manifesto "refreshing" for linking his candidacy to democratic values and critical policy problems such as ageing and youth employment,

"No evidence of thinking about these critical issues for Hong Kong can be found in most of the manifestos. This is to be expected in this mostly internal exercise divorced from the people of Hong Kong," he added.

Separately, 40 pro-establishment lawmakers, approved as ex officio members of the Election Committee, issued a joint statement on Wednesday saying they would nominate candidates for the chief executive and Legco elections to ensure patriots ruled the city and safeguarded national security.

Their move came days after the only opposition lawmaker, Cheng Chung-tai, was removed with immediate effect after he failed to pass the official vetting process for those running for membership in the Election Committee.

Chief Secretary John Lee Ka-chiu, who led the vetting, said Cheng was disqualified as he failed to uphold allegiance to the city.