Judge rejects defence challenge against admission of 10 reports as evidence saying prosecutors are entitled to prove continuous nature of offence.
Two former editors of the now-defunct Stand News portal conspired to use the popular site as a political platform beautifying "criminals" and promoting their "illegal" ideologies, prosecutors have argued in the media outlet's sedition trial.

In a strongly-worded opening statement in the District Court on Tuesday, prosecutors accused the online news service and the two editors of publishing 17 seditious articles to support "forces opposing China and disrupting Hong Kong", glorify their so-called acts of resistance, and disparage Beijing, the local administration and the national security law.

"All 17 articles in the present case were published [after] Hong Kong experienced unprecedented turmoil ... with the authorities of Beijing and the Hong Kong government being tested to the limit," said prosecutor Laura Ng Shuk-kuen.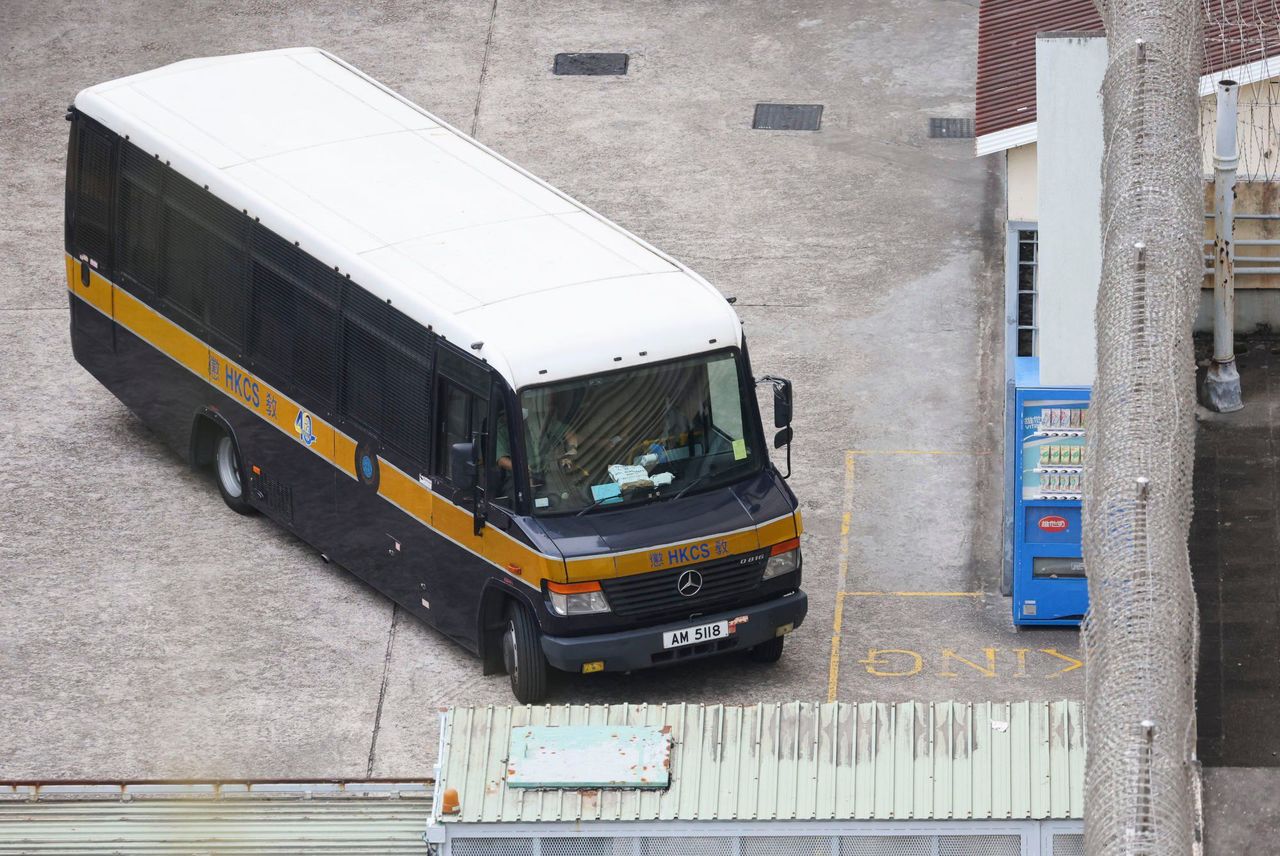 A prison van carrying former Stand News acting editor-in-chief Patrick Lam Shiu-tung and former editor-in-chief Chung Pui-kuen at the Lai Chi Kok Reception Center.

Former editor-in-chief Chung Pui-kuen, 53, and acting editor-in-chief Patrick Lam Shiu-tung, 35, on Monday denied a joint count of conspiracy to publish and reproduce seditious publications. They face up to two years imprisonment if convicted.

The court also recorded a not guilty plea from Best Pencil HK Ltd, Stand News' holding company, which is unrepresented in the proceedings.

The court heard the prosecution's speech after dismissing a defence challenge against the admission of 10 of the 17 reports as evidence.

Counsel earlier argued the 10 items should be excluded as the charge was laid more than six months after their publication, beyond the time limit within which prosecution can be initiated.

Judge Kwok Wai-kin, who is among the few jurists designated to oversee national security cases, ruled prosecutors were entitled to prove the continuous nature of the offence by relying on all available evidence.

Ng said the 17 publications, comprising eight news reports and nine commentaries in the form of "blog posts", were the manifestation of the defendants' criminal plot dating back to July 2020, soon after the adoption of the Beijing-decreed security legislation.

The accused would have furthered their agenda had it not been for a police crackdown on the opposition-leaning portal service on December 29 last year, she continued.

"Stand News published feature stories on public figures such as unlawful activists, absconded criminals and wanted suspects ... The writers of the relevant blog posts disseminated secessionist ideologies and repeatedly made unfounded allegations [against authorities]," the prosecutor said.

The first three reports were interviews with activists Gwyneth Ho Kwai-lam, Owen Chow Ka-shing and Fergus Leung Fong-wai, who won an opposition-led unofficial legislative primary election in July 2020. The trio are currently behind bars awaiting a subversion trial.

Ng said Stand News "showed no restraints" in advocating the "extremist and anti-government" beliefs of the three "offenders".

The news outlet also ran an analysis by fugitive former lawmaker Nathan Law Kwun-chung, who took a critical view on the trio's "lawful" arrest, in a bid to "vindicate" the suspects and "crown them with halos", the prosecutor added.

Three other reports were about Law and two other fugitive ex-legislators, Ted Hui Chi-fung and Sixtus Baggio Leung Chung-hang. Fugitive activist Sunny Cheung Kwan-yang also wrote a piece in response to being placed on a police wanted list over his alleged role in an unauthorised assembly.

Stand News, instead of drawing the line at upholding the quartet's "unlawful stances", packaged them as "human rights warriors" and provided a stage for them to promote Hong Kong's independence and foreign sanctions, the court heard.

Two other news articles vilified a police operation during a riot at Chinese University in November 2019, and attacked the government by citing activist Chow Hang-tung, who received a human rights award in December last year after being incarcerated for alleged national security offences, according to prosecutors.

Six of the seven remaining commentaries denigrated the security law and relevant enforcement actions with "groundless" and "sensationalised" accusations, Ng said, adding some also smeared the "lawful" arrest of 12 fugitives during their thwarted bid to flee to Taiwan by boat in August 2020.

Veteran journalist Allan Au Ka-lun, who was arrested in April for alleged sedition, penned four of the six critiques. The other two were written by Law and Chan Pui-man, former associate publisher of the now-defunct Apple Daily newspaper, who is also Chung's wife.

Law additionally contributed a piece where he called for continued resistance against authorities.

Prosecutors urged the court to assess the 17 articles against the backdrop of a polarised society following the anti-government protests in 2019, the existence of "external forces" and "a large group of citizens [who] refused to accept Hong Kong was an inalienable part of China", and Stand News' political leanings.

The trial continues on Wednesday.