Government spokesman says 'wide range of economic activities' hit hard by fifth coronavirus wave, anti-epidemic measures.
Hong Kong's economy shrank by 4 per cent during the first quarter of 2022, worse than previously expected by analysts, as businesses were hammered by a fifth wave of coronavirus infections and a fresh outbreak across the border in mainland China.

According to preliminary data released by the Census and Statistics Department on Tuesday, the contraction is the city's first since the fourth quarter of 2020. The figure was worse than the median 1.3 per cent decline estimated by 11 economists.

The department found that all of the indicators for economic performance, such as private consumption and unemployment levels, worsened between January and March.

A government spokesman said the Hong Kong economy faced "immense pressure" in the first quarter as well as "significant challenges" in the near term.

"Externally, moderating global demand growth and epidemic-induced cross-boundary transportation disruptions posed substantial drags to exports. Domestically, a wide range of economic activities as well as economic sentiment were hard hit by the fifth wave of the local epidemic and resultant anti-epidemic measures," he said.

The spokesman added that the Russian invasion of Ukraine would lead to higher energy and commodity prices, exacerbate supply chain disruptions and dampen economic sentiment.

The contraction of the city's gross domestic product (GDP) reversed year-on-year growth in 2021, after last year's fourth quarter experienced a 4.7 per cent increase, as well as a 5.5 per cent rise in the third quarter.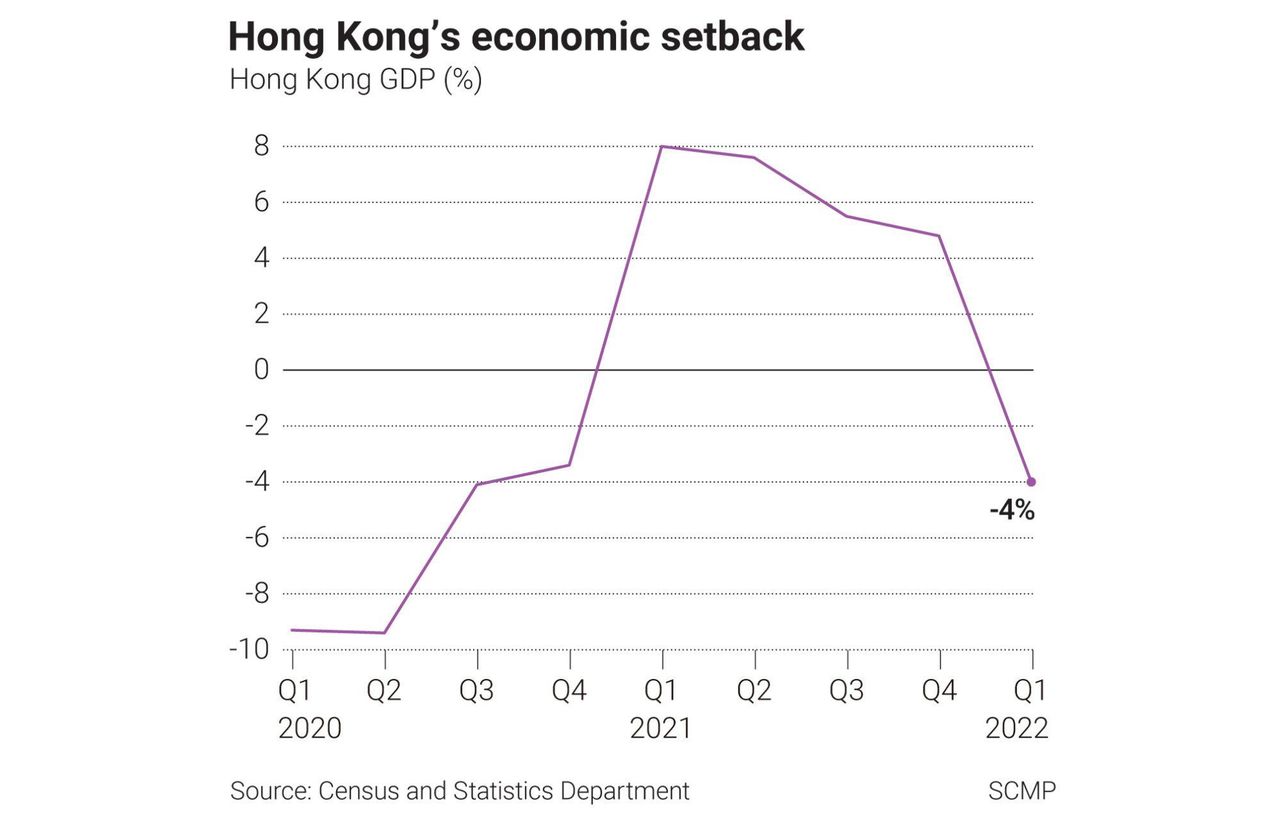 In 2021, Hong Kong's GDP rebounded when it experienced growth of 6.4 per cent after shrinking 6.5 per cent the year before. The government estimated in February that economic growth would reach between 2 and 3.5 per cent in 2022.

On a quarterly basis, GDP declined 2.9 per cent in the first quarter from the preceding one last year.

DBS Bank group research economist and strategist Samuel Tse, who previously estimated GDP for the first quarter would undergo a 1.2 per cent contraction, said the bank was considering downgrading its full-year forecast for 2022.

"The biggest concerns are the performance of trade and private consumption, which account for the bulk of GDP," he said. "We won't expect a meaningful economic recovery until the middle of May, when daily life gradually goes back to normal."

Private consumption plunged 5.4 per cent year on year in the first quarter compared with a 5.3 per cent increase in the fourth quarter of 2021, while exports slumped 4.5 per cent in the first three months compared with a 13.5 per cent rise in corresponding periods.

The economy was dealt a severe blow in the first quarter of this year as the city experienced an exponential surge in coronavirus cases, prompted by the emergence of the more infectious Omicron variant.

During the same period, more than 926,000 people contracted Covid-19, with about 7,800 related deaths. The caseload at the time currently accounts for 77 per cent of all infections and 84 per cent of all deaths reported during all five waves in Hong Kong.

The city also implemented a series of strict anti-epidemic measures in the first three months of 2022 that have been gradually relaxed, including curbs on businesses, social-distancing requirements and a flight ban on nine countries.

The tourism sector, a main pillar of the economy, has been hit hard by the pandemic. The number of holidaymakers coming to Hong Kong has remained non-existent for more than two years, despite authorities opting to ease travel restrictions for non-residents from May 1.

A recent outbreak of Covid-19 in Shenzhen also negatively impacted Hong Kong's food supplies and logistical services.

Financial Secretary Paul Chan Mo-po previously said he expected the economy would turn a corner in April, with the roll-out of the latest round of consumption vouchers and a new employment support scheme to help about 1.3 million residents, as well as a downtrend in the number of Covid-19 cases.