Turkey-bound team of 59 rescue workers and two dogs is seen off by city's No 2 official on Wednesday night.
Hong Kong dispatched a 59-strong team and two rescue dogs to Turkey on Wednesday night to help search for survivors after the southern part of the country and Syria were struck by a catastrophic earthquake.

The team departed as members of the city's Syrian and Turkish communities waited for news of loved ones trapped beneath the rubble of buildings destroyed by the quake, which has killed more than 11,000 people as of Wednesday and left thousands more homeless.

Beijing earlier expressed its sympathy and support for Syria, offering 30 million yuan (US$4.42 million) in emergency humanitarian aid and pledging US$2 million in cash assistance, in addition to other resources and its own rescue mission.
City leader John Lee Ka-chiu, who is on a business trip in the United Arab Emirates, said the Hong Kong rescue team included Security Bureau and Immigration Department personnel, the Fire Services Department's urban search and rescue team, firefighters and ambulance crews, as well as medical workers from the Department of Health.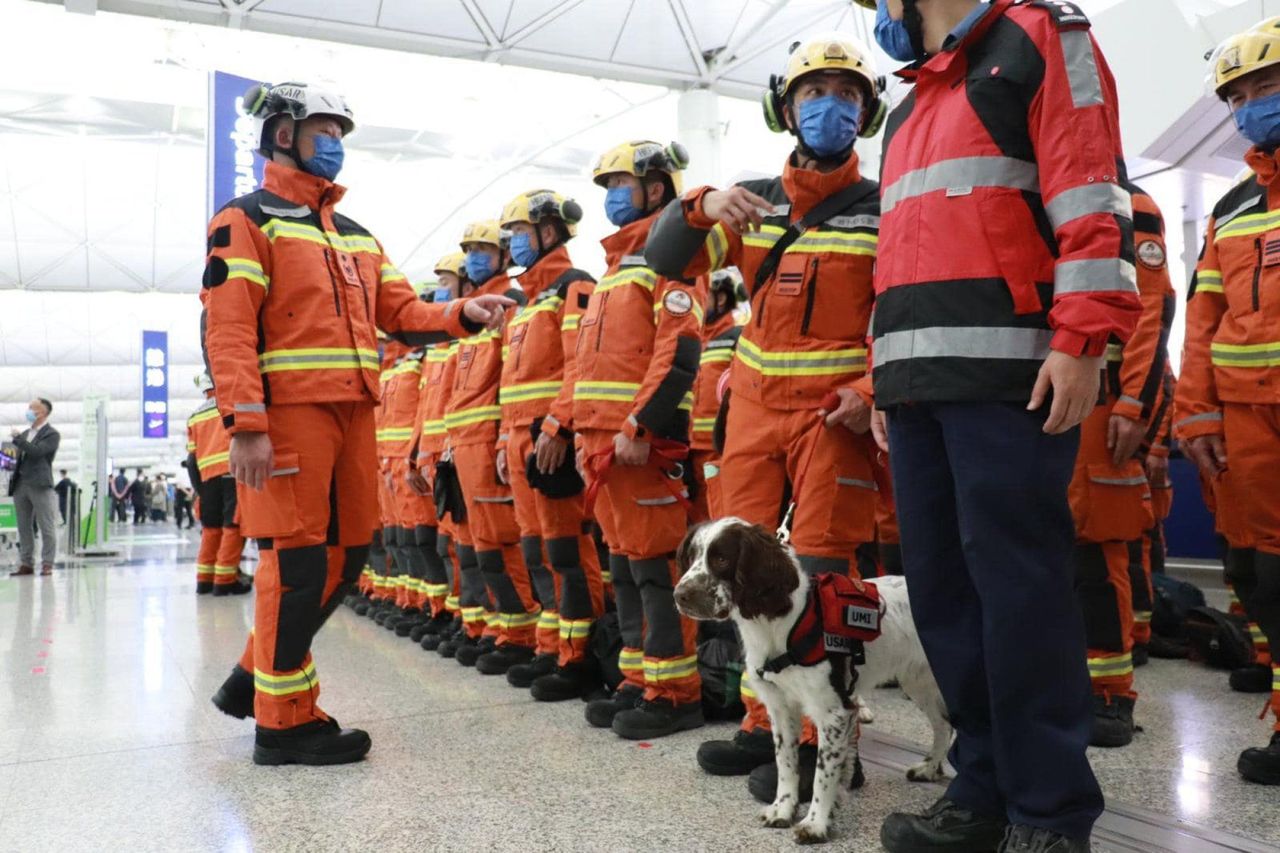 One of the two rescue dogs accompanying Hong Kong's Turkey-bound team.
"I would like to thank members of the search and rescue team for their professionalism in assisting the Turkish authorities in saving lives," he wrote on social media. "The [Hong Kong] government will fully support the search and rescue team with all their needs so that they can complete the rescue work smoothly."
The responders from the city have also brought along eight tonnes of equipment, including listening devices to detect trapped survivors and tools to cut through the debris.
Chief Secretary Eric Chan Kwok-ki, Hong Kong's No 2 official, who saw the team off at the airport, said the administration had yet to decide how long they would stay in Turkey. He added that more personnel and equipment could be deployed if necessary.
The acting chief executive was also among those who had signed a book of condolences at the Turkish consulate on the same day.
In support of Syria, China also vowed to accelerate its food aid programmes there, the country's foreign ministry spokeswoman Mao Ning said.
A team from the mainland, comprising members of the Beijing Fire Rescue Corps, the National Earthquake Response Support Service and the city's Emergency General Hospital, arrived in Turkey on Wednesday with 20 tonnes of medical supplies, special equipment and four rescue dogs.
A second team of more than 100 personnel from the country's civic organisation Blue Sky Rescue also reached Turkey on the same day, joining a search mission that was expected to continue for more than 15 days, according to Liu Xiaodong, a member of the group.
The Hong Kong Red Cross has said it will launch a fundraising campaign this week as part of an international drive to secure more than US$215 million to support relief efforts.
The city's Consul General of Turkey Peyami Kalyoncu said the rescue efforts were of the "utmost urgency" as Turkish and Syrian responders raced to free trapped survivors amid harsh winter conditions.
"The next 48 hours, or even less, is very critical because of the freezing weather. A lot of people are under the debris from the destruction and under the rubble. One thing is they are waiting to be safe, but the other thing is the weather as well.
"Time is of the essence. Every second, every minute counts."
The consulate also expressed its condolences to those whose loved ones had died during the tragedy.
In Hong Kong, Mehmet Gurtin said he was anxiously waiting on news of relatives back in Turkey after hearing they were trapped under rubble.
The account manager, 43, who has lived in the city for almost a decade, said he discovered on Tuesday night that his cousin Ceyda, her husband Süleyman, their seven-year-old daughter Elif and 11-year-old son Emre were in need of rescue in Hatay province's Antakya.
"Imagining a family unit that's very similar to mine. It's difficult not to think, what if that was me and my children?" he said on Wednesday.
"And the thought process of being physically confined under the rubble in a building? It's just horrendous."
A women in Turkey stands amongst the wreckage left behind by the earthquake.

Eraslan Kurt said he was waiting for news on his aunt, her husband and their son, who were caught under a collapsed building in Turkey's Kahramanmaras.

Some 15 people from the same building had already been rescued, but the 48-year-old Sai Kung restaurateur said he was worried time was running out for his family.

"They have been waiting for 1½ days already. They cannot find them," he said. "[Whether] they are alive or not. We don't know."

Meanwhile, Gurtin said he was cautiously optimistic after learning that rescue workers had arrived in Antakya. "We have hope," he told the Post, struggling to hold back tears.

The account manager added he had felt helpless and decided to start a fundraising effort by reaching out to his professional and personal network, raising HK$23,000 (US$2,930) in hours as part of a larger target of HK$100,000.

"It's been incredible to see the kindness and compassion people have. Every act of kindness, every message makes a difference," Gurtin said, adding he would donate the funds to organisations operating on the ground.

Consul general Kalyoncu said those looking to donate essentials such as new winter coats, boots, sleeping bags, diapers and tents could bring them to a warehouse in Kwai Chung until February 13.

Funds could be sent to Turkey's Disaster and Emergency Management Authority, Turkish Red Crescent and the Directorate of Religious Affairs, he added.