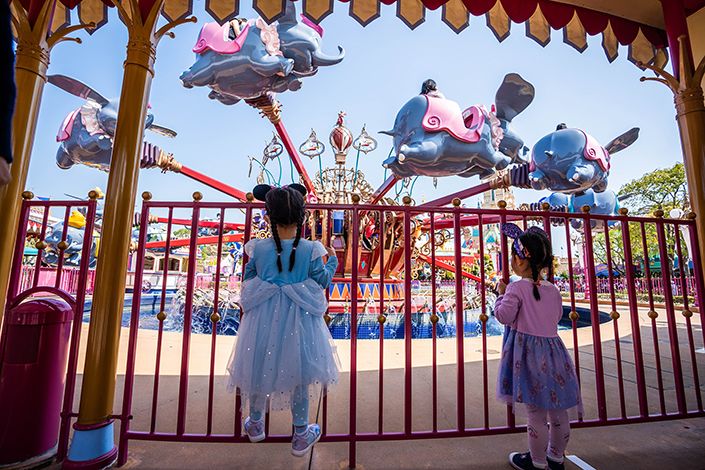 Hong Kong Disneyland Posts Record $350 Million Loss
Hong Kong Disneyland reported its biggest-ever loss last year since its opening in 2005, as it suffered more than its five other Disney-themed peer parks due to its heavy reliance on international travel that came to a near standstill during the global pandemic.
The smallest of The Walt Disney Co.'s theme parks posted a net loss of HK$2.7 billion ($348 million) for its fiscal 2020, a year that will go down as the worst in recent memory for the global travel industry due to the pandemic that began affecting business outside the Chinese mainland starting in March.

"While last year presented challenges for our entire community, I'm proud of how we were able to react nimbly, adjust our operations, and identify innovative ways to generate revenue, while preserving jobs," said Michael Moriarty, the park's managing director. "I'm optimistic about the future of Hong Kong Disneyland Resort and consider our recovery as an important part of reviving Hong Kong's tourism ecosystem."

Hong Kong Disneyland had already been a laggard for years, and its fiscal 2020 — which ran from Sept. 29, 2019 through Oct. 3 2020 — marked its sixth consecutive money-losing year. The park has suffered in particular since the larger Shanghai Disney Resort opened in 2016, drawing in many mainland Chinese tourists who might otherwise have made a trip to Hong Kong.

In addition to that pair of resorts, Disney also has a regional theme park in Tokyo.

Disney does not typically announce results for most of its individual parks, but does so for Hong Kong because the local government is a major stakeholder. In its announcement on Monday, Hong Kong Disneyland said revenue for its latest fiscal year tumbled 76% to HK$1.4 billion. The number of visitors to the park fell by a similar 73% to 1.7 million, representing a record low since the park's opening.

The biggest factor behind the huge loss was the park's closure starting in late January 2020 and through the second quarter of last year as part of the city's pandemic control measures. That meant the park was closed for 217 days of the company's latest fiscal year, or about 60% of the total time. Hotels on the property could also only provide limited service, with the result that occupancy rates plunged 59 percentage points to just 15%.

Due to its location in Hong Kong, which has its own separate immigration controls from the Chinese mainland, Hong Kong Disneyland has always been heavily dependent on international travelers for its business. Such visitors accounted for 59% of its business in 2019. But the number of international visitors to Hong Kong has plunged during the pandemic, as most non-residents weren't allowed in and anyone who could get in had to undergo lengthy quarantines.

As a result, visitors to Hong Kong totaled just 6,675 in March this year, down 91.9% from March 2020 when the pandemic's impact was already being felt.

As it relied more heavily on locals, such visitors rose to 75% of the park's total in the latest fiscal year from 41% in the previous year. Visitors from the mainland — the company's largest single non-local source — fell to just 8% from a previous 33% over the same period.