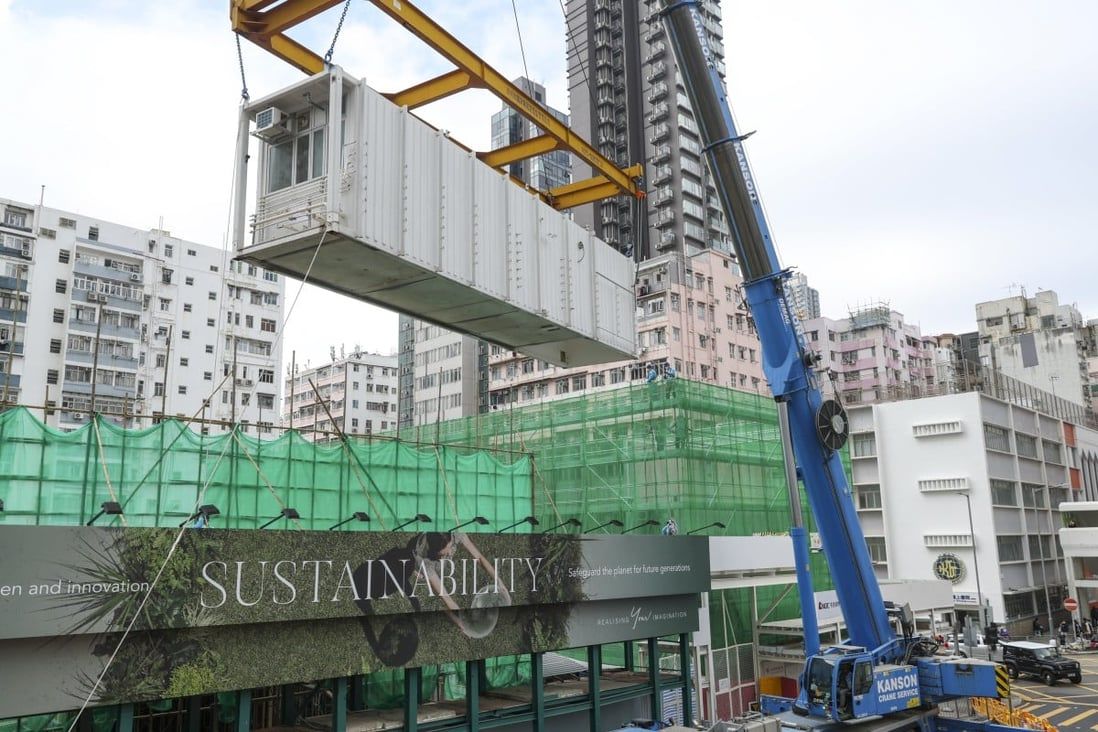 Hong Kong dismantles transitional housing project, prepares pieces for next site
Workers start taking apart Nam Cheong 220, which used prefab units to provide homes for 175 residents for two years.
Hong Kong has started to dismantle the city's first transitional housing project and most of the components will be reused for another temporary home development, the government has said.

Workers on Saturday started taking apart Nam Cheong 220, a four-storey block comprising 89 container units at Sham Shui Po and preparing the individual modules for transport to the new site at Wong Yue Tan in Tai Po.

"We will definitely reuse many of the modules, especially the part to connect units together, and also the interior decoration and equipment, such as the toilets," said Wilson Cheung Yiu-sun, the new project's registered structural engineer.

"But for the drain pipes on the exterior wall, we will not reuse them due to hygiene issues."

While Cheung said he expected the new drainage system would not be overly expensive, he declined to specify the amount, and also stopped short of saying how much the dismantling was costing.

Nam Cheong 220, where 175 residents lived between August 2020 and November 2022, was part of the government's transitional housing initiative launched in 2018 to help low-income residents forced to wait for years for a public flat.

Welfare groups teamed up with builders to design, construct and run the homes on land offered by government departments and developers.

Units are made using a prefab technique known as "modular integrated construction" (MiC), in which free-standing, integrated modules are made at a mainland Chinese factory and undergo quality inspections before being transported across the border to be installed at the project site.

Engineer Cheung said it would take a month to dismantle the block, and the units would be held in a warehouse in Hung Shui Kiu for another month while they were repaired. The reusable parts will then be used in the construction of 1,236 homes in Tai Po.

Operated by the Lok Sin Tong Benevolent Society, Kowloon, the temporary housing project in Tai Po is expected to be completed by the second half of this year, and serve needy residents for about five years.

As of last month, the government had identified land for providing more than 20,000 transitional flats, of which one-third have been completed and the rest are expected to be completed by 2023 and 2024.

But going forward, the government will take over the responsibility of constructing MiC homes under its "light public housing" scheme.

Proposed by city leader John Lee Ka-chiu last October, the new programme aims to build about 30,000 flats by 2027 for those waiting for a permanent public rental home.

But some have questioned whether the projected HK$26.4 billion (US$3.36 billion) cost is too high, and argued the government needed to devise permanent solutions to one of the city's most intractable problems – affordable housing in one of the world's most expensive property markets.

Lawmaker Chan Hok-fung said the government should take advantage of the NGOs' experience in managing Nam Cheong 220 and thoroughly assess the cost of moving and reassembling its components to avoid wasting resources.

"As the light public housing will still take two years to build and five years to operate, the government has to make good use of its time to do the planning," Chan said, saying modules could be reused as construction worker dormitories for sites in the New Territories.