On a busy street in Hong Kong's Central district, a shopfront sticks out. Painted on its pure white exterior are the words 'How's your coffee today?'
On a busy street in Hong Kong's Central district, a shopfront sticks out. Painted on its pure white exterior are the words "How's your coffee today?"

The shop, Preface Coffee, is one of two concept stores operated by Preface Coding, a digital education company with no physical campus. "The coffee shop is our physical classroom," said Tommie Lo, the company's founder and chief executive.

Preface Coding is among digital companies tapping Hong Kong's booming coffee scene to connect with customers. The warm and comfortable environment of coffee shops makes these brands easier to engage with, while a physical presence helps in boosting consumers' confidence and sense of security.

"Opening a coffee shop will not increase their sales to a great extent, but I think it will help companies to build strong trust among their customers," said Jane Jeongin Park, an assistant professor of marketing at City University of Hong Kong. The communal and warm environment of a coffee shop can make brands viewed as cold and analytical more accessible, she added.

"It's a clever idea, because it removes some of the things that scare off people. Customers voluntarily enter a coffee shop, which makes them feel more open to new ideas and new brands," Park said.

Preface Coding is a trendsetter, having opened its first coffee shop in 2018. It opened another this year in Tin Hau, with a third due this summer. The seats at its coffee shop in Tin Hau are placed in a podium setting. Open seating benches, movable tables and sockets as well as projection screens make it easier to hold regular free workshops.

"Before we opened the coffee shop, it was difficult for us to explain what's the difference between us and other education companies. The coffee shop is a dynamic space [that gives us the chance to] explain what we do," Lo said. The company provides one-on-one data science courses to adults and children.

Preface Coffee was a self-sustaining business now, having become profitable in its second year of operations. Lo said he hoped the coffee shops will have their own identity in parallel with Preface's core education business. The company has invested an eight-figure sum in its coffee business. And apart from preparing for the launch of a three-storey flagship in Causeway Bay, it is eyeing overseas markets such as London and Tokyo.

The Preface Coffee shop in Central.

Bowtie's Bow Coffee in Wan Chai is the first coffee shop in the city to be run by a virtual insurer. Its virtual insurance licence prohibits Bowtie from selling through agents, banks or brokers.

"A virtual business seems intangible and vague. Now, [our customers] can always find us in Wan Chai. This makes our brand more human. We hope that we can build trust [this way]," said Fred Ngan, Bowtie's co-founder and co-CEO.

Bowtie's foray into coffee shops is recent – it opened Bow Coffee in March this year. As patrons enter the cafe, which is decorated in Bowtie's signature blue and pink Pantone colours, they are handed mask holders with Bowtie's logo and website address printed on them. The coffee machine is also painted in the insurer's colours, which Ngan said was part of their soft-sell marketing strategy.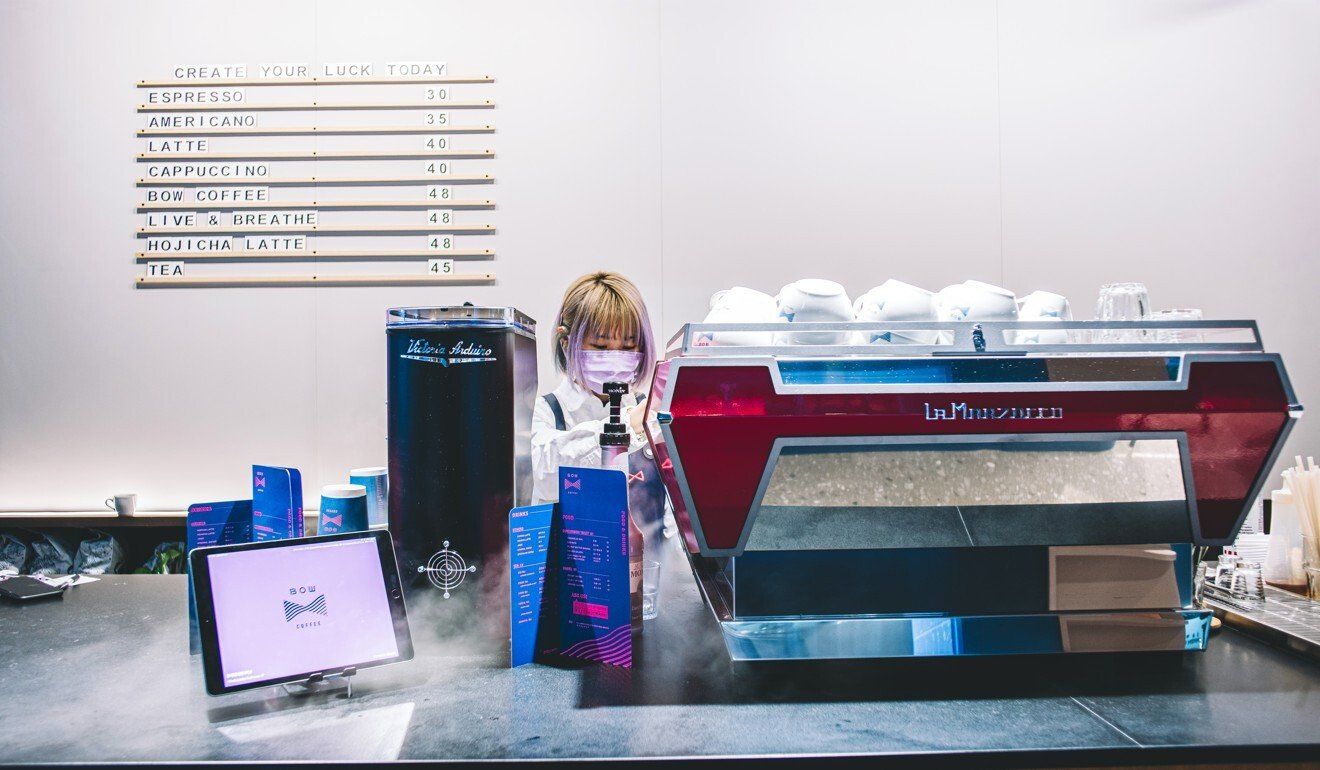 The coffee machine at Bowtie's Bow Coffee shop is also painted in the insurer's colours, a move that its co-CEO says is part of their soft-sell marketing strategy.

These details can make a better impression on customers sometimes, with many searching online for Bowtie afterwards, Ngan said. "The insurance industry can be pushy, but people know that they need it. It is good to give them some room to think about it," he added.

Farmacy, a local hydroponic mobile farms start-up, is another newcomer to jump on the coffee shop bandwagon. It has partnered with Interval Coffee Bar on a farm-to-table cafe in Cyberport. It has installed six mobile farms in Interval's 4,000 sq ft store and provides more than 10 types of herbs and vegetables, including rosemary, basil and fennel.

"The coffee shop is a demonstration of the application of our products," said Raymond Mak, Farmacy's CEO. Customers can see how the company's herb gardens work and replicate this at home, he added.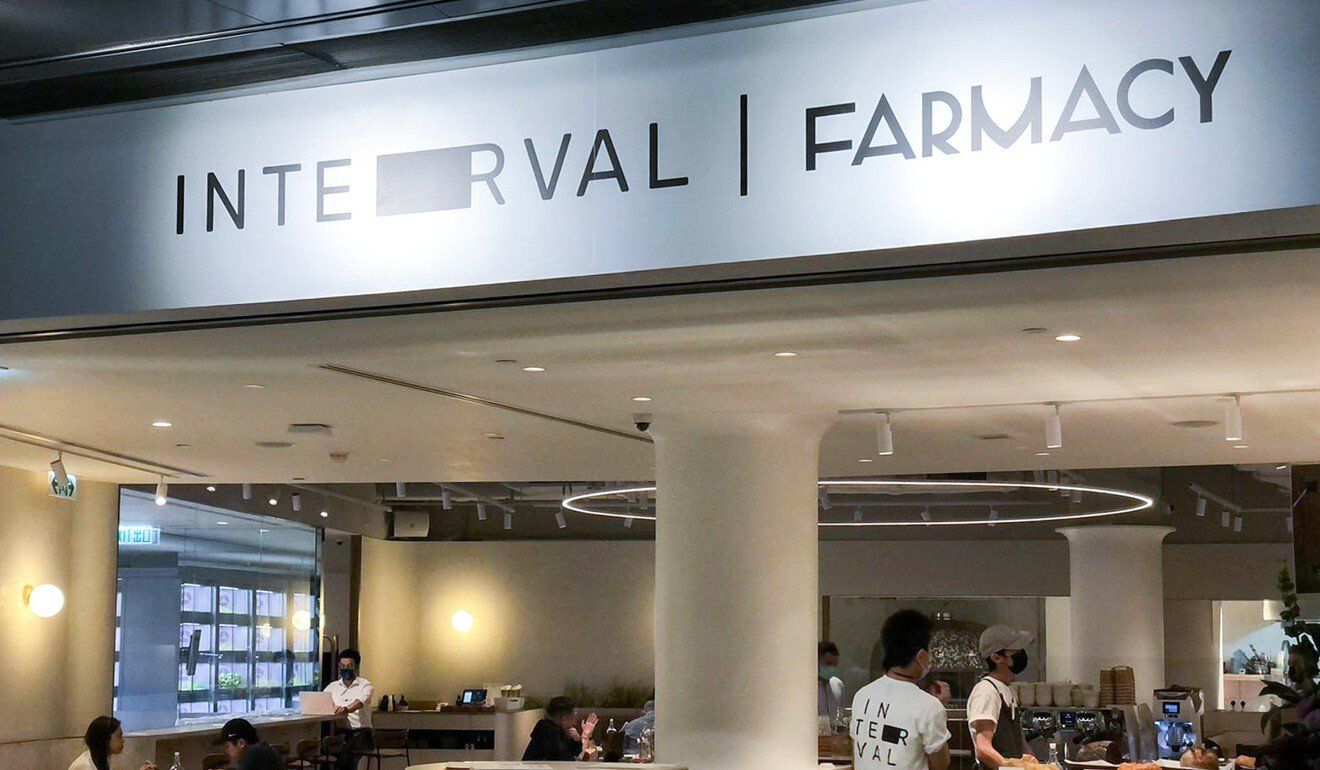 In coffee shops, where customers stay for longer, Farmacy products can enjoy exposure for longer, its CEO says.

The project is also a way for the start-up to explore other business models. "Apart from the traditional buyer-supplier relationship, our other partners could create other forms of partnerships after seeing our demonstration," Mak said.

Coffee shops can be used in a variety of ways, as compared with other food outlets, such as restaurants, Mak said. "Our time in restaurants is limited. However, in a coffee shop, you can stay for several hours by just buying a cup of coffee. This means that our customers are exposed to our products for longer," he added.