E-commerce platform HKTVmall struggles to make deliveries as workers test positive for coronavirus, placed in quarantine.
Hong Kong's recent skyrocketing Covid-19 infections have sparked a manpower crunch and thrown the city's supply chains into disarray, forcing online retailer HKTVmall and logistics firm SF Express to curtail delivery services.

The logistics sector suffered a severe shortage of personnel due to frontline workers becoming infected or isolated as close contacts as Hong Kong on Friday logged more than 50,000 confirmed cases for the third consecutive day.

The situation was exacerbated by a wave of panic buying at supermarkets and pharmacies in anticipation of a potential lockdown as part of citywide testing measures.

HKTVmall, founded by businessman Ricky Wong Wai-kay, is among the casualties after receiving a flood of cancelled orders and complaints from customers over undelivered or late goods.

The e-commerce platform said it needed at least two weeks to fulfil all of its orders, in contrast to a previous delivery time of up to two days, adding its vendors and logistics partners were also suffering from staff shortages, further extending waiting times.

"Amid the severity of the pandemic, HKTVmall has been facing unprecedented operational difficulties. The number of infections has risen drastically, among them many are our colleagues," it said on Facebook on Thursday. "Our delivery service has faced unprecedentedly mounting pressure."

The firm reported that 20 per cent of its 1,000 frontline employees, including delivery workers, drivers and warehouse staff, had been unable to come because they were infected or listed as close contacts.

The company's financial statement showed it had a daily average of 47,400 orders in January, up 32.8 per cent from a year ago.

A HKTVmall spokeswoman said the retailer had hired 80 full-time and 50 part-time staff over the past week, as part of efforts to make up for the shortfall in deliveries.

The retailer had also launched a new partnership scheme with restaurants to guarantee eateries a daily income of at least HK$2,250 (US$287) as pickup points for delivery orders, she said, adding that 11 businesses had already signed up and another 157 were still in discussions.

SF Express also announced on Thursday night it would suspend door-to-door delivery services from Saturday until further notice, saying the company was facing huge operational difficulties amid the rise in Covid-19 cases and restrictions placed on entering buildings under compulsory inspections orders.

"The current epidemic has affected the operation of delivery to various degrees. The transit time of all shipments will not be guaranteed," it said.

"Facing the challenging environment and uncontrollable factors under the epidemic, starting from March 5 2022, to-door delivery services will be suspended."

The firm said during the period, its customers could use self-pickup and self-drop-off services at more than 1,000 sites to avoid waiting, while service fees would remain unchanged.

Anthony Lam Sai-ho, CEO of Golden Resources Development International, the city's largest wholesaler and distributor, said Hong Kong had a sufficient supply of rice at its warehouses but an acute shortage of delivery workers had slowed their ability to replenish the stocks of supermarkets and other retail stores.

"Now we are considering working with different retailers to streamline the delivery process – dispatching our goods directly to the retail stores to ease their manpower crunch," he said. "We are hiring more people, as well as asking other staff to work overtime to make up for the shortfall."

Meanwhile, entrepreneur Gordon Tam Chi-ho had rolled up his sleeves to become a delivery worker for the first time after he was unable to find any drivers to send epidemic-related donations to NGOs and care homes for the elderly.

The co-founder and CEO of vertical farming company Farm66 said he "watched in horror" last week as elderly people and children died after being infected with Covid-19. Tam then immediately decided to mobilise his friends to raise HK$1 million worth of financial and medical donations for those in need.

In the end, he amassed more than 100,000 rapid antigen test (RAT) kits, about 50,000 medical masks including N95s, hundreds of items of personal protective equipment, 1,500 goggles, and disinfection necessities.

But Tam said he could not find any logistics companies to deliver the donated supplies.

"Many drivers are sick, or in isolation or even don't want to go to any homes for the elderly, which means no one can distribute the necessities," he said.

"So we rolled up our sleeves and I became a driver."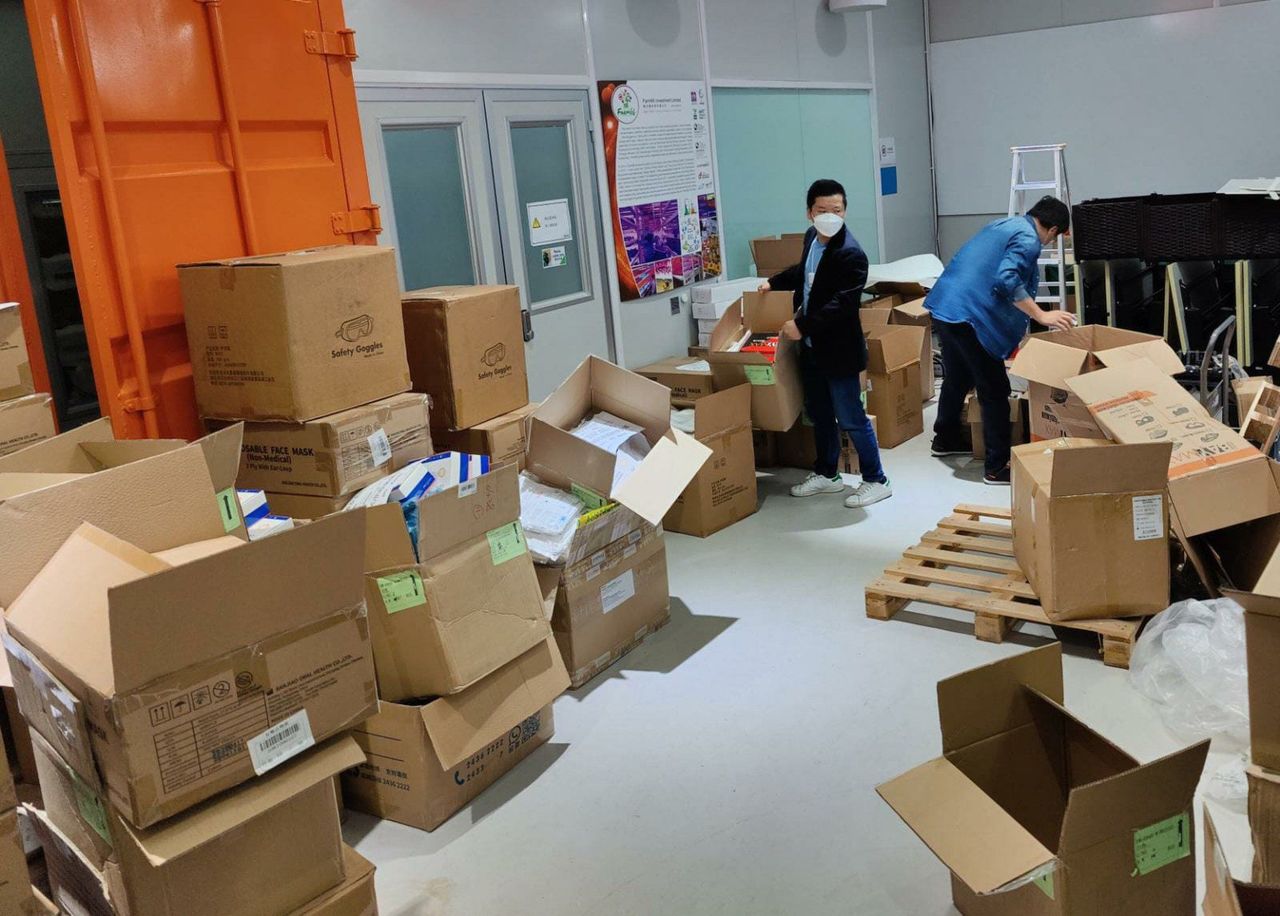 Co-founder and CEO of Farm66 Gordon Tam (centre) and his volunteer team pack and deliver donations by themselves.

The CEO ended up recruiting his friends and colleagues to help package the donations in his office in Tai Po and load them onto the company's trucks so they could deliver them.

He also received help from eight members of the World Chinese Enterprising Youth Association to act as drivers to deliver donations on Friday.

"They are bosses and have their own businesses, and the most expensive drivers," Tam said, adding that many of them were using their private cars to deliver goods to volunteer services.

A spokeswoman for logistic platform GOGOX, formerly known as GoGoVan, said its own workforce remained stable as an increasing number of drivers and delivery workers had joined its platform.