57 million cigarettes, which would have raised HK$143 million in revenue, impounded since budget day on February 22
More than HK$200 million (US$25.4 million) worth of black market cigarettes have been seized in a crackdown on the illegal trade since a 31 per cent tobacco tax rise came into effect in last month's budget, Hong Kong customs officials have revealed.

More than 57 million illicit cigarettes with an estimated street value of HK$202 million were seized between budget day on February 22 and Tuesday in Operation Tempest.

Senior Inspector Adam Lam Wai-kit, of customs' revenue crimes investigation bureau, on Wednesday said 54 arrests were made in 77 cases and promised the service would continue to tackle tobacco smuggling.

Lam highlighted that if the cigarettes had been legally imported, they would have generated HK$143 million in tax revenue.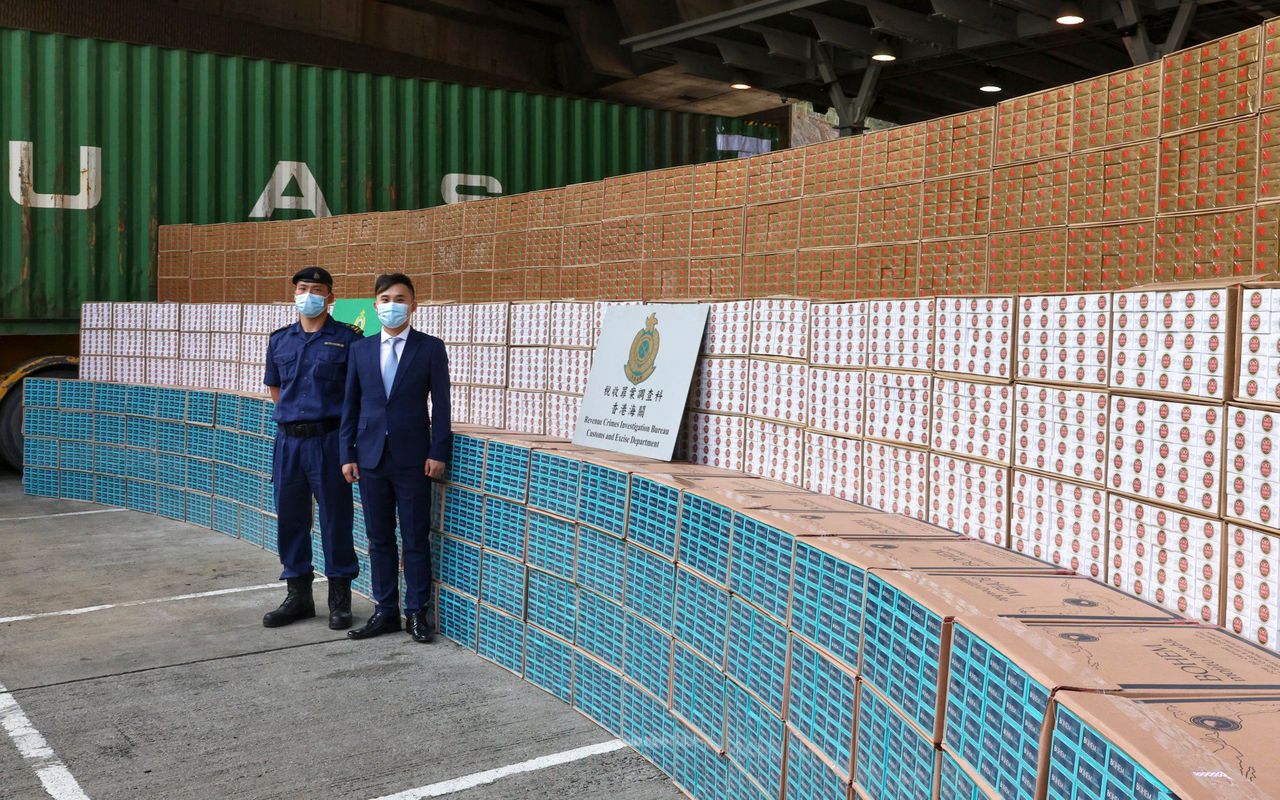 Lam Ming-hong (left), a senior inspector in customs' marine strike and strategic planning division, and Adam Lam with some of the black market cigarettes seized in Operation Tempest.

Customs officers seized 24 million black market cigarettes – equivalent to 1.2 million packs of 20 – at two sites in Yau Ma Tei and Tsing Yi on Friday last week in a single sting.

Lam said the cigarettes seized from three containers had an estimated street value of HK$89 million.

Two of the containers were unloaded from a barge at the Yau Ma Tei cargo handling area last Friday. The third container was left on the barge.

A truck driver picked up one of the containers. The vehicle was later intercepted in Tsing Yi and its 30-year-old driver arrested.

Customs officers moved in and arrested a 62-year-old truck driver when he arrived to pick up the other container on the quayside.

They also seized the container on the barge, but no one was arrested on board.

The two drivers were detained on suspicion of dealing in illicit cigarettes – an offence punishable by up to two years in prison and a HK$1 million fine.

The two were later released on bail and the investigation continues.

Lam said inquiries so far suggested part of the cargo was earmarked for city consumption with the rest destined for overseas.

He added the team was still investigating the source of the contraband.

Lam warned the operation, designed to tackle the illegal cigarette trade from import, storage and distribution down to street sales level, was still under way.

The 31 per cent budget tax increase pushed the average cost of 20 cigarettes to more than HK$70 – HK$12 a pack extra.

The price of cigarettes on the black market also increased by up to HK$5 a pack to between HK$18 and HK$30 for 20, a source familiar with the trade said.

Customs confiscated 732 million black market cigarettes worth HK$2.01 billion last year – the biggest annual haul since records began two decades ago.

Officers seized 427 million contraband cigarettes worth HK$1.17 billion in 2021 and 205 million tobacco products worth HK$563 million the year before.

The biggest single seizure of black market cigarettes was in July last year when customs officers took HK$222 million worth out of circulation.