Officers found 104 bricks of suspected cocaine in a container from South America that was declared to be carrying frozen meat.
Hong Kong customs has arrested two men after confiscating HK$140 million (US$18 million) worth of cocaine hidden in a container that arrived from Suriname.

The seaborne container, declared to be carrying frozen meat, arrived from South America at the Kwai Chung Customhouse Cargo Examination Compound on January 10, the Customs and Excise Department revealed on Tuesday.

Acting on intelligence received from an overseas law enforcement agency, customs officers examined the container and discovered 104 bricks of suspected cocaine concealed inside the refrigerator compartment of the container. Each brick weighed 1.3kg.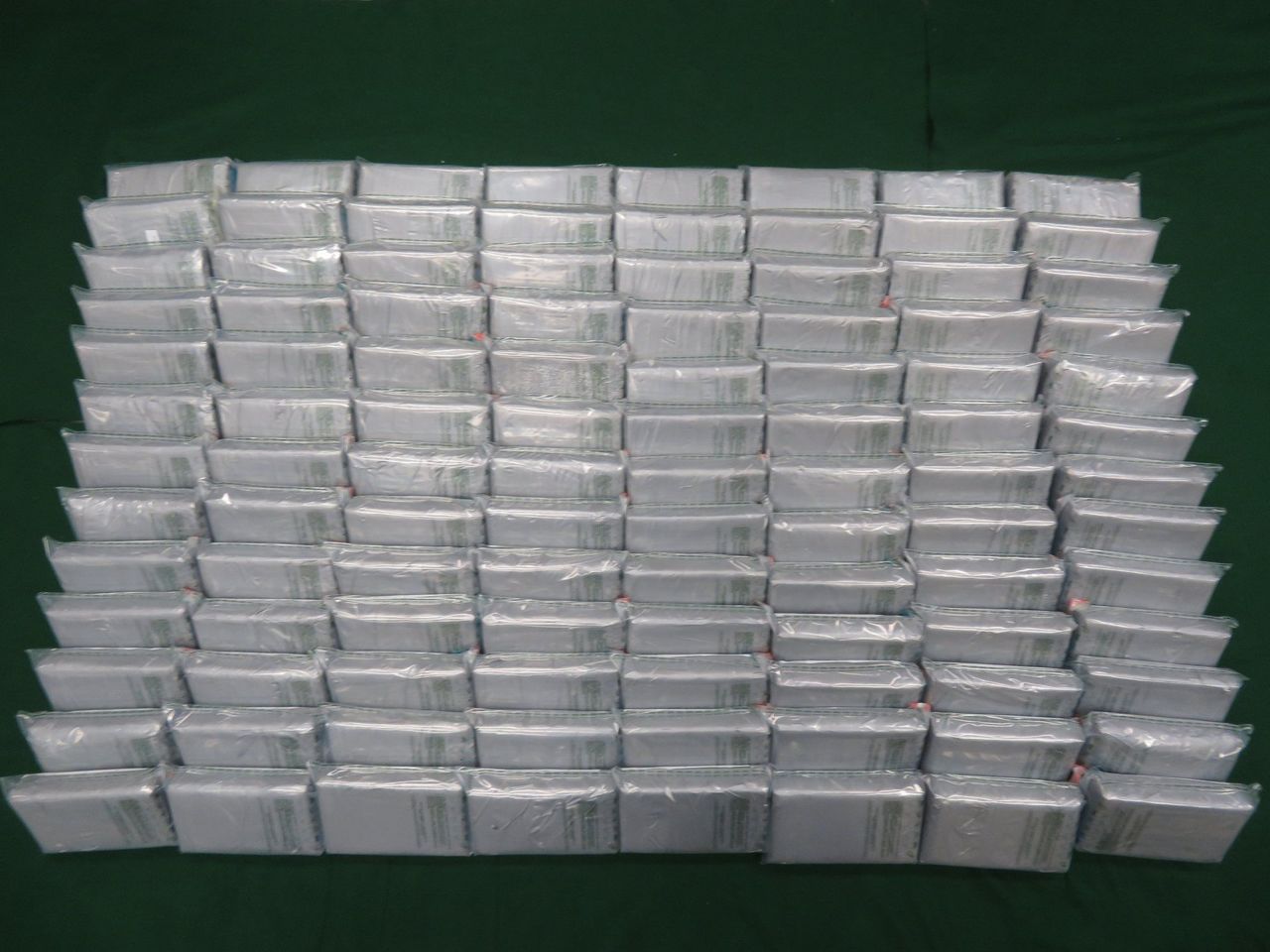 Each brick of suspected cocaine weighs 1.3kg.

Two men, aged 28 and 33, were arrested in Sham Shui Po and Tsuen Wan on Monday in connection with the case.

A law enforcement source said the 28-year-old allegedly helped with the logistics of shipping the container to Hong Kong, while the 33-year-old was said to be the consignee.

"Frozen meat from Suriname is very uncommon. The country usually exports timber," the insider said, adding that the two men were detained for questioning.

In Hong Kong, trafficking in a dangerous drug is punishable by life in prison and a HK$5 million fine.

In November, customs officers seized HK$147 million worth of cocaine hidden in an electric transformer that arrived by air from Guatemala – the largest seizure of the drug at Hong Kong International Airport in two decades.

The cocaine was found when officers selected an air consignment declared to be carrying a transformer from Guatemala for inspection.

The transformer, which weighed more than 800kg, looked genuine and had what appeared to be a control panel built into its metal casing. A total of 111 slabs of cocaine were found packed in the hollow centre of the machine after officers unscrewed two metal layers.

The 145kg consignment was among HK$164 million worth of illicit drugs concealed inside two shipments found within a day of each other at the airport's cargo terminal.

The second of the shipments, 20kg of crystal meth with an estimated street value of HK$16.3 million, was discovered hidden in an air consignment sent from Mexico.

Customs seized a total of 879kg of cocaine in 2021, compared with 907kg in 2020.

Global drug smugglers have proved resilient throughout the Covid-19 pandemic, adapting swiftly as international air travel ground to a halt and put an end to using drug couriers for illegal deliveries across borders.

According to the latest global report by the United Nations Office on Drugs and Crime, released in June last year, organised crime groups bounced back quickly from initial disruptions caused by the pandemic.

Data of 81 member states showed that by early last year, they had switched to sending drugs by mail, as well as by air and sea cargo, pushing out larger quantities at an increased pace compared with before the pandemic.