The haul, which also included bird's nest and electronics, was valued at HK$10 million.
More than 200 bottles of French wine – each one worth over HK$20,000 (US$2,578) in mainland China – were among some HK$10 million worth of goods seized on Hong Kong's Lantau Island in the latest crackdown on cross-border smuggling.

A senior customs official on Saturday said the Shenzhen-bound haul also included more than 580 Cuban cigars, each one worth as much as HK$1,500 on the mainland market, and some HK$8 million worth of bird's nest.

"Initial investigation shows the three different brands of red wine cost around HK$7,000 each and the Cuban cigars are worth up to HK$500 each in the Hong Kong market, but they are subject to mainland taxes of up to 230 per cent," said Senior Superintendent Mark Woo Wai-kwan, head of the Customs and Excise Department's syndicate crimes investigation bureau.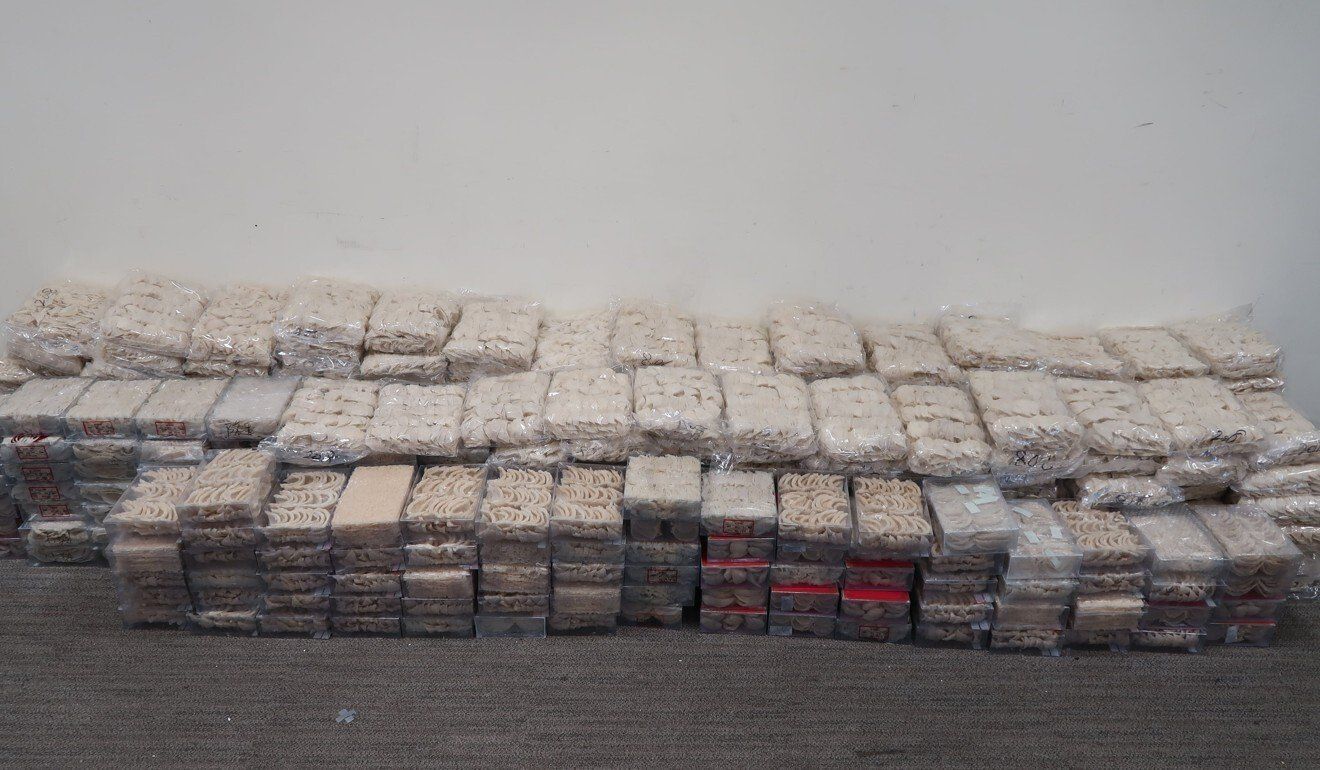 A haul of bird's nest seized in the Friday morning raid.

Woo said the smuggling attempt was an effort to avoid stringent import restrictions and steep mainland duties.

Official figures showed the value of contraband goods seized in seaborne smuggling cases in Hong Kong almost doubled to HK$290 million in the first five months of 2021, up from HK$150 million in the same period last year.

In the small hours of Friday, officers staked out a stretch of shoreline near Tung Chung on Lantau Island after investigating a cross-border smuggling syndicate.

When several men were seen moving cartons of goods from a delivery van to a speedboat at around 1.30am, officers moved in. Some of the suspects jumped onto the speedboat and fled, but customs officers managed to arrest one 25-year-old man and impounded the van.

The vehicle was found to be loaded with goods including the cigars, wine and bird's nest, as well as smartphones and tablet computers.

According to the department, the investigation is ongoing.

In Hong Kong, importing and exporting unmanifested goods carries a maximum penalty of seven years in jail and a HK$2 million fine.

Woo said officials would keep up enforcement action and continue to combat sea smuggling activities.

Customs made their biggest bust of the year last month, seizing HK$50 million worth of gems, dried fish maw and shark's fin bound for the mainland.

Officers patrolling at the construction site for Hong Kong International Airport's third runway spotted several people moving boxes from a fishing boat to a speedboat late at night. When officers moved in, the three suspects jumped onto the speedboat and fled.

Among the goods left behind, officers found 140kg of raw amber stones, about a third of the total amount confiscated in the past two decades.

The month before, customs officials seized HK$31 million worth of products aboard a fishing vessel bound for the mainland, also near the airport.

A 43-year-old man was arrested. The seized goods included HK$16 million worth of expensive delicacies such as dried sea cucumber, fish maw and shark fin, as well as electronics, cosmetics and computer components.