Warehouse manager, 44, arrested during operation at industrial building in Kwai Chung.
Hong Kong customs has seized 31kg (68lbs) of cocaine with an estimated market value of HK$26 million (US$3.3 million) concealed in sports shoes shipped into the city from Malaysia.

Customs officers on Wednesday also said they had arrested a 44-year-old female warehouse manager during the operation at an industrial building in Kwai Chung.

The haul was found inside several sports shoes in 14 boxes that had been shipped into the city from Malaysia, according to customs.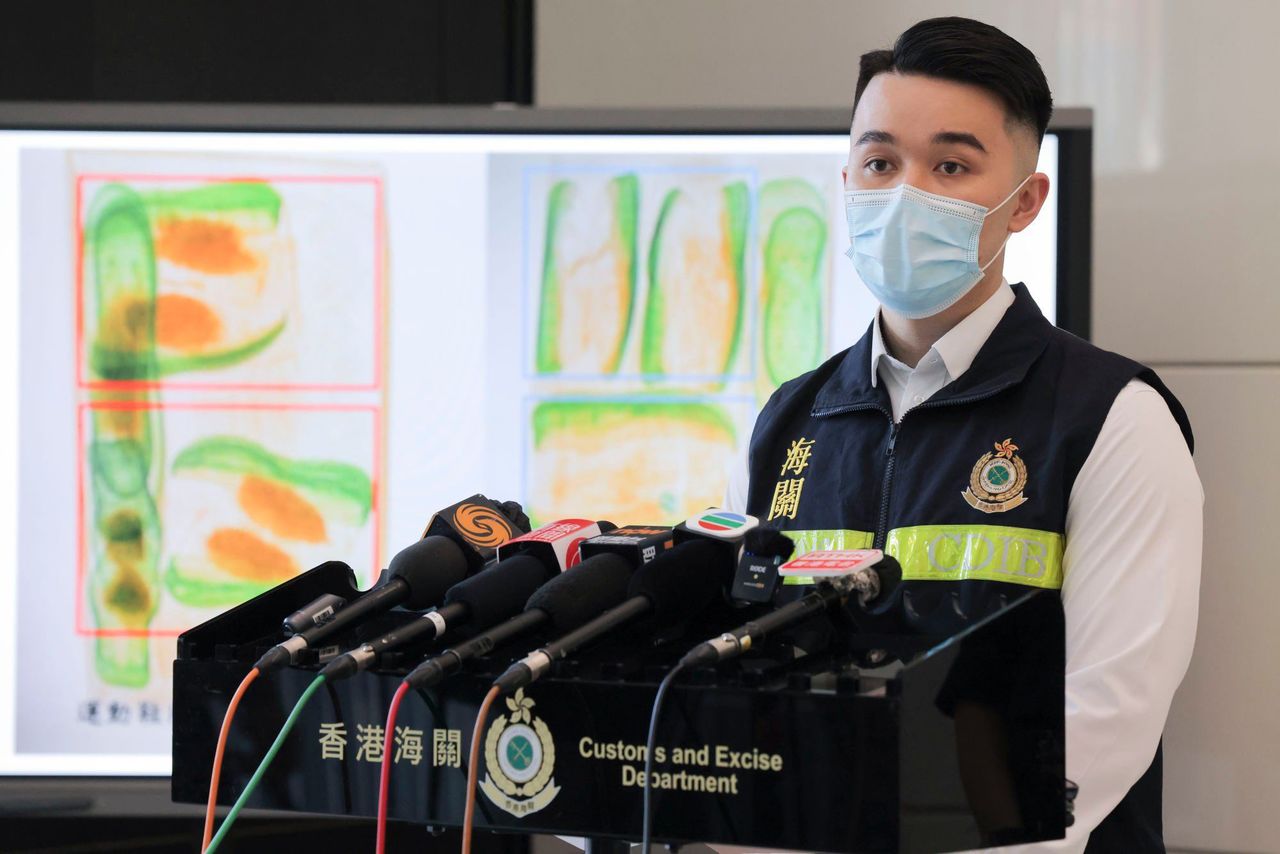 Senior Inspector Jacky Yau of customs' drug investigation bureau.
Officers inspected a container with 11 different consignments, including one which had been declared as containing personal items, at Kwai Chung Customhouse on November 25.
The personal items consignment included 40 boxes of goods, with each carrying two pairs of sports shoes and clothes, with the recipient being a new logistics company.
Unveiling the details of the case following a month-long investigation, Senior Inspector Jacky Yau Wing-yeung of customs' drug investigation bureau said the cocaine was hidden inside the sports shoes in boxes with other goods.
"Criminals are using a large number of legal goods to conceal drugs in them. A total of 14 boxes out of 40 contained illegal items," Yau said.
Customs officers arrested the manager of a warehouse at an industrial building where the haul was planned to be stored on November 30. She has been released on bail.
"We believe that criminals planned to take advantage of the high population density in the industrial building so as to store the drugs temporarily for packaging and distribution," Yau said.
He added the case was still under investigation and further arrests had not been ruled out.
Yau also appealed to logistic companies to be vigilant when dealing with new customers to avoid being used for drug smuggling.
"We suggest logistics companies request more information from the customers, including company registration documents, a loading list and pictures of the cargo," he said. "It will reduce the chances of criminals being able to take advantage of your company."
In Hong Kong, trafficking in a dangerous drug is punishable by up to life imprisonment and a HK$5 million fine under the Dangerous Drugs Ordinance.
In the first 11 months of this year, customs officials seized six tonnes of drugs worth more than HK$3.1 billion, beating the record annual haul over the past two decades, including the four tonnes that were confiscated over the whole of 2021 and 3.4 tonnes in 2020.
Methamphetamine, also known as Ice, accounted for half of this year's total. Other drugs seized included 692kg of cocaine, 540kg of ketamine, 419kg of cannabis and 88kg of heroin.
The biggest drug haul this year included liquid meth worth HK$1.1 billion, disguised as cartons of coconut water from Mexico in October.