Officers intercepted container trucks and seized some 64 million cigarettes last week.
Hong Kong customs officers have arrested three men and confiscated HK$180 million (US$23 million) worth of black market cigarettes in the second-largest smuggling bust of its kind so far this year.

Officers intercepted three container trucks at two shipping yards near Tsing Yi Road, Tsing Yi, and Container Port Road South in Kwai Chung last Tuesday morning.

Some 31 million suspected illicit cigarettes were seized from three 40-foot cargo containers the vehicles were carrying.

Officers found another 33 million sticks of tobacco in another three containers in the same yards after a follow-up investigation on the same day.

According to the department, the total haul of 64 million cigarettes has an estimated street value of HK$180 million. If legally imported, the contraband products would have generated HK$120 million in tax revenue.

Customs officers have now seized about 640 million suspected black market cigarettes this year, exceeding last year's total seizure of about 427 million by about 50 per cent.

The three truck drivers involved in the latest case, aged between 50 and 63, were arrested on suspicion of dealing in illicit cigarettes – an offence punishable by up to two years in jail and a HK$1 million fine under the Dutiable Commodities Ordinance.

Six containers were also seized.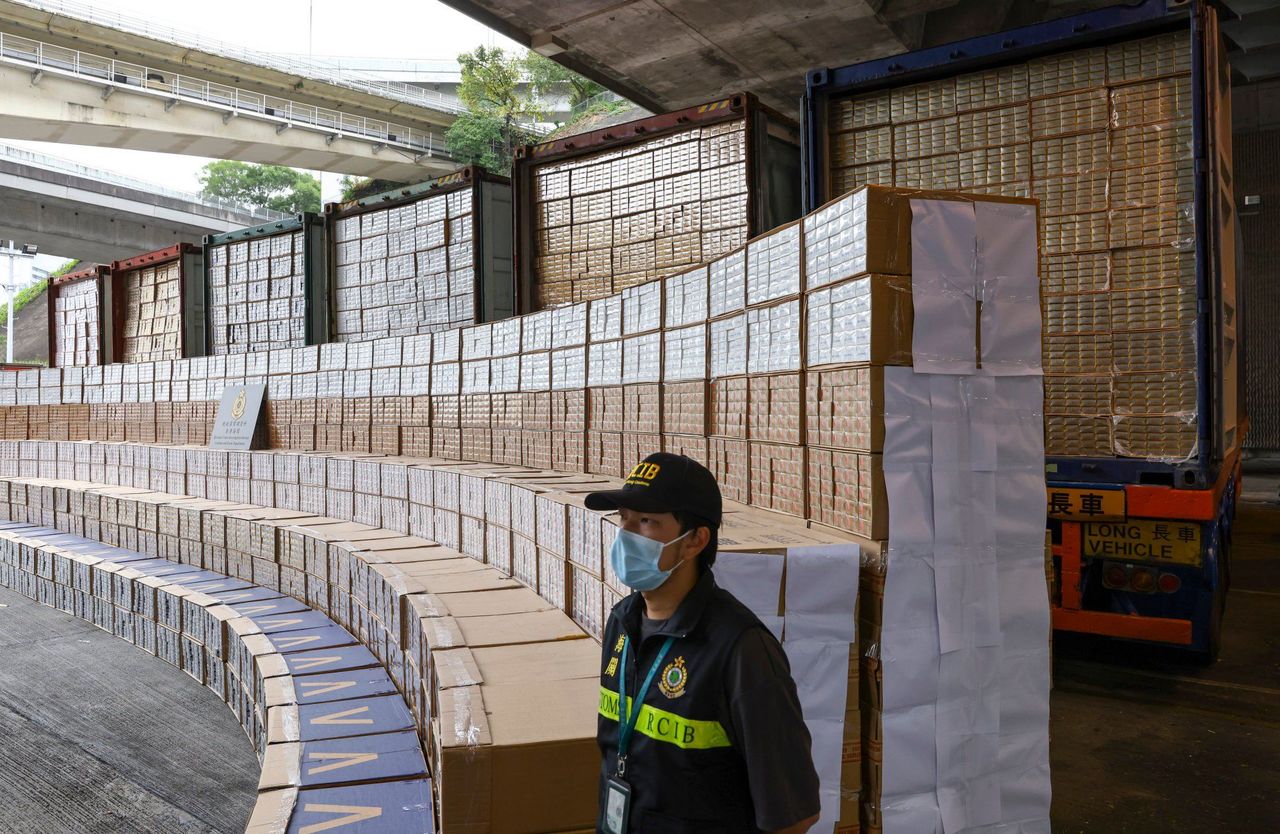 The interception of the 64 million cigarettes is the second largest such bust so far this year.
Senior Investigator Lam Wai-kit of customs' revenue crimes investigation bureau said many brands in the seizure were popular overseas but not common locally. He said this could be because of the increased prices of tobacco due to inflation in other countries.
The smuggling syndicate illegally imported a variety of popular overseas brands into Hong Kong and repackaged them before forwarding them to other countries by air or sea, while making profit from price differences and tax evasion, he said. Lam estimated that about 30 per cent of the haul would be forwarded to overseas markets.
"Following the relaxation of anti-pandemic measures and the increase in the flow of people, the market demand for illicit cigarettes has increased," he said.
With the Christmas and New Year holidays approaching, contraband syndicates were also taking the opportunity to replenish the supply of these products in advance to meet demand in the local or overseas markets, he added.
He said investigators would examine whether the latest seizure had links to a haul of 20 million cigarettes, found hidden in hollowed-out books, speakers and transformer boxes on Thursday and intended for overseas.
Lam said an investigation was ongoing to trace the source and flow of the illicit cigarettes, and that further arrests were possible.