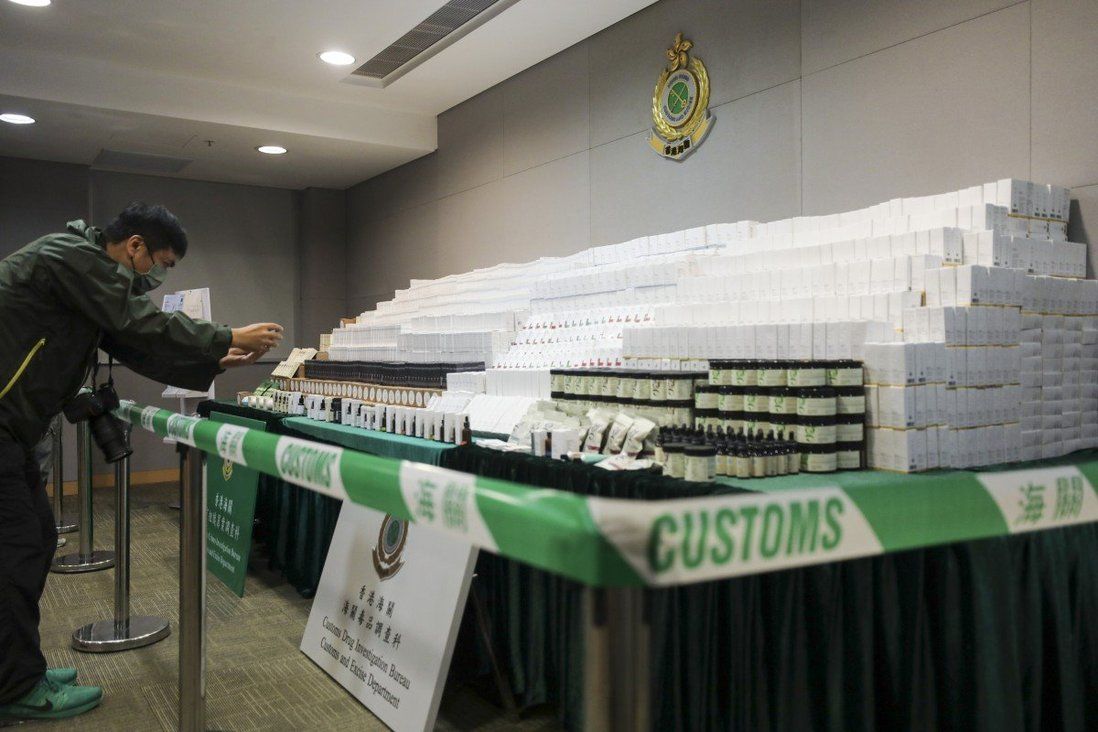 Hong Kong customs seize 25,000 goods with traces of psychoactive substances
Confiscated products contained traces of tetrahydrocannabinol, the main psychoactive substance in cannabis that gives users a "high".
Hong Kong customs has arrested nine people and seized 25,000 CBD items worth HK$14.6 million (US$1.87 million) in a citywide operation after the goods were found to contain traces of an illegal active ingredient in marijuana.

The confiscated products made with cannabidiol – or CBD, a legal substance derived from cannabis and its close relative hemp – included oil, skincare products and dog food from five brands. Some were sold in one of the city's largest health and beauty product retail chains, which the Post understands was Mannings.

Customs officers raided two warehouses and seven shops, including three run by Mannings, on Wednesday and Thursday.

The operation was triggered after the Customs and Excise Department on January 11 tested a 2,550-item batch of CBD oil from the United States and found it contained tetrahydrocannabinol (THC), the main psychoactive substance in cannabis that gives users a "high".

CBD products are allowed in Hong Kong as long as prohibited ingredients derived from cannabis are not present. These include THC, which is banned in Hong Kong and can cause health problems including addiction and hallucinations.

Revealing details of the operation on Saturday, Superintendent Cheng Tak-hei, head of customs' special investigation group, said some seized products claimed to be THC-free while a few stated a certain level of the substance.

"We spotted that the market is filled with increasing amounts of CBD products which are imported and claim no THC as an ingredient. But I would like to point out that the legal limit for THC in other countries could be different from Hong Kong," he said.

"Any products that contain THC or other dangerous drugs at concentration will be considered dangerous drugs under the law. The city vows zero tolerance to drugs."

On Wednesday, officers raided the Cheung Sha Wan office of a trading company that was said to have imported the shipment and arrested a 35-year-old man.

Investigations showed the importer supplied the CBD products to the retail chain, prompting officers to test-buy products at three of its stores in Tai Po, Mei Foo and North Point. The products were found to contain THC traces.

Officers raided the chain's head office, its warehouse in Kwai Chung and the stores, where they seized 7,800 CBD products worth HK$4.6 million, mainly oil for oral consumption. A purchasing agent and three store managers were arrested.

Two specialist stores in Central and Tai Koo were also raided and a total of 14,000 CBD items, mainly chewing candies and dog snacks, were allegedly found to contain THC, while some were also supplied to the retail chain. Two people were arrested.

On Thursday, investigators picked up two staff after seizing 200 suspected drug-infused CBD products at a sex shop in Tsim Sha Tsui.

Five men and four women, aged 21 to 44, were arrested in connection with the case, including a purchasing manager and three shop managers.

Cheng warned importers and retailers to be extra careful about selling CBD products and that they should understand the risks involved.

Touted as an aid to relaxation and a natural remedy for everything from anxiety to insomnia and muscle pain, CBD is one of more than 100 chemical compounds found in the cannabis or marijuana plant.

Cannabis, THC and certain cannabinoids are psychoactive and have the potential for abuse, resulting in drug dependence and harm to the health of users. They are controlled under the Dangerous Drugs Ordinance.

Those who import or sell CBD products found to contain traces of THC risk arrest for drug trafficking, which carries a maximum sentence of life imprisonment upon conviction. Those who buy or consume such products face a maximum of seven years' jail.