Officers seize more than 350 live lobsters and 70 graphics cards together worth HK$630,000.
Hong Kong customs authorities have detected the first suspected smuggling case aided by a cross-boundary private vehicle since the border reopened, with live lobsters and high-value computer graphics cards worth HK$630,000 (US$80,255) seized.

Two men – a 37-year-old Hong Kong driver and his 51-year-old mainland Chinese passenger – were arrested on Friday in connection with the case, said Ho Ting-chun, an investigator of the syndicate crimes investigation bureau of customs, on Saturday.

They were on their way to Zhuhai via the Hong Kong-Zhuhai-Macau Bridge when officers stopped them for a search at around 7pm at the Hong Kong Port, Ho added.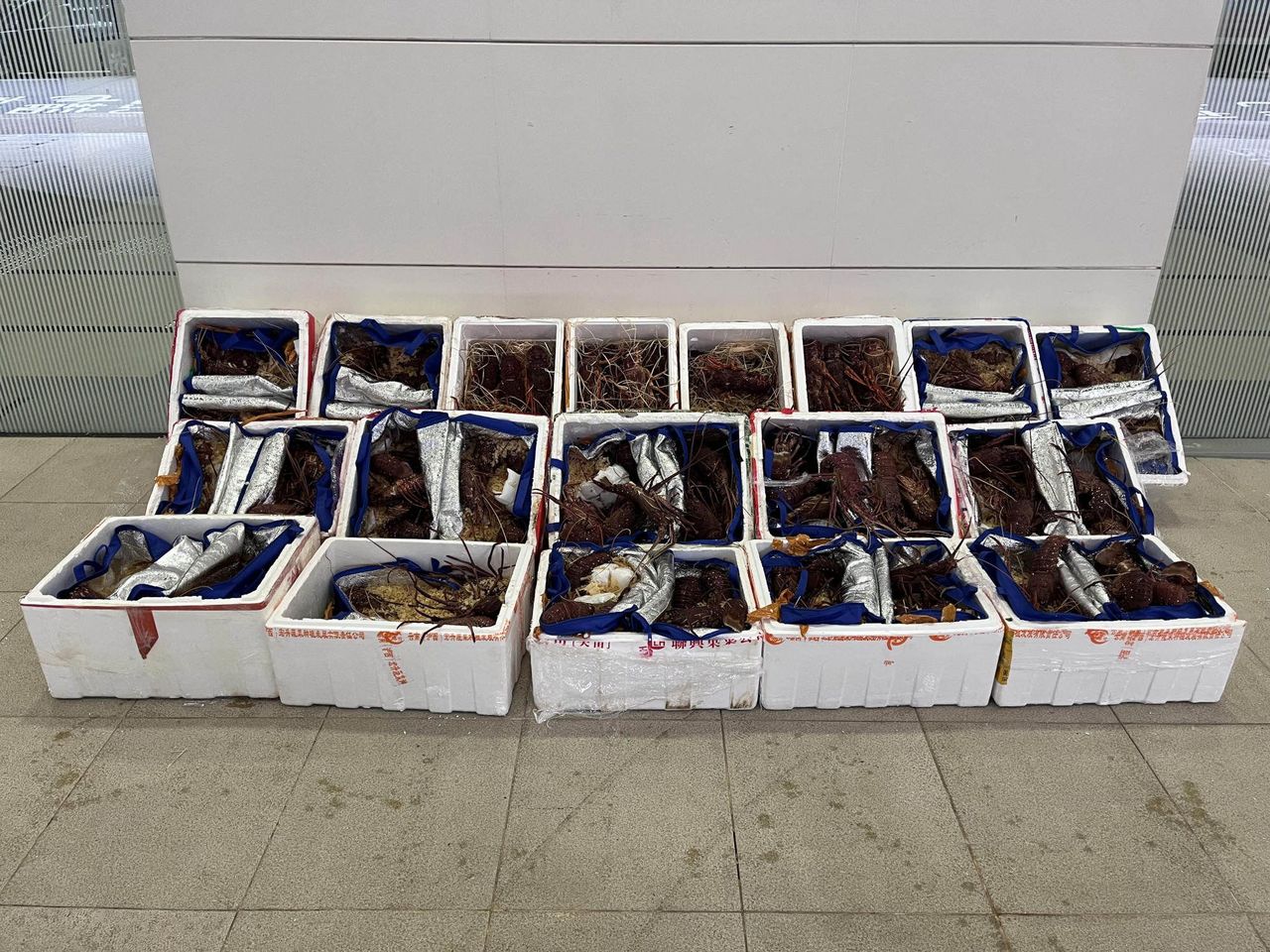 Hong Kong customs displays lobsters they seized from a vehicle bound for the mainland.

The car was declared empty, but officers found more than 350 live lobsters, collectively weighing 280kg (617lbs), packed in a dozen boxes and 70 high-value computer display cards in the boot.

"As all the land checkpoints with the mainland have reopened, the smugglers may change their tactics frequently and use the increased flow of passengers and traffic to evade detection by officers and raise enforcement difficulties," Ho said.

"Some may even smuggle goods into the mainland in private cars to evade its strict quarantine controls [on live animals] and tariffs."

The duo will be charged with exporting unmanifested cargo and will appear at Kowloon City Court next Monday.

In Hong Kong, the maximum punishment under the Import and Export Ordinance for exporting unmanifested cargo is seven years in jail and a HK$2 million fine.

Ho said customs would step up anti-smuggling operations during the "golden week" holiday and called on residents to report suspected cases.

The city saw a string of smuggling cases following the resumption of quarantine-free travel with the mainland in early February. Three incidents involving smartphones, illicit cigarettes and frozen meat worth millions were detected in the same week.

The mainland's ban on lobster imports from Australia since late-2020 also led to a rise in smuggling.

In late March, 28 boxes of lobsters worth about HK$560,000 were seized in an anti-smuggling operation, but several suspects managed to escape.

A speedboat, which arrived from the mainland, in an attempt to pick up the cargo at Sham Wat pier on Lantau Island, fled with two smugglers on board.

Another four men, who worked as porters to load boxes of goods onto the speedboat from a delivery van, disappeared into dense vegetation. Despite a pursuit by two police vessels, the boat managed to leave Hong Kong waters, headed back to the mainland.

A source said it took the speedboat about 10 minutes to get from the pier to the maritime boundary with the mainland.