Union chief urges government to arrange designated hotels in Hong Kong for drivers to use to boost mainland authorities' confidence and allow them to collect goods.
Local truck drivers have urged the Hong Kong government to implement a closed-loop arrangement for their cross-border deliveries, saying stringent Covid-19 restrictions by mainland Chinese authorities have forced more than 1,000 of them to stop working.

Chan Dik-sau, chairman of the Container Transportation Employees General Union, on Monday suggested the government arrange designated hotels in Hong Kong for drivers to use to boost mainland authorities' confidence and allow them to resume collecting goods at pickup points across the border.

The drivers have only been allowed to pick up goods at designated border checkpoints since March 13 after the Shenzhen government tightened its rules in response to a rising number of infections in Hong Kong.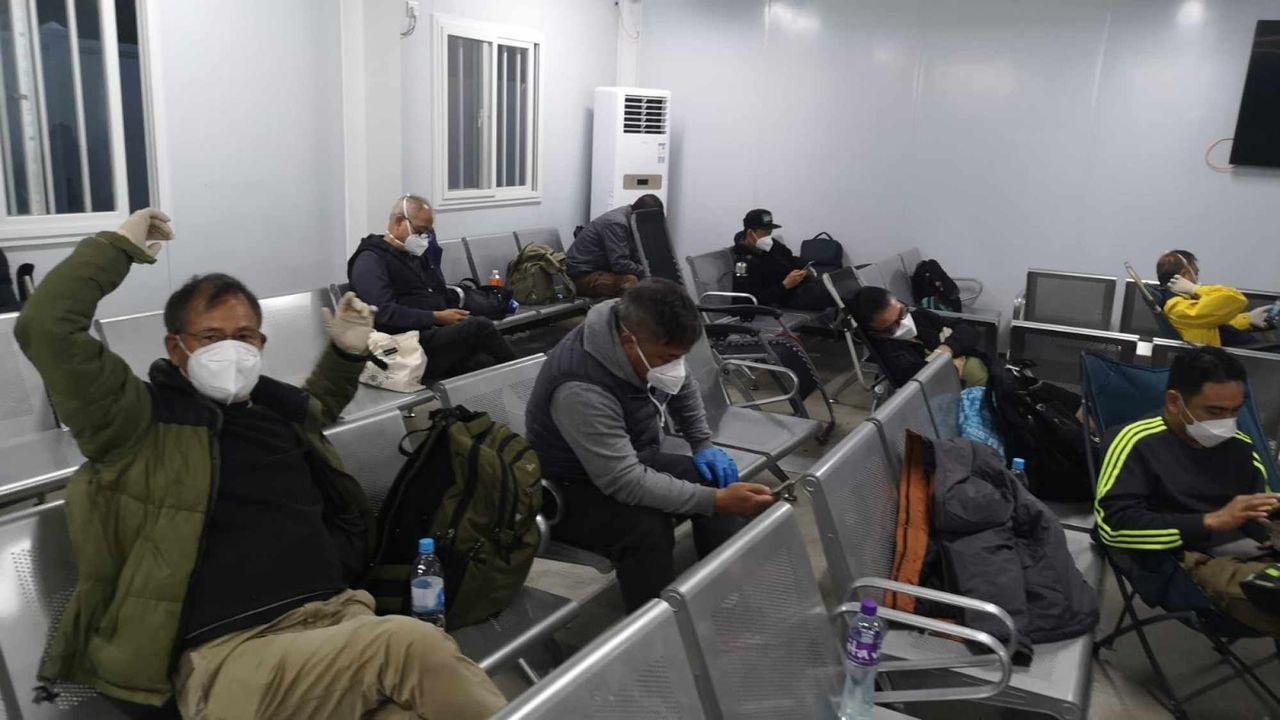 Cross-border drivers wait in a shelter at the connection point at Man Kam To border crossing.

The checkpoints are at Huanggang, Man Kam To and Shenzhen Bay. Use of a fourth one at Liantang was stopped three days after the tightened arrangements were put in place.

Chan said their income had been severely slashed as they now had to pay for drivers on the mainland to shuttle their goods to the checkpoints.

Drivers who have been infected or are listed as close contacts of patients cannot work, as they are barred from crossing the border to collect goods at the checkpoints.

A survey by the union found that 85 per cent of 1,163 respondents had no income under the current arrangements, while 90 per cent of drivers were forced out of work.

Cross-border truck driver Sunny Cheung, 51, said the arrangements had hit him hard financially.

"There is no way a driver can fork out so much money for mainland shuttle driver fees, not when we have zero income when we can't enter the mainland," he said.

Cheung, who has just returned to work after a three-week quarantine- and infection-induced halt, said he could only complete one trip a day given long waiting times at congested connection points.

Instead of carrying the goods to and from the mainland himself, he has to pay at least 2,500 yuan per trip to a mainland shuttle driver who will pick up the load for him.

He said while he made about HK$4,200 on Monday, his net income would only be around HK$1,700 after paying the mainland driver.

Cheung said he had heard of cases where families fell apart after drivers failed to make any income, while many had to take out loans to finance their trucks, with some even going bankrupt as a result.

Cheung, the breadwinner for his mother and 18-year-old daughter, said he was now HK$200,000 in debt after taking out loans to pay for parking, maintenance, insurance and other licence fees for his truck.

To minimise infection risks, Cheung sleeps in his truck, returning home only to shower and change clothes.

"I mostly see my daughter through video calls. I arrive home at 2am to 3am, and I go back to my truck as soon as possible so I don't miss out on work," Cheung said.

The Transport and Housing Bureau said it had reflected the drivers' problems to the mainland authorities and would continue to explore with them possible solutions, including the closed-loop arrangement proposal by the industry.