Nine homeless men only given HK$100 each in compensation for items lost as they could not provide sufficient evidence on value of lost items.
Nine Hong Kong street sleepers have each won HK$100 (US$12.78) in compensation after a court ruled the government had failed to exercise reasonable care in handling their personal belongings in a 2019 clearance operation at a park.

The Small Claims Tribunal on Tuesday ruled in favour of the nine homeless men who sued authorities after their items were seized and disposed of without their consent during a joint enforcement action by police and the Leisure and Cultural Services Department on December 21, 2019.

Arthur Lam Hei-wei, the presiding adjudicator, awarded nominal damages of HK$100 to each of the nine claimants, as none of them could provide sufficient evidence on the value of their possessions.

Not all of the nine can receive the payment, however, with one of them dying earlier this month after getting infected with Covid-19 while awaiting the court's ruling.

The lawsuits initially involved 14 claimants seeking compensation ranging from HK$2,000 to HK$13,290 over the losses of personal items such as garments, mattresses, cash and travel documents.

Two claimants had since died, with four others losing contact with the Society for Community Organisation (SoCO), a concern group supporting the street sleepers in the proceedings.

The court heard a team of 22 police officers was called in to assist department janitors on the day concerned in clearing unclaimed items at Tung Chau Street Park in Sham Shui Po, home to about 80 to 100 street sleepers. The items collected from the park filled 12 garbage containers, each with a volume of 600 litres.

The claimants complained they had only been given three minutes to pack and leave, failing which their belongings would be confiscated and moved to a refuse depot.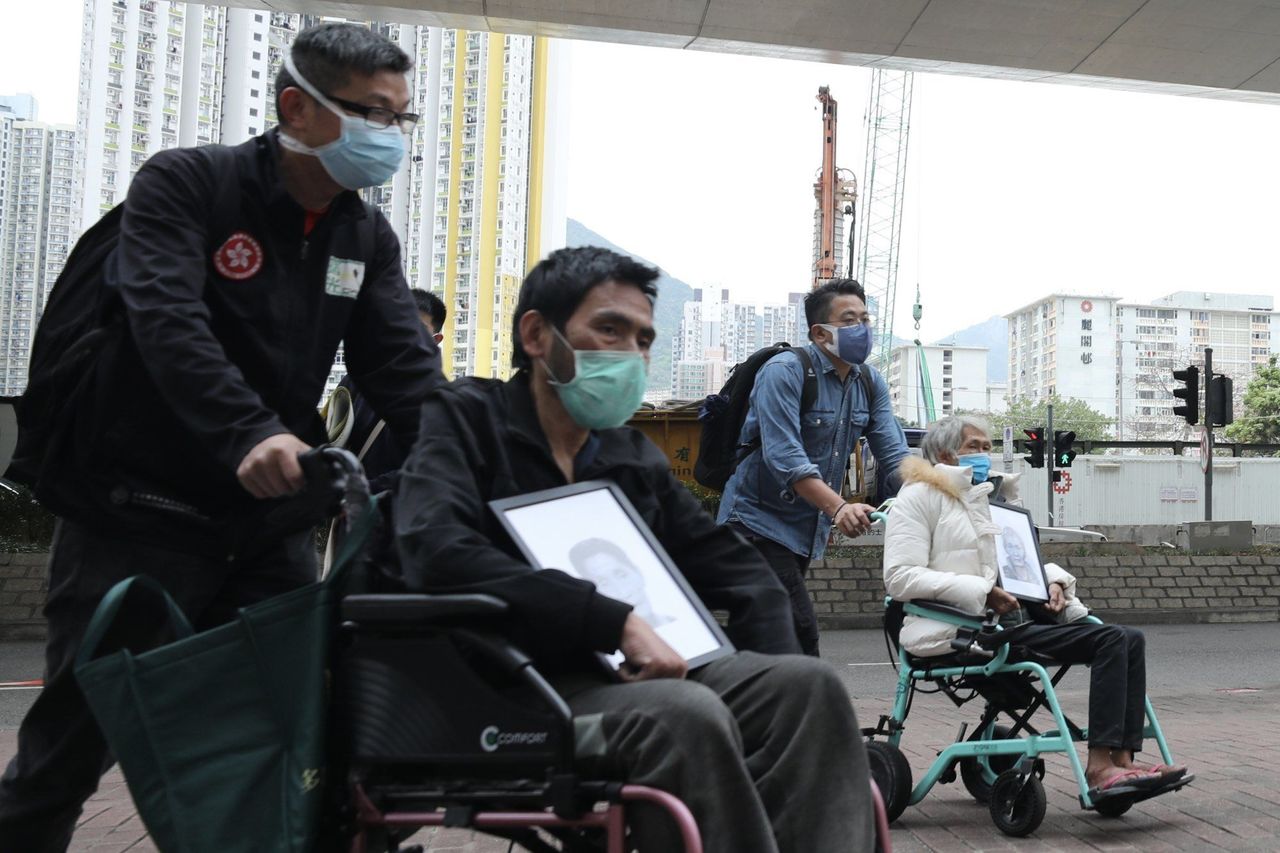 One of the claimants has died, after becoming infected with Covid-19 while waiting for the court ruling.

On Tuesday, Lam found the department had failed to discharge its duty of care as janitors made no independent identifications for the seized items and left them in a cluttered state in the depot, forcing the claimants, some of whom were physically impaired, to rummage through garbage containers.

The justice department, acting for both police and the department, had asked the claimants to pay HK$26,000 as court expenses incurred by authorities in the proceedings, but Lam refused and instead ordered both sides to shoulder their own costs.

One of the successful claimants, Chan Chi-wing, said the ruling had served justice to his two fellow street sleepers who died earlier.

The elderly man in a wheelchair added: "It's not a matter of how much I can claim. I'm fine as long as justice is served."

SoCO community organiser Ng Wai-tung called the ruling "belated justice", adding it was "ridiculous" that authorities failed to keep visual records of the confiscated items.

"The homeless should not be subject to humiliation," he said. "Their belongings are also private property. The right to private property is a basic human right, of which nobody should be deprived."

It was the third time street sleepers took authorities to court for confiscating their belongings without prior notice. Previous lawsuits in 2012 and 2016 were settled outside court.