Justice Derek Pang says lower court previously awarded excessive remission to defendants' sentences on the basis of good character.
Six people jailed for organising a vote-rigging scheme in support of a pro-government candidate in the 2016 Hong Kong Legislative Council election have received longer jail sentences after an appeal court found their original penalties too lenient.

The defendants, who included an ex-director and a former executive committee member of the Taxi Drivers and Operators Association, were jailed by the District Court last year for three to 12 months for their role in an unsuccessful bid to manipulate the poll in the information technology constituency.

Three Court of Appeal judges on Friday granted a request from prosecutors to slap heavier penalties on the defendants after finding the initial sentences failed to reflect the gravity of undermining the integrity of an election and the high level of premeditation in the conspiracy.

Mr Justice Derek Pang Wai-cheong, one of the three judges, added that the lower court had awarded excessive remission to the defendants' sentences on the basis of their good character.

Li Wai-man, then corporate affairs director of the association, was hit with the heaviest sentence of 12 months behind bars last year for his leading role in the case. He will now serve 23 months.

Five others, who had completed jail sentences of between three and eight months before Friday's session, were sent back to prison after the appeal court increased their terms to 10 to 20 months.

The court, which was also presided over by justices Maggie Poon Man-kay and Anthea Pang Po-kam, will explain its decision in writing in due course.

The fraudulent scheme dates back to April 2016, when Li instructed the association's vice-secretary, Yeung Yiu-hung, to explore methods of enabling its members to vote in one of the election's 29 functional sectors.

Yeung discovered they could rig the IT constituency by registering with the Hong Kong chapter of the Institute of Electrical and Electronics Engineers (IEEE) using forged résumés.

The aim was to back tech executive and Legco hopeful Eric Yeung Chuen-sing, who had sought to topple incumbent opposition lawmaker Charles Mok of the Professionals Guild group.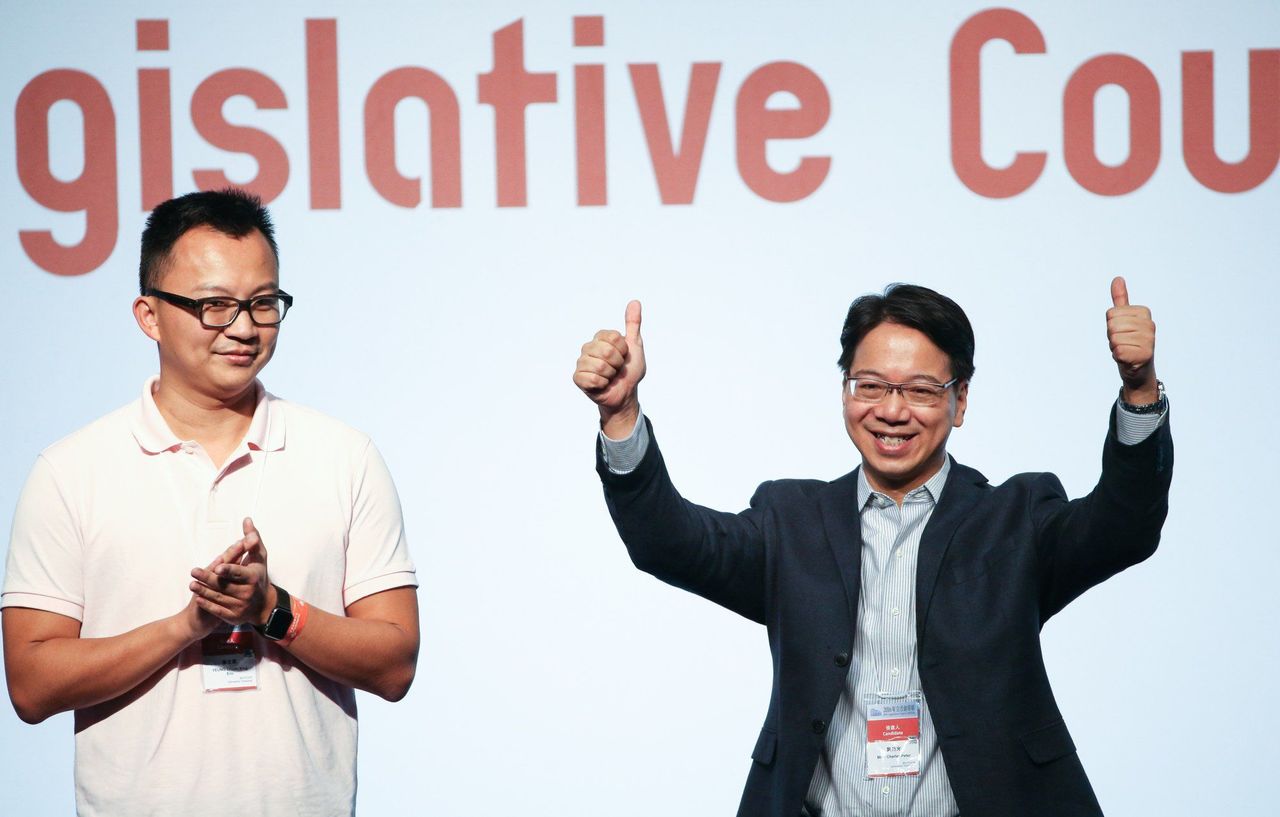 Charles Mok (right) and Eric Yeung after the votes are counted in the 2016 Legco election.

Upon learning of Li's plan, Lui Ah-fook, then an executive committee member, and his younger sister and son, Lui Wai-fong and Lui King-yin, began offering HK$1,000 (US$127) each to relatives and friends to join the scheme.

The personal details of 36 participants, including the Lui family and their associates, were sent to Poon Sau-fong, a former clerk of the association. She then applied for IEEE membership on behalf of the 36 as well as 204 others, including Li, Yeung and herself.

The 36 were paid HK$1,000 each on May 21, 2016 after applying with election authorities to vote in the IT constituency. Li then instructed them to vote for Yeung, or "the one who is not Charles Mok".

Mok ultimately won the race, securing 6,253 votes compared with Yeung's 3,425.

Li pleaded guilty to a count of conspiracy to engage in corrupt conduct at an election by offering an advantage to others and another of conspiracy to defraud, while Yeung and Poon admitted to the charge of conspiracy to defraud.

Lui Ah-fook pleaded guilty to two corruption charges, namely, offering and accepting an advantage. His sister and son also pleaded guilty to the charge related to offering an advantage.

Prosecutors did not challenge the sentences imposed on five other defendants, who were jailed by the lower court for six weeks to three months for accepting bribes.

Offering and accepting bribes in an election is punishable by seven years' imprisonment and a HK$500,000 fine under the Elections (Corrupt and Illegal Conduct) Ordinance. Conspiracy to defraud carries a maximum jail sentence of 14 years but is capped at seven years when a case is heard at the District Court.