Sheung Shui slaughterhouse and its smaller Tsuen Wan rival to shut down temporarily on Saturday for disinfection after 183 out of 866 samples tested positive for Covid-19.
Hong Kong authorities on Friday sought to bring in "experienced and skilled" butchers from mainland China after an outbreak at the city's two slaughterhouses resulted in operations being suspended and dwindling supplies.

To ensure a continuous supply of fresh food and livestock, the government said it was coordinating with industries and mainland authorities to deliver the goods through rail from Lo Wu after opening three cross-border sea freight routes.

According to a statement from the government, authorities were "discussing plans with the mainland to deploy professional and experienced personnel to Hong Kong to assist with the resumption of local fresh meat supply".

The city's largest operator, Sheung Shui slaughterhouse, and its smaller rival in Tsuen Wan would shut down temporarily on Saturday until further notice for disinfection after 183 of 866 samples from the Sheung Shui abattoir tested positive.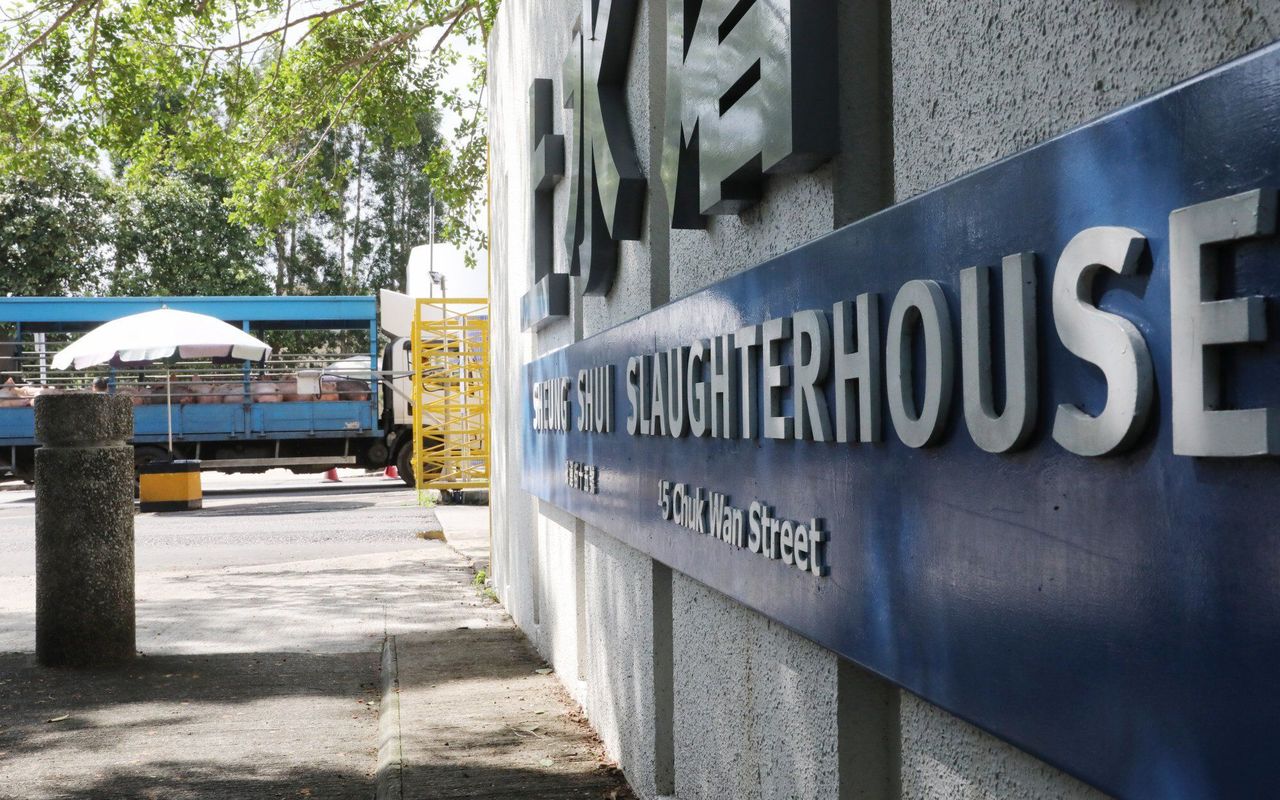 The Sheung Shui slaughterhouse and its smaller Tsuen Wan rival will shut down temporarily on Saturday until further notice for disinfection.

Many butchers said on Friday they would be forced to shut temporarily as a result of the slaughterhouse closures and asked for financial aid from the government to survive.

Food supplies have been disrupted amid the city's worsening public health crisis, and officials revealed on Friday that close to 22,000 infections were reported in a single day.

In a related development, Hong Kong Land Transport Council chairman Stanley Chiang Chi-wai on Friday estimated that 90 per cent of 882 cross-border drivers banned from entering Shenzhen were from Hong Kong.

This had greatly affected imports of fresh food and vegetables by land and Chiang warned that many drivers could quit as a result of stringent social-distancing requirements in Shenzhen.

"Some drivers who live in districts without any infections are still banned from entering Shenzhen," he said.

The Sheung Shui facility, managed by state-owned company Ng Fung Hong, is responsible for 90 per cent of Hong Kong's pork and all cattle supplies.

"Most meat traders are at a loss due to the sudden suspension in supply," said Hui Wai-keung, chairman of the Kowloon Beef and Mutton Merchants Association.

Hui said the pandemic situation in the city was "critical" and would hurt the vendors.

"They cannot take advantage of tight supply to increase prices too much, as their business depends on regular customers," he said, adding that supply of fresh beef was stopped two days ago.

A fresh pork retailer in Wan Chai was planning to close his shop on Saturday because of the limited supply from the slaughterhouses.

"I have no choice but to close the shop temporarily, so I'm using this chance to take a break," said Leung, who gave only his surname, of Sun Kei Farm.

An employee named Wong of Shui Hing Beef at Lok Fu Market said the shop would close temporarily on Saturday after selling the remaining 10 kilograms of beef.

"We were selling the beef left over from Thursday as no more supplies are coming today," he said, adding that the store kept its usual price range of HK$100 to HK$300 per catty for different cuts of beef.

Wong said he felt frustrated about the slaughterhouse closures and did not know when business could resume.

Some meat vendors called on the government to provide financial support if the abattoirs remained closed amid the surge in infections.

"If the store was forced to suspend operations in the following 10 days, I can't even afford the rent," said Tse, owner of Cow Square at Po Lam Estate Market in Tseung Kwan O, who asked to be identified by her surname.

She said the beef was sold at the same price at HK$100 per catty.

Tse complained of having lost half of her business income since the pandemic began, saying that "the government should subsidise us with the anti-epidemic fund".

Tracy Choi Wing-mei, a 58-year-old housewife, said she would opt for fish or chilled meat to replace fresh pork and beef, but did not want to do so regularly as frozen food was "less nutritious".

About 2,100 tonnes of mainland-grown vegetables were brought into the city on Thursday. The amount is about 90 per cent of the average daily supply of the previous year. The total supply of chilled poultry and meat remained at about 70 per cent of the daily average.

The Post has reached out to Ng Fung Hong for comment.