Secretary for Health Dr Lo Chung-mau says the proposed measure would prevent the freedoms of uninfected residents from being affected by Covid-positive people.
Hong Kong may adjust its Covid-19 app to require real-name registration as mainland China does to ensure residents subject to compulsory testing orders avoid entering high-risk areas, the city's new health minister has said.

But Secretary for Health Dr Lo Chung-mau on Sunday brushed aside concerns that the proposed measure would be unpopular with Hongkongers, arguing it would enhance the freedoms of uninfected residents.

"Everyone agrees that those who have Covid-19 should actually not go out and harm the rest of the population," he told a television programme. "If we give Covid-19 positive people freedom and let them roam the surrounding areas, those without Covid-19 will have their freedoms affected."

Lo said the measure was justified, given the government was seeking to avoid tightening social-distancing measures.

"[If] we can't find infected people or can't quarantine them on time, we end up 'quarantining' people who are negative. We hope we don't have to do this," he said.

Health officials on Sunday reported 2,992 new Covid-19 cases, including 219 imported ones, and two additional deaths. The city's overall coronavirus tally stands at 1,270,800 infections and 9,412 related fatalities.

Commissioner of Customs and Excise Louise Ho Pui-shan was placed under quarantine after one of her colleagues tested preliminary-positive, although her own test came back negative.

Meanwhile, the health minister said there were limitations to the city's "Leave Home Safe" contact-tracing app, which could not prevent coronavirus-positive people from accessing public areas or inform residents they were entering high-risk locations.

Lo also met officials from the Innovation, Technology and Industry Bureau to discuss adjusting the app.

While he noted that adding a tracking function was "not the first thing to do", Lo said he believed it was more important for residents to register their real names to use the app.

"[The app] is currently limited to telling whether a person is considered to be high-risk, and that they are not supposed to go to higher-risk areas before they do PCR [polymerase chain reaction] testing," he said.

Lo added that the current compulsory testing order, despite its name, had "no coercive means at all", making it unfair for residents as high-risk people could still roam around the city without detection.

"We should at least have this type of identification [in the contact-tracing app]. There should be a mechanism to prevent them from entering high-risk places," he said. "We hope to enhance our ability to inform high-risk people that they cannot enter high-risk areas."

When asked whether the potential measure could have any similarities to the health code systems used by Macau and the mainland, Lo replied that the Hong Kong government had taken both into consideration as a part of the proposal.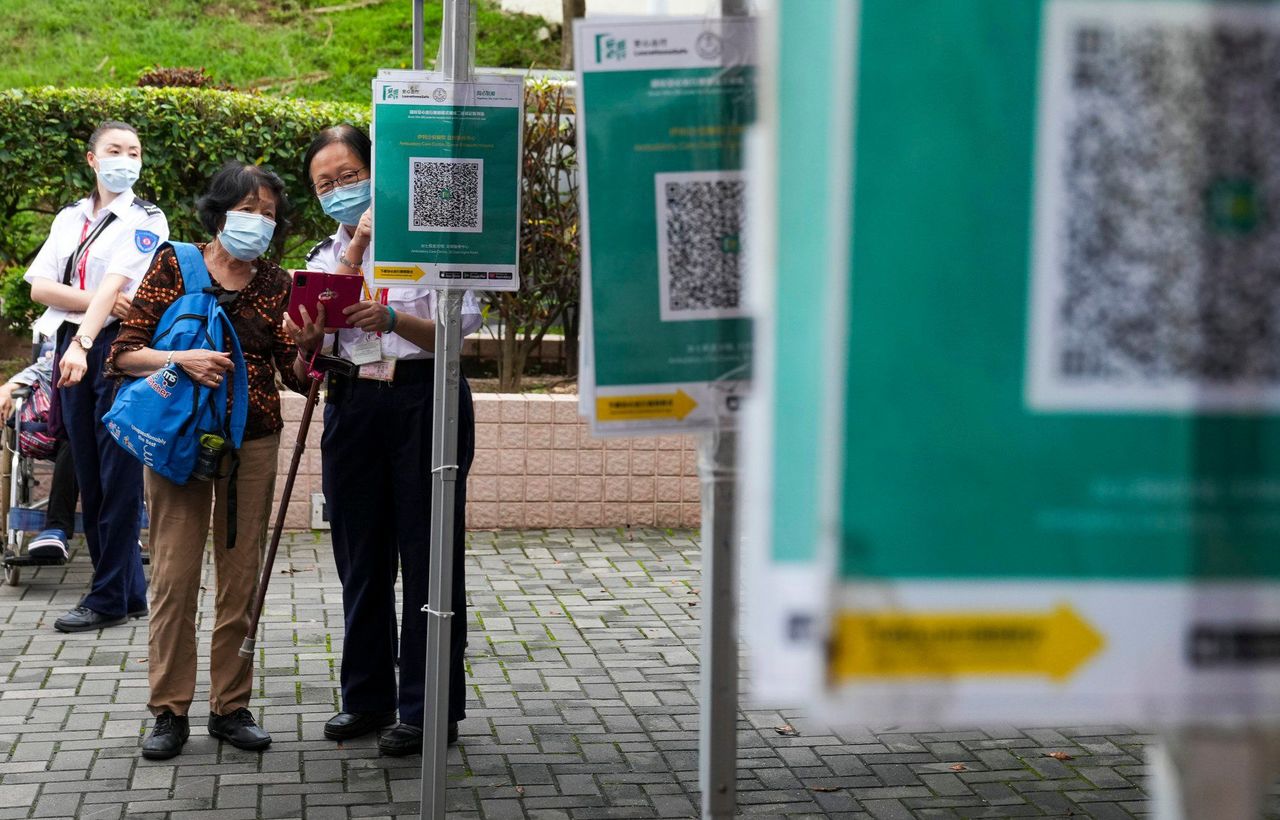 Residents using the "Leave Home Safe" contact-tracing app.

The mainland's health code app is used to track and contain Covid-19 patients by providing central authorities with user data such as locations, times and personal interactions.

The QR codes generally follow a traffic-light system, with the colours affecting where residents can go and how they are treated: a green code declares a resident has not been exposed to any potential cases or risky areas, while yellow and red codes mean they are of higher risk.

Dr Chuang Shuk-kwan, head of the Centre for Health Protection's communicable disease branch, said she had no comment about Lo's proposal and that the government would make relevant announcements when it was ready.

But she acknowledged the contact-tracing app had limitations and said there were no estimate on the number of infected people who had not reported their positive case to authorities.

Although the app had residents' phone numbers, authorities could still face difficulties in reaching some people for contact-tracing purposes if they did not answer the calls, Chuang said.

The centre also had to rely on other government departments to obtain residents' vaccine pass information whenever there was an outbreak, as it did not have access to such details, she added.

She said the centre did not have any information on the number of visitors at particular premises if no infections were reported there.

Respiratory medicine specialist Dr Leung Chi-chiu said he welcomed measures restricting the movements of high-risk people, but argued that the health code system could not replace Covid-19 curbs needed to limit a resurgence in cases.

"Macau adopted the mainland-like code system but still suffered an outbreak recently. After all, measures on social distancing and quarantine are still key to controlling the spread, especially in cities that have not reached herd immunity," he said.

Leung added that the proportion of the population in both cities that was immune to the virus due to vaccination or prior infection was still low compared with other places.

If Hong Kong implemented the mainland's app functions, it was crucial to reduce the time needed to synchronise the compulsory testing orders with residents' phones, otherwise it would be futile if there were delays that lasted for days, he added.

Ramon Yuen Hoi-man, the Democratic Party's healthcare policy spokesman, said the lack of protection of individual privacy and sensitive information with the code system remained a concern among the public.

He added that he was worried about the implications of introducing new restrictive measures after the fifth wave of infections had already subsided.

"Overseas research has shown that stringent Covid-19 measures have been unfavourable to social harmony and unity. Is this something the new government really hopes to pursue?" he said.

Medical and health services lawmaker Dr David Lam Tzit-yuen said privacy issues were not a concern as long as authorities were restricted to tracking a person's identity and other personal information only if they were deemed to be at risk.

"[The code system] is the way to go for better protecting the community. Privacy issues, which could be solved by the right algorithms, should not trump safety of others," he said.

Health minister Lo also said he planned to increase the frequency of PCR tests and require high-risk people, such as employees of nursing homes, to undergo such screening once a week, on top of rapid antigen tests, before increasing it to twice a week or every 48 hours.

The new administration led by Chief Executive John Lee Ka-chiu has repeatedly stressed the importance of using PCR tests at an earlier stage more effectively, which it said would exclude people who were not infected from tough restrictions.