Over the past two weeks, more than 320 untraceable cases have emerged, with 80 per cent involving the Omicron variant.
Hong Kong reported another record of 342 local Covid-19 infections on Sunday, as health officials warned at least 320 silent transmission chains could be lurking throughout the community with the fifth wave yet to hit a peak.

As compulsory testing orders issued by the government expanded to 62 premises across the city over the weekend, long queues formed outside testing stations, with some residents in Yuen Long, Sha Tin and Sham Shui Po complaining they were forced to wait several hours to get screened.

Health officials said 135 of the latest infections were untraceable, while an additional 300 preliminary-positive cases were identified.

Over the past two weeks, more than 320 untraceable cases have emerged, with 80 per cent involving the Omicron variant, according to Director of Health Dr Ronald Lam Man-kin, who described the situation as "critical". Hong Kong has recorded two straight days with the number of infections exceeding 300, and Lam warned that the figure could grow exponentially if a super-spreading event occurred.

"We could not track how many generations of transmission were spread," he said. "We could not make an accurate estimation on when the peak would arrive. But we are certain that the number has not peaked yet."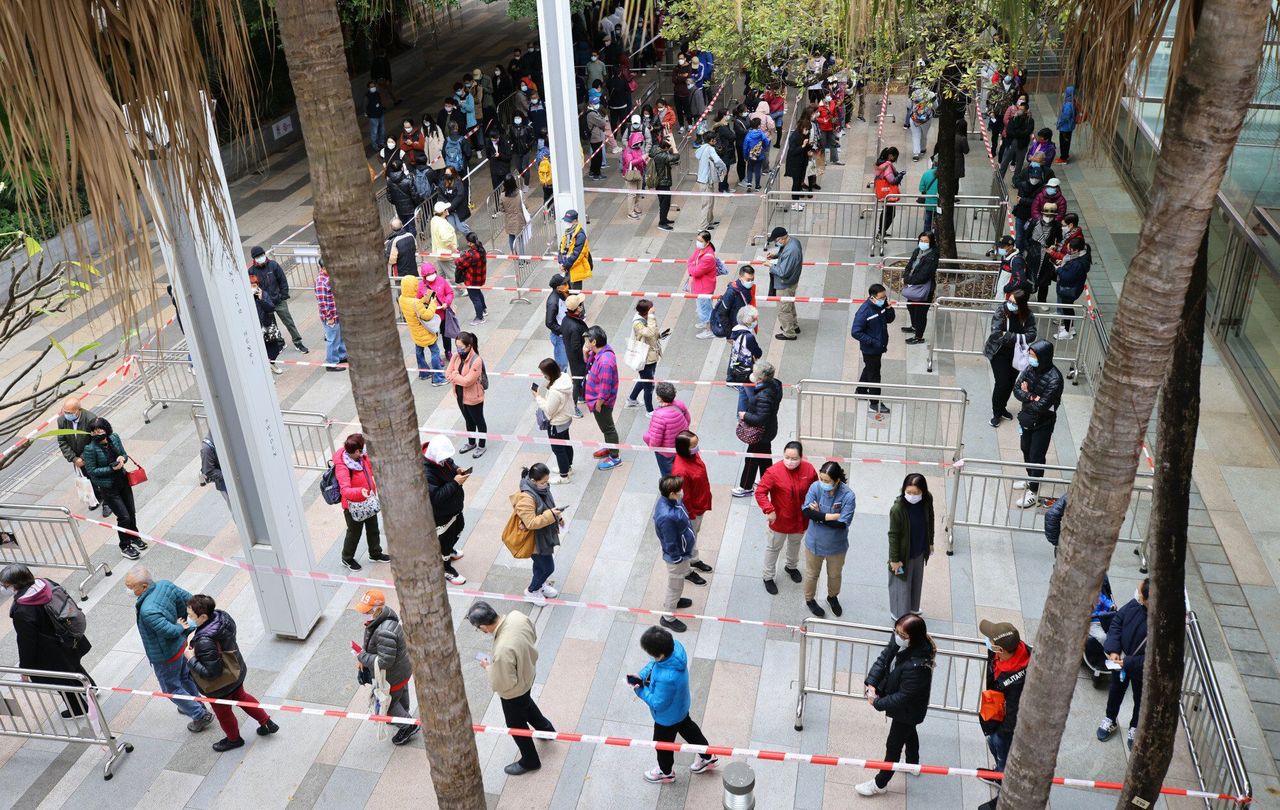 Residents and workers subject to compulsory testing for Covid-19 queue at a mobile specimen collection station in Sha Tin.

Hong Kong's overall tally stands at 15,408 infections, with 213 related deaths.

Lam admitted that the situation at the testing centres was "not desirable, but inevitable", and said the government was quickly ramping up capacity, which could soon be tripled to 300,000 per day.

But voluntary test kits could not replace compulsory screening, which was the most effective method to identify carriers, he said, adding both types were needed to contain the outbreak.

Authorities said they noticed that "a lot" of the latest patients had been to Po Lin Monastery on Lantau Island and Che Kung Temple on Tuesday and Wednesday ­– the first two days of the Lunar New Year. Some of the infected people had also visited Yuen Long Plaza, where 13 employees were among the confirmed cases.

But Dr Chuang Shuk-kwan, the head of the communicable disease branch of the Centre for Health Protection, stopped short of revealing the exact number of patients who had visited the three premises.

"Many cases had gone to Yuen Long Plaza, but we could not link all the cases to the shopping centre given many residents will go there if they live nearby," she said. "[Having infected visitors visiting the temples] does not necessarily mean that there was transmission. But as the Omicron variant was highly transmissible, it is still possible."

Lam urged residents to avoid going to shopping centres and called on any organisers planning to hold events to move the activities online.

Retailers Ikea and Citistore announced they would temporarily close their Sha Tin and Tsuen Wan branches, respectively, for disinfection, after preliminary-positive cases were identified there. Employees working at both branches will also undergo testing.

Authorities have also extended a lockdown at Tai Hing Estate's Hing Tai House until Monday morning. Vertical transmission was detected at several flats and residents of the affected flats needed to be evacuated.

Health authorities revealed that six cases were reported in three care homes for the elderly and people with disabilities in Sham Shui Po, Po Lam and Ho Man Tin, with some residents and staff members ordered into quarantine.

At least 18 government workers also tested preliminary-positive, including an investigator from the Independent Commission Against Corruption, two health inspectors and three cleaners at the Food and Environmental Hygiene Department, a field worker at the Hong Kong Wetland Park, two police officers, a housing officer and a part-time fraud detection adviser of Social Welfare Department.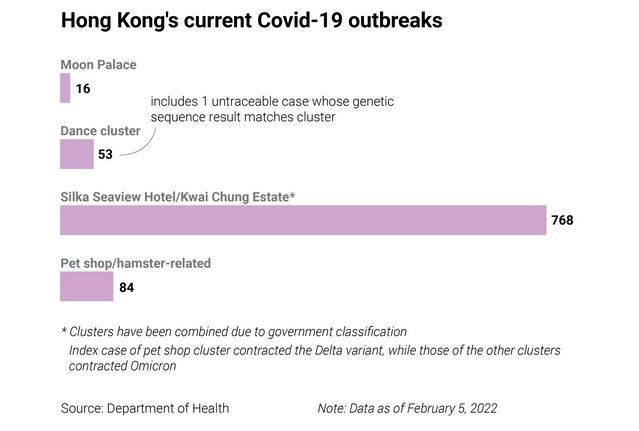 Additionally, a part-time assistant community organiser with the Home Affairs Department, an information technology manager with the Housing Department, three Hongkong Post staff members and an employee of public broadcaster RTHK tested positive.

The recent surge in infections has forced the government to make changes to hospital treatment and quarantine arrangements in order to ease pressure on health care resources, with the new policy set to take effect this week. Patients who were young, without chronic illnesses or those who had been vaccinated would be sent to the government-run Penny's Bay facility, where doctors and nurses will be on hand, according to Hospital Authority chief manager Dr Lau Ka-hin.

But chest X-rays and taking blood samples would likely be beyond the resources available at the facility and only basic medication such as antipyretics and cough syrup would be prescribed.

Family members of close contacts, who are required to isolate for four days at Penny's Bay under current rules, will be allowed to do so at home when the facility fills up.

Hospital Authority chief executive Tony Ko Pat-sing called the situation extremely worrying but expressed confidence that the facilities could cope with the rising number of cases after the changes.

Ko suggested that in the event of an "exponential" surge of infections – for example, if more than 1,000 cases were detected – asymptomatic patients or those with mild symptoms could be isolated at home.

In order to further ease the strain on hospitals, Lau appealed to patients who tested positive through community testing but were either asymptomatic or had only mild symptoms to stay away from accident and emergency wards and remain at home until contacted by health authorities. He said visiting the hospital would not speed up admission and only raise the risk of spreading the virus to other patients.

Infected people who used the rapid antigen test and needed to take the nucleic acid test at hospital should wear two masks in public and avoid taking public transport to the emergency department, Lau said.

Writing on his blog on Sunday, Financial Secretary Paul Chan Mo-po highlighted the need to strike a balance between addressing short-term economic needs and long-term development.

"While the coronavirus outbreak is posing huge challenges for Hong Kong's economy, we should not ignore the risks in the external environment," he said. "We need to maintain certain fiscal capability to defend the stability of Hong Kong's financial system," he wrote, citing uncertainties such as rising inflation and geopolitical tensions.