Health authorities record 22 cases of unknown origin, the most since the city's fifth wave began in December.
Hong Kong returned to triple-digit figures for new coronavirus cases on Tuesday as health authorities confirmed another 129 infections, while untraceable transmissions rose to their highest number since the fifth wave began in late December

The figures were revealed hours after the public hospitals chief warned of a potential "tsunami-like" outbreak following the Lunar New Year festivities and the government said it had trained 10,000 members of the disciplined forces to carry out contact tracing.

Ending the city's two-day streak of double-digit caseloads, health officials on Tuesday recorded 102 locally transmitted infections and 27 imported ones. Of the local cases, 22 were of unknown origins. Previously, the highest number of untraceable cases reported in a single day since the start of the fifth wave was 15, this past Sunday. About 90 preliminary-positive infections were also reported.

The tally of confirmed cases stands at 14,326, with 213 related deaths.

Dr Chuang Shuk-kwan, head of the Centre for Health Protection's communicable disease branch, admitted the increasing number of untraceable cases showed the fifth wave had not yet been brought under control.

"Unlinked cases indicate that there are a lot of other cases in the community that are unknown to us at the moment. We cannot find their linkages to those detected so far," she said, adding the total number of untraceable infections during the fifth wave had reached 98.

Increasing the frequency of testing could help authorities to better identify the route of transmissions, she said.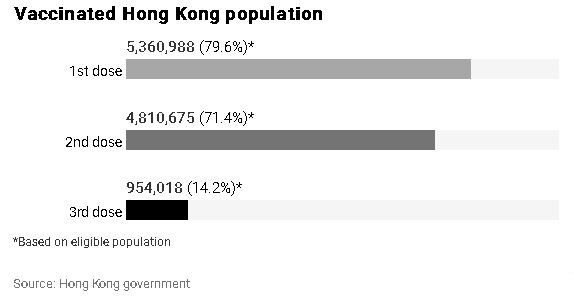 Eight of the latest infections involved residents at the Omicron-hit Kwai Chung Estate in Kwai Tsing district, taking the total to 439. But Chuang said the new cases, some of which were recorded at flats where no infections had previously been identified, were to be expected as the virus was still spreading in the area.

"As long as it is not a big outbreak, we think it's acceptable," she said.

The potentially more lethal Delta variant was also spreading towards Kowloon East from Wong Tai Sin, but Chuang declined to go into details about each one given there were "too many".

Respiratory medicine specialist Dr Leung Chi-chiu said contact tracing needed to be "intensified" across the Lunar New Year period to slow the spread of the virus and also urged residents to stay at home.

"We need to see a definite decreasing, instead of an increasing, trend in the number of both total local cases and unlinked cases in the coming two weeks," he said. "Otherwise, the spread could be out of control at any time."

Earlier on Tuesday, Hospital Authority chief executive Tony Ko Pat-sing said the situation in Hong Kong was at a "critical level" due to the many family reunions over Lunar New Year. The vaccination rate was far from ideal given the surge of Delta and Omicron infections, as well as untraceable cases, he warned.

"The chance of a mass outbreak has reached a critical level and it could pound in the manner of a tsunami any time," he said in a blog post. "We urge, yet again, that everyone should try to stay home and avoid gatherings involving more than one family. Let's hold this defence line together."

Ko said the low vaccination rate among children and the elderly was the most worrying issue. For some time, he said, the authority had stepped up training for staff who took care of these two groups of patients and had equipped more than 1,000 employees with the ability to operate the 1,500 ventilators at hospitals' disposal.

The authority's testing capacity had been boosted and it could now carry out 15,000 screenings a day, while it had enough protective gear in stock to last six months, he said.

Echoing Ko's call for residents to stay at home, authority chairman Henry Fan Hung-ling said that only with the community's help could the city overcome the pandemic.

Fan also pointed to the frontline staff's commitment and help from mainland Chinese authorities.

He said he would do his best to retain talent, enhance specialist services in hospitals and transform existing facilities into ones that adopted the latest technology.

City leader Carrie Lam Cheng Yuet-ngor and her top officials, meanwhile, visited contact-tracing centres in Mong Kok and Kai Tak on the first day of Lunar New Year to show their appreciation to staff for their work.

The two centres are staffed by more than 400 civil servants, mostly disciplined service members who have experience in investigations. So far, the Centre for Health Protection has trained 10,000 active and retired service members to conduct contact-tracing work.

The government said the centres had quickly traced 200 patrons – 80 per cent of whom were found within 24 hours – and 22 employees linked to the Moon Palace restaurant cluster, and sent more than 1,000 close contacts of 16 patients into quarantine in an orderly manner.

The 22 unlinked cases confirmed on Tuesday were scattered across the city, including at Yuk Ming Towers in Sai Ying Pun, Tung Moon House at Tai Hang Tung Estate in Sham Shui Po and Lai Tsui Court in Cheung Sha Wan.

In To Kwa Wan, untraceable cases emerged at No 26-28 Yin On Street and Chung Nam Mansion on Sheung Heung Road, while in Hung Hom, infections were found at Chee Shing Building and Yue Sun Mansion, both on Wuhu Street.

Two infections with no known links to previous cases were confirmed at Tung Moon House of Tai Hang Tung Estate in Sham Shui Po, prompting authorities to also issue an overnight testing order there. A similar order was issued to residents of Serenity Villa at Tai Po Tau in Tai Po after local sewage samples tested positive for traces of Covid- 19.

Sewage also tested positive for the virus at a number of other housing estates: the Oceanaire, Ocean View, La Costa and Yan On Estate residential complexes in Ma On Shan; Blossom Garden, Venice Garden and Greenery Villa in northern Tuen Mun; and Tai Hing Estate, Tai Hing Gardens and Terrace Concerto south of Tsing Tin Road in Tuen Mun.

Elsewhere, Lai Chi Kok Reception Centre had to turn back visitors after it was closed for cleaning because of a link to a previously infected visitor, according to a Correctional Services Department spokesman.

The Department of Health also banned passenger flights from Jakarta operated by Garuda Indonesia from landing in the city for two weeks starting from Tuesday after three passengers aboard a plane flying that route tested positive upon arrival on January 30.