First phase of cable-laying work completed last Friday and second cable successfully activated on Monday.
A cable bridge in Hong Kong that collapsed into a river after it caught fire will be removed by the power company concerned, with the firm aiming to complete replacement lines by Tuesday after the blaze caused outages across three districts.

CLP Power, one of the city's electricity suppliers, revealed on Monday it had collected evidence from the wreckage and inspected the scene with the Fire Services Department, police, the Electrical and Mechanical Services Department and the Government Laboratory on Sunday.

"After discussions with the relevant government department, CLP Power will gradually remove the cable bridge in the next few days to avoid blocking the [river]," a spokesman for the company said.

Having completed the first phase of cable-laying work last Friday, the supplier said the second 132kV high-voltage cable was successfully activated at 4am on Monday. It aimed to finish laying the remaining cable by Tuesday, a week after the fire took place.

The blaze involved the cable bridge over Shan Pui River in Yuen Long, along Kwong Yip Street near The Spectra residential estate. The structure collapsed as firefighters sought to put out the flames, and the three cables providing power to areas in Tin Shui Wai, Yuen Long and Tuen Mun were damaged.

About 140,000 affected households had their power restored gradually within hours of the outage on the same night. The remaining 20,000 had only begun to get their electricity ­supply back the following morning and a total of 14 schools were forced to suspend classes. On Thursday night 13,000 homes experienced a blackout.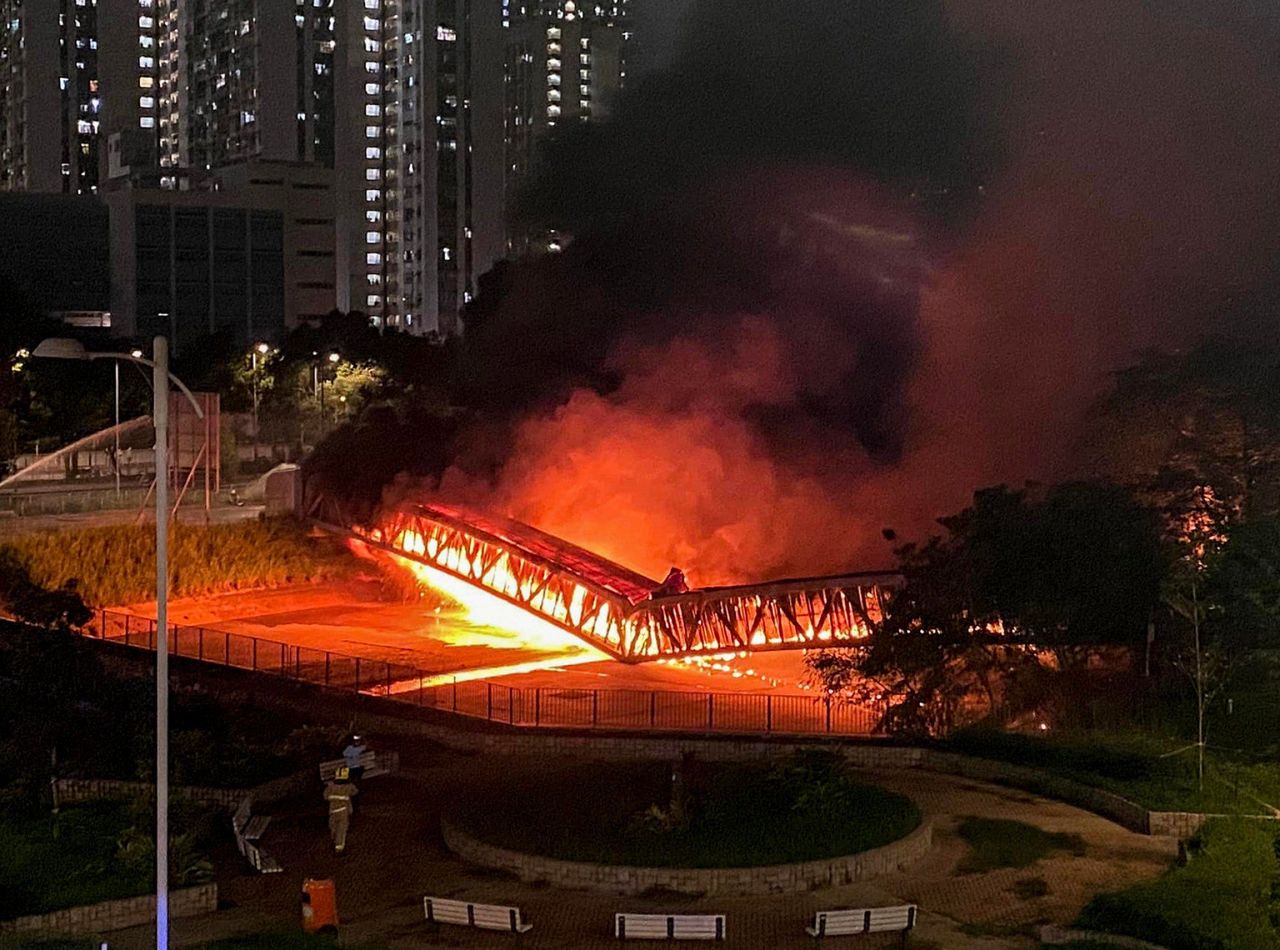 The fire that triggered a massive power outage in Hong Kong.

The power company submitted its interim report to the government last Friday, stating that it was still investigating the cause of the fire while the operating conditions of the circuits in the three areas were normal before the blaze.

According to the report, the company last inspected the cable bridge in November 2021, and no site work was carried out before the incident.

The supplier was ordered to carry out an investigation and submit a detailed report with improvement measures within two weeks of the fire.

Legislators have called for a safety review of power cable bridges in the city, urging more frequent inspections into whether fire safety standards were up to date.

Lawmaker Chan Siu-hung, a senior adviser to the electricity firm's parent company, CLP Holdings, had earlier said rebuilding a supply bridge remained an option, including constructing a wider bridge or even three such ­structures, each carrying one cable.

He added that the supplier would need to compare the cost-effectiveness, reliability and timeliness of ­different proposals.