Compensation for the most senior roles tops out at HK$19,750, but one union says increases might not impress staff given potential long hours and travel.
Authorities have increased the compensation for civil servants who will work at the roughly 630 polling stations set up across Hong Kong for the Legislative Council election on Sunday

But a major civil service group said the adjustment, which came amid complaints about being assigned specific polling stations this year, failed to address its concerns and called for compensation in the form of leave instead.

About 39,000 civil servants from different bureaus and departments will be carrying out election-related work.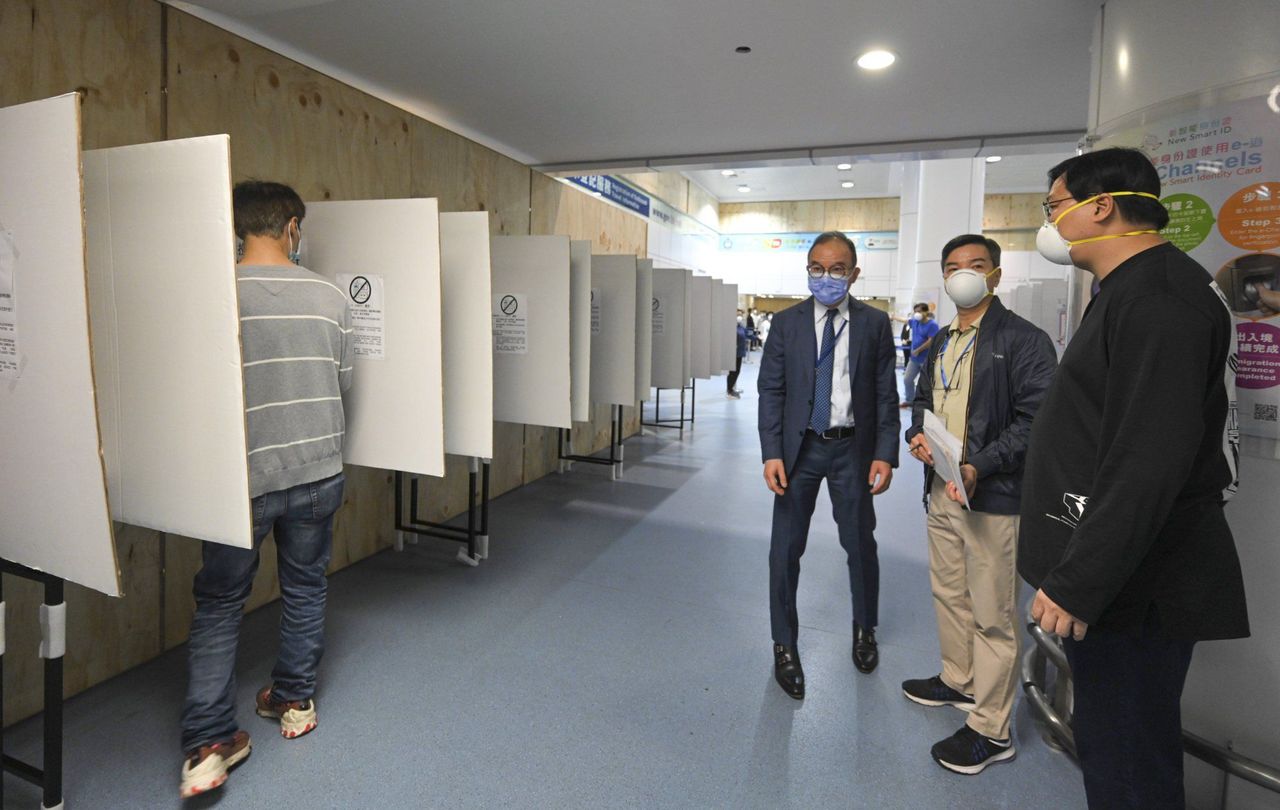 Secretary for Constitutional and Mainland Affairs Erick Tsang Kwok-wai (second from left) inspects voting arrangements at the Lo Wu boundary control point on Wednesday.

The Registration and Electoral Office on Thursday said their honorarium would be increased by between HK$110 (US$14) and HK$5,830, depending on the polling station.

The biggest pay increase was for presiding officers at ballot paper sorting stations who must also assist with rehearsals before election day, with their total pay going from HK$6,880 to HK$12,710.

But assistant presiding officers at those same stations were given the greatest percentage increase, at 88.4 per cent, with their honorarium going from HK$2,590 to HK$4,880.

Presiding officers at polling stations serving more than 7,500 electors will receive the highest pay, at HK$19,750, up from HK$16,030.

Leung Chau-ting, chief executive of the Federation of Civil Service Unions, warned that civil servants might not be impressed with the increases due to the possible long working hours required.

"The biggest concern is the long working hours. They have to start setting up on Saturday, and start at around 6.30am on election day," he said. "If there's an overrun and the votes are not yet done counting, they have to [stay up] and start work early on Monday."

Leung expressed hope that the government could provide the workers with an extra day off as compensation.

He also said his union had received complaints from civil servants who would need to travel a long distance to their assigned polling station. In previous years, they were allowed to choose the ones where they would work.

"For example, one person could be staying in Tung Chung [on Lantau Island], but have to go all the way to Sha Tin [in New Territories] for duty, so they may have to take taxis," he said. "Some have even booked hotels near their polling stations. It's quite extreme."

The December 19 poll will be the first since Beijing overhauled the city's political system to ensure only "patriots" hold power.

The shake-up, labelled "retrogressive" by critics, expanded the number of Legco members from 70 to 90, while slashing the number of directly elected geographical constituency seats from 35 to 20.

Thirty seats will be returned by trade-based functional constituencies, while 40 will be selected by the Election Committee, dominated by pro-Beijing figures.

Hong Kong has about 4.47 million registered voters, accounting for about 60 per cent of the population.

The government has for the first time set up polling booths at three checkpoints – Heung Yuen Wai, Lo Wu and the Lok Ma Chau Spur Line – to allow Hongkongers living in mainland China to vote without being subject to coronavirus quarantine rules.

According to national census data released in May, about 370,000 Hong Kong residents aged 18 or above live on the mainland.

Leung said the increased honorariums for working at the border checkpoints could be a bigger incentive for those civil servants assigned to them to take a day off afterwards.

Election authorities increased the honorarium for polling station staff for the district council election in 2019 after finding it difficult to recruit staff following the months of anti-government protests.