List of civil servants from various departments expected to be announced on Monday, with deployment to last for three months; city confirms 6,063 coronavirus infections.
Hong Kong civil servants from various departments will be deployed as part of the government's lockdown and isolation arrangements to combat the worsening coronavirus crisis, the Post has learned.

The assignment would last for three months and the list of civil servants to be deployed was expected to be announced internally by the departments on Monday, sources said, adding that top officials had mapped out the plan during a meeting on Friday.

Hong Kong confirmed 6,063 coronavirus infections and reported another 7,400 preliminary-positive cases on Saturday. The latest infections brought the overall tally to 46,763 confirmed cases, with 280 related deaths.

The government has been trying to find extra facilities and manpower to cope with rising lockdown orders and a surge in the number of patients needing to be isolated.

About 24,700 people who tested positive were still waiting for admission to isolation at public facilities as of Saturday, while lockdowns were imposed on eight areas across Hong Kong in the past seven days for compulsory testing.

Chief Executive Carrie Lam Cheng Yuet-ngor also revealed on Thursday that the government was considering conducting citywide universal testing in a bid to detect more positive cases as the city battled its fifth wave of infections.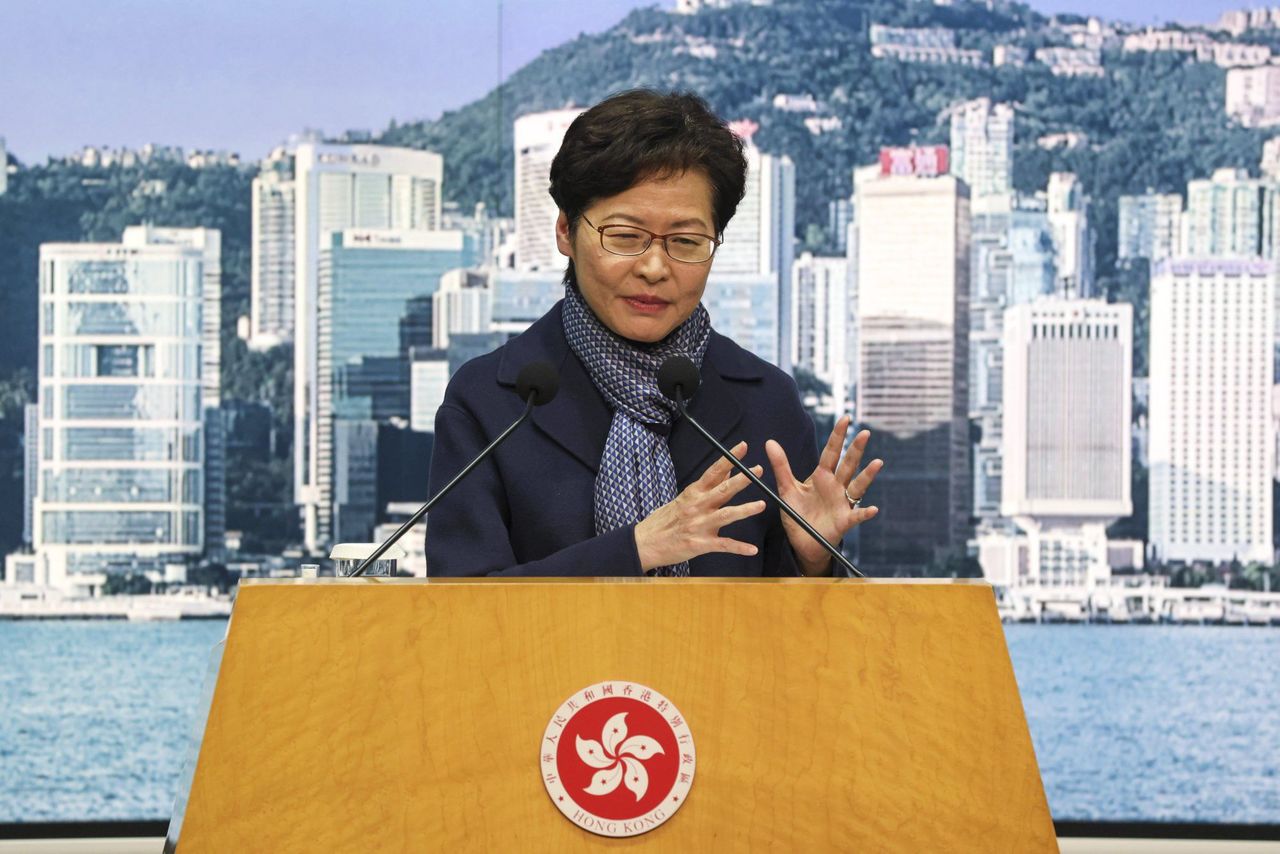 Chief Executive Carrie Lam.

Hong Kong on Saturday started building Covid-19 isolation facilities at the deserted Kai Tak Cruise Terminal and expanding existing facilities in Penny's Bay, providing 10,000 community quarantine and treatment units.

Authorities had on Thursday secured 20,000 rooms at hotels including iclub Ma Tau Wai Hotel, Fortress Hill hotels, and the Regal Oriental Hotel for isolating those with mild or no symptoms, with 4,400 of these rooms expected to be available this week.

At least 1,000 retired officers from the disciplined services will be hired to staff the new facilities. About 110 people were sent to the Dorsett Tsuen Wan as of Saturday.

Another 3,000 flats in three new public housing blocks would also be converted into isolation facilities.

Meanwhile, vegetable prices in Hong Kong fell slightly on Saturday as the first batch of goods, containing three tonnes of choy sum in 200 boxes, arrived from mainland China by sea, an alternative route used after a number of cross-border truck drivers became infected with the virus.

The goods arrived at Yau Ma Tei Public Cargo Working Areas before dawn for distribution in the local market. The Transport and Housing Bureau said two more shipping routes would be open between Hong Kong and the mainland to stabilise the city's food supplies.

Another 28 tonnes of vegetables arrived at Kwai Tsing Container Terminals at noon, bringing the total amount of products shipped in by sea on Saturday to 31 tonnes.

A housewife surnamed Yeung shopping at Sheung Tak market in Tseung Kwan O said the price of choy sum had dropped from about HK$40 (US$5.10) to HK$20 per catty.

But Lam, a worker in the same wet market, said vegetable prices had still risen by 10 per cent on average.

"The supply of vegetables is also unstable. I received them yesterday, but I got nothing today," she added.

Shenzhen's Office of Port of Entry and Exit reported 87 new infections among drivers as of Saturday. The outbreak had caused a spike in vegetable prices, with some costing twice as much as they previously did.

The government said 678,000kg of vegetables were imported from the mainland as of Friday midnight, less than the previous day as a result of disinfection work at individual supply points. It said the quantity was 70 per cent of the volume of a normal day, but overall wholesale prices remained steady.

It also said Sheung Shui slaughterhouse, which was closed on Friday for disinfection after 86 workers tested positive, resumed operations on Saturday evening. Rapid test kits would be distributed to workers there and at Tsuen Wan slaughterhouse to allow them to undergo daily checks, the government said. The workers are currently required to undergo weekly testing.