80 per cent of respondents suffer from long Covid, with half experiencing brain fog, according to Society for Community Organisation survey.
Hong Kong housewife Mandy Cheng thought the worst was over when her 14-year-old son recovered from Covid-19 in March, but it was not, he lost more than 4.5kg and still suffers from brain fog and fatigue that affects his studies.

He was among the students interviewed by the Society for Community Organisation (SoCO) on the impact of long Covid. Some of the respondents said their peers were avoiding them, while some parents spent double the usual amount on private tuition to help their children catch up with their studies.

The online survey interviewed 120 students aged under 19 from late August to mid-September who had been infected with Covid-19.

About 80 per cent of the respondents said they suffered from long Covid, with half experiencing brain fog, which affected their memory and concentration, and 28 per cent struggling with insomnia. Some others said they felt tired, lost their appetite and constantly coughed.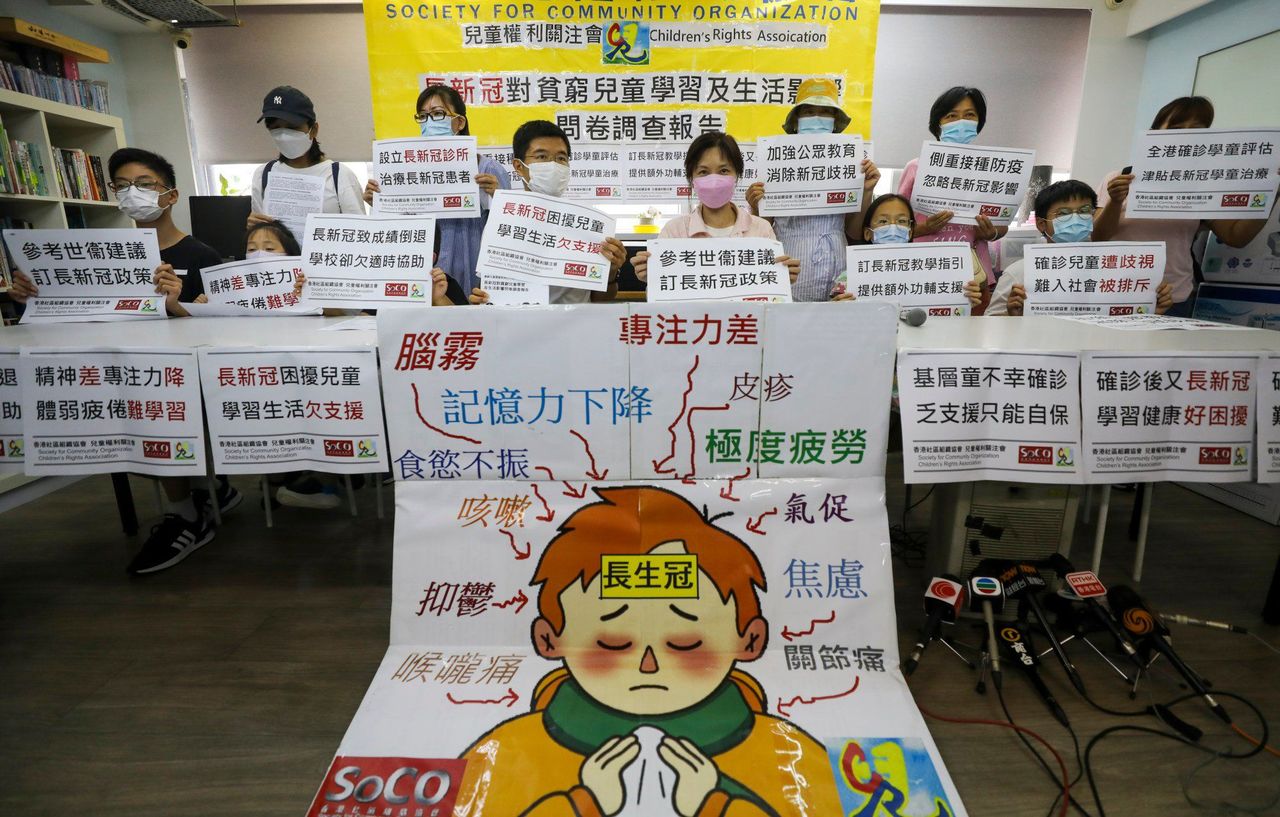 Society for Community Organisation's members, children suffering long Covid and their parents meet the press in Sham Shui Po.

Among those respondents, 24 per cent said the long Covid symptoms lasted for six months or more, while more than 70 per cent of them did not consult healthcare professionals or receive any treatment.

SoCO and Cheng called on the government to provide medical support for children suffering from long Covid conditions, including setting guidelines for schools to help them catch up with their studies and opening dedicated clinics for these patients like Canada, Malaysia and Japan.

Cheng said her son, who is a Form Four student, got infected with Covid-19 in late February and recovered about two weeks later. But she said he started losing his appetite a month after his recovery and was still suffering from the symptoms now.

"My son was pretty fat with a waistline of 34 inches [86.4cm], now he has lost more than 10 pounds [4.53kg] and the waistline dropped to 30. He also doesn't have much energy and is not willing to go outside," Cheng said.

"It was difficult to book appointments to consult the government's Chinese medicine practitioners. I was only able to book twice successfully within a six-month window."

She was referring to the Chinese medicine outpatient programme launched by the Hospital Authority in April 2020, which provided rehabilitation for residents with post-Covid conditions. Participants were entitled to 10 free general consultations within six months from the date of completing Covid-19 isolation.

Cheng said her son also experienced brain fog which made it difficult to concentrate and memorise his school work.

"We are quite apprehensive because it seems like we are lacking support from the government. I hope the authorities will devote more resources to help with our medical needs and extra tuition," Cheng said.

Sze Lai-Shan, the group's deputy director, argued the impact of long Covid on children was more prominent than adults, but the government did not evaluate children's needs.

"They feel physically drained all the time, which impacted their academic performance. The Education Bureau in the past three years mainly focused on supporting online learning, promoting vaccination and providing test kits, without assessing the study needs of children who experienced long Covid," Sze said.

Lam Fung-hei, 12, a Primary Six student, said she had to spend extra time studying to catch up with her school work, saying her memory was affected by the virus.

"Take dictation as an example, I used to be able to finish my revision in one or two hours and memorise all the vocabulary, now I need to double my study time," she said, adding she also needed to attend private classes more often.

Her mother, Zeng Zhi-qun, 47, said she paid double her daughter's usual tuition fee, which was a huge burden to the family.

"I used to pay HK$2,000 [US$254] for my daughter's private tuition, now I'm paying HK$4,000. My husband works at a restaurant and earns HK$15,000 a month. Money is tight. Sometimes I need to ask my friends to help," Zeng said.

Au Cheuk-hei, 12, a Form One student, said his most obvious symptom was physical fatigue, however being avoided by his peers hurt him most.

"Some of [my classmates] said they did not want to talk to or play with me any more because I had Covid-19. I didn't know why. I felt lonely and upset at times, but I didn't tell my teachers about it," Au said.