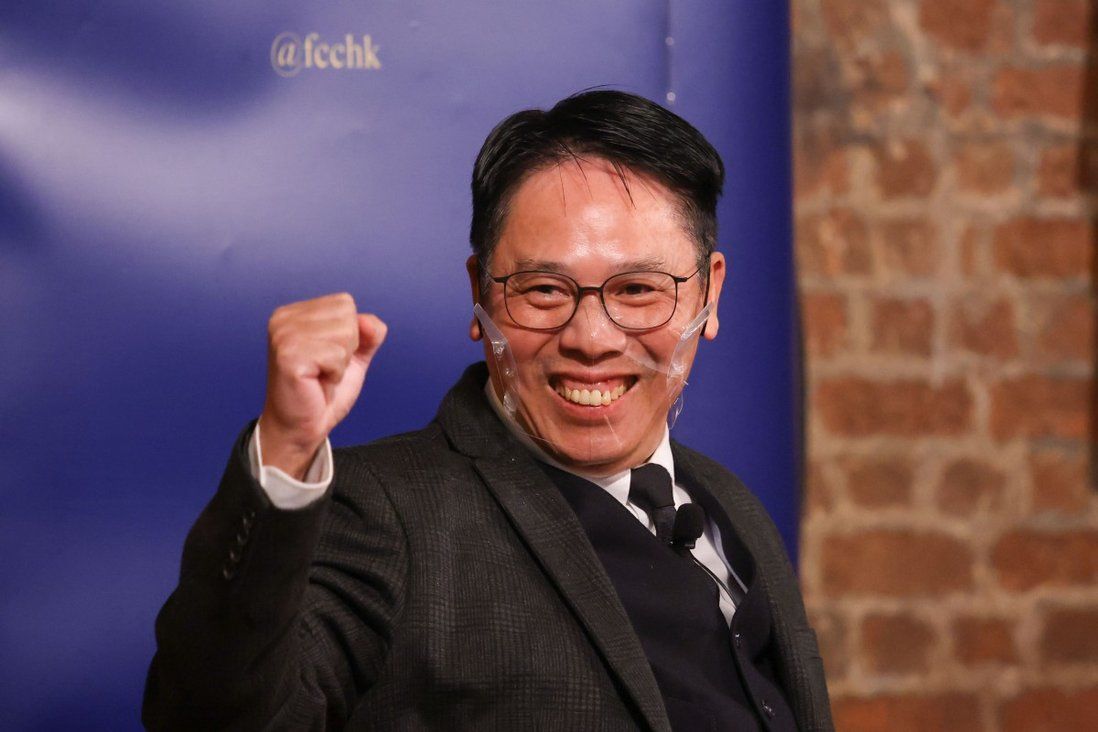 Hong Kong chief executive hopeful Checkley Sin says he has no Beijing connections
In his first public speech at the Foreign Correspondents' Club, Checkley Sin admits 'I have no connections or relations to get a blessing'.
The only person to have currently thrown his hat into the ring for the Hong Kong chief executive election next month has admitted that he does not have any connections with Beijing nor has he received the blessing of any top officials.

Making his first public speech at the Foreign Correspondents' Club after declaring he would run for the race last month, film producer and kung fu master Checkley Sin Kwok-lam on Monday said he had received lots of criticism in the past two weeks, accusing him of seeking exposure and having little prospect of winning.

"So many people told me it's mission impossible. They told me if I want to run for the chief executive election, I need to have a blessing from someone, but I have no connections or relations to get a blessing," Sin said.

"But after last year's Legislative Council election, I could see anyone loyal to the country and [able to work] under pressure were eligible."

"I do not care about [whether I can win]. It's a service to society," Sin said, adding that he had hoped to show his daughter how much he cared about Hong Kong after he separated from his wife last year.

Sin, 64, said he had only discussed the idea with two friends before deciding to participate in the race, and that he has waited for some time for other opponents to show up.

"I am like a boxer, already sitting on the wing, and waiting for my opponent. It has been a bit too long and I almost fell asleep," he said, while stopping short of suggesting who his possible rivals could be.

Sin made a name for himself by criticising the government for not being tough enough in how it handled protesters in 2019 during the citywide social unrest, and using his online show to accuse the West of hypocrisy for its stance on Hong Kong affairs.

On public policy, Sin said he would support having a fake news law to deal with rumours, while also encouraging the government to lock down communities on a larger scale, much like mainland China does, to tackle the city's worsening pandemic.

Sin is a former managing director of Wing Hang Credit and an ex-chairman of National Arts Holdings, which produces and distributes films.

Sin is also a protégé of the son of late kung fu master Ip Man. Kung fu legend Bruce Lee was one of Ip Man's disciples.

The city's next leader will be chosen on March 27 by the powerful Election Committee, which is packed with pro-government loyalists. It will be the first race for the city's top job since Beijing's "patriots-only" overhaul of the electoral system.

Current leader Carrie Lam Cheng Yuet-ngor has refused to say whether she will seek a second term.

To become a candidate for chief executive, hopefuls must obtain the endorsement of one-eighth of the committee's 1,463 members and at least 15 nominations from each of the body's five sectors. The rule means hopefuls need broad-based support from all sectors just to get approval to run, effectively raising the barrier to even enter the race.